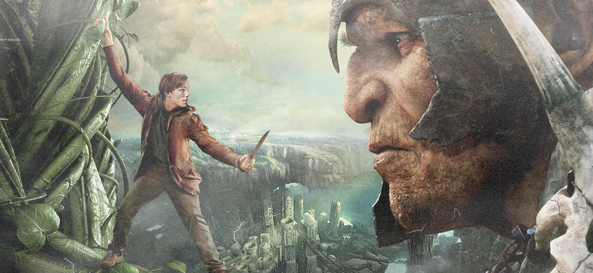 The first "Fee-Fi-Fo-Fum!" must have just sounded silly enough that my children missed the threat that immediately followed from the Giant.
But by the time I related the account of Jack's second ascension up the magic beanstalk, my son was listening more intently.
"What does he mean when he says he's going to grind his bones to make bread?" my son asked.
"It means if the Giant catches Jack, he's going to eat him."
"Oh." he said.
And with that, what began as silly tale about a boy who traded his family's only cow for magic beans took a foreign turn into something more dangerous than our usual fare. Yet, Jack and the Beanstalk is hardly unique in the way it introduces the adult realities of danger and death within a context of fantastic settings and fanciful characters. In Hansel and Gretel, a cottage of candy is the home of a cannibalistic witch. In Sleeping Beauty, Briar-Rose is initially doomed to die on her 15th birthday all because of a jilted party-goer.
They're sober-minded tales, and the Grimm boys and Hans Christian Anderson would certainly not recognize the cartoons inspired by their folktales. Many of the sharper edges of these classics have been softened over the years, thanks in-part to repositioning them for a younger set. But even before Disney discovered the perks of promising that all your wishes will come true, the term "fairy tale" itself had become more sanitized. There had been a shift in focus to romance, valor and happy endings as opposed to the often grotesque scenarios and flawed characters that populated the original stories.
Even more recently there has been a new trend in fairy tales that moves in the opposite direction of the squeaky-clean, Disney versions, galloping into substantially more mature territory.
It's a trend that began in comic books about a decade before. In 1999 Alan Moore created The League of Extraordinary Gentlemen which pulled characters from a number of classic (and public domain) novels and placed them together as a sort of super team (this innovative series was scrubbed into an abysmally average 2003 film). And a few years later, in 2002, writer Bill Willingham used a similar concept with Fables, replacing pulp characters with fairy tale protagonists.
Whether you choose to credit Moore and/or Willingham, the idea of taking familiar characters and placing them in completely new and different scenarios has caught on. In addition to updates of Little Red Riding Hood, Snow White, Hansel and Gretel and Jack and the Beanstalk, this next weekend will see the release of Oz: The Great and Powerful (the first of nine—9!—upcoming Oz-themed films), as well as impending adult takes on the Little Mermaid, Peter Pan, another Hansel and Gretel movie, two Sleeping Beauty movies, two Pinocchio movies and an Arabian Nights update.
However, the latest wave of this trend, including but not limited to, Snow White and the Huntsman, Hansel and Gretel: Witch Hunters and Jack the Giant Slayer have each demonstrated, in their own way, a fundamental flaw with this premise; they lazily force these classic characters to "grow up" by ratcheting up the angst and violence instead of revisiting the more complex layers that exist within the original stories themselves.
In our attempts to move our fairy tales forward, we weaken the power of the original yarn. We no longer wrestle with whether it is the beauty or the innocence of Snow White that is such a great threat to the wicked queen. In the modern incarnation, Snow White is prettier than the Queen, the Queen gets jealous and Snow White becomes a William Wallace-esque liberator. It's not particularly inspired filmmaking but, more pertinently, it lacks any moral complexity.
Or take Jack the Giant Slayer. In the original tale, most of the trouble stems from Jack's personal failings. He foolishly sells the family cow for magic beans and, upon entering the kingdom of the giant, attempts to make off with someone else's treasure. The danger to both him and his family was a direct result of his lack of foresight and integrity. This new version may look more adult, owing to its violence and romance, but the lines between good and evil are drawn blandly. There are no lessons to be learned. The tale's cautionary nuance is lost altogether.
What I realized in reading Jack and the Beanstalk to my son is that though the story was using magical elements and fantastic settings to introduce complex themes and ideas. This fairy tale was challenging him to think differently and ask questions. For all their faults, many of the G-rated versions of these stories do provide an appropriate balance of the fantastic with actual characterization, to both entertain and challenge both the young and old. And that, after all, is the very purpose of the original tales themselves.