What 'La La Land' Tells Us About Hollywood Romance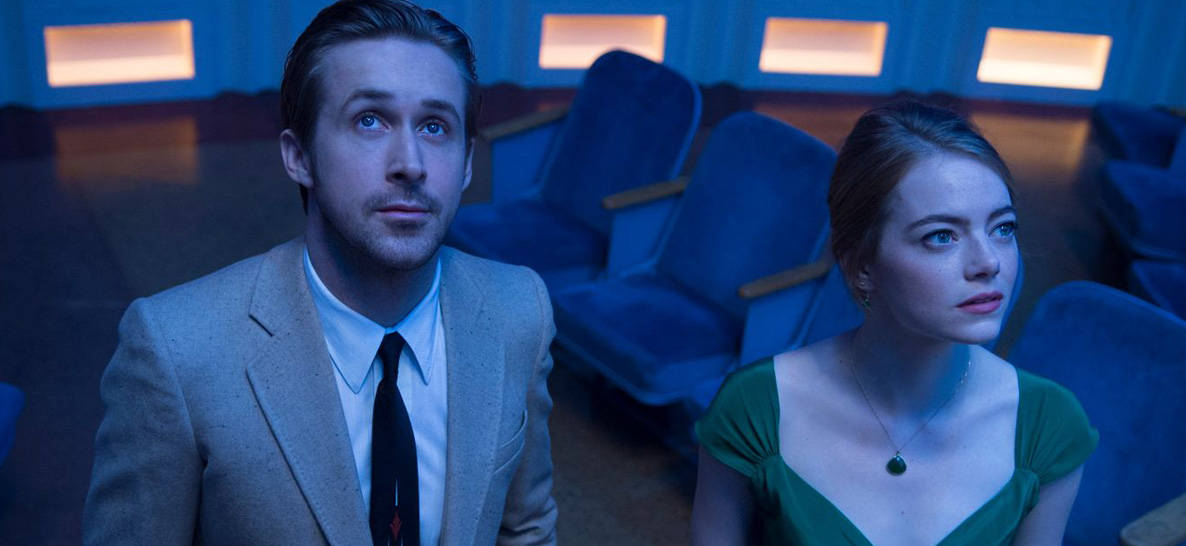 One of the opening songs in La La Land satirizes aspiring actors and actresses that sets the tone for the entire movie.
Aspiring actress Mia (Emma Stone), lives in an apartment far nicer than her salary probably allows, and her perfectly diverse array of roommates, each dressed in a single, primary color, are going to a party. Mia feels like staying home. So her roommates sing to her a bouncing ballad about how she should join them: "Someone in the crowd could be the one you need to know—the one to finally lift you off the ground."
But we see clues that these girls are caricatures and not just sweet, hopeful actresses—like when they stress to Mia the importance of being discovered by someone who can "make you more than who you're seeing now."
Some people really do live this way, wondering what every new acquaintance can do for them. Maybe you've worked with them, maybe you're friends with them—maybe you are one. If you are, you know it's an exhausting way to live (exemplified very literally in Mia, as she finally leaves the party, only to find that her car has been towed).
The rest of the movie is similarly catchy, colorful and a little biting. Mia works on the Warner Brothers Studio lot—but she's a barista at a coffee shop for filmmakers, figuratively living about as far from stardom as she could be. The first time she's alone with Sebastian (Ryan Gosling), the two spar like Beatrice and Benedict about how the lovely night they're enjoying is wasted because they're obviously not into each other.
The deeper we get into their relationship, the more serious are the questions raised about ambition and commitment. Mia and Sebastian sweetly cheer each other on to realize their dreams, but they also fight bitterly and realistically. (Occasionally these scenes feel like the unscripted, improvised method Gosling used in Blue Valentine.)
In one key moment, Sebastian misinterprets one of Mia's comments and subsequently makes a choice that sets up a "butterfly effect" for the rest of the film. It's an incident any marriage or relationship counselor would have a field day with: Why do we choose to assign motives to our partner that aren't there? How many of our choices and actions might be based on erroneous assumptions about what others think of us?
La La Land resembles a Shakespearean play. Modern musicals are often like Shakespearean comedies in that they appeal to audiences of every socio-economic status—you might be a vice president-elect or you might just be there for the tap dancing, but you'll probably find something to enjoy. If you don't remember, each of Shakespeare's comedies end happily with marriage, all except for one: Love's Labour's Lost. This play ends with tragedy and longing.
Clearly the creators of La La Land spent more time making sure the film paid homage to Gershwin, Astaire and Rogers than Shakespeare. This movie will take a similar place among 20th and 21th century musicals—an overall happy vibe, but still an outlier for its darker undertones.
The final message and question of the movie is the most serious, as Mia and Sebastian briefly encounter in a crowd, years after inspiring each other to successful—and separate—careers. In an epilogue that's part flashback, part dream sequence, Sebastian reimagines what might have happened had he prioritized Mia at several crucial points in their relationship. The whole movie drives toward this sequence. Key successes and frustrations flash through the song in an alternate reality, leaving us wondering whether the pursuit of La La Land is really worth it.
And this is what sets the movie apart from the "fluffy" dance movies of the 1950s and 1960's it hearkens back to. While the characters adulate Hollywood, the movie itself does not. Instead, it questions whether it's really possible to have both fame and love, or to achieve success by the world's standards as well as one's own.
This point is made especially poignant by the fact that several studios turned down the project.