You Can Actually Tell When Your Friends Are Fake Laughing at Your Jokes, Because Science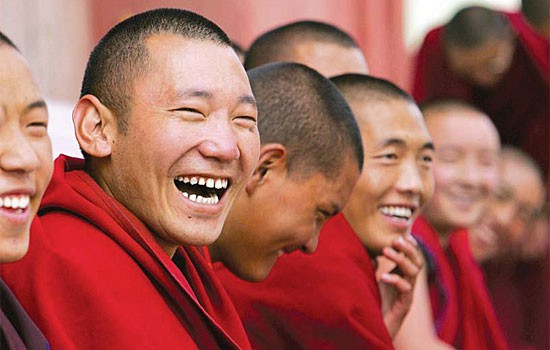 Forget humoring your boss or laughing at your father-in-law's jokes (give it up, he doesn't even think they're that funny), a recent study published by The New York Times has broken down laughter to explain why it "can harm as much as help you."
The article explains how feigned laughter has become a way most people tend to brush off uncomfortable situations, but since laughter is a positive response it can often reinforce those uncomfortable situations as positive experiences. Citing for example that sexual harassment can often cause nervous laughter, but that response can be used against the victims later.
California lawyer, Gina DeVito, backed these claims, telling The Times: "What happens is, somebody makes an inappropriate comment, and the reaction of the person, often laughter, is what the defense uses to allege the conduct wasn't unwelcome. I hear the same thing when I do sexual harassment training because lots of men say, 'Hey, she was laughing.'"
Apparently, even mental health professionals have recommended becoming more aware of the reasons you may laugh.
"Laughter is so expected and part of the social norm that when we don't laugh, it's a really powerful message," Eden King, associate psychology professor at George Mason University, said. "It's a way of standing up for yourself, without having to directly confront or call out someone, which is hard to do without straying into stridency. Laughing off bad or strange behavior, on the other hand, tends to invite more of the conduct you'd prefer to avoid."
So now that laughing is off the table, what are we supposed to do if we find ourselves in an uncomfortable social circumstance? Well, psychoanalyst at the Emory University Psychoanalytic Institute, Jane Yates has our answer:
"Dr. Yates recommends instead of laughing, filling the dead air following an unwanted or inept comment with something neutral like, 'Well, then,' or maybe just, 'Hmmm.' But that takes a good bit of self-awareness to pull off, she said, as many people have become deaf to their own forced merriment."
Real laughter, however can add "salve to your soul," and the article suggests that we should "find every opportunity to laugh joyfully, and laugh lavishly. Laughter restrained is as depressing as laughter that is forced."