The New Face of Homelessness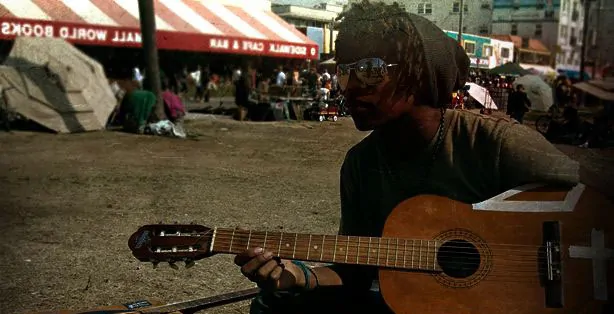 Walk the beaches and sidewalks of the international tourist mecca of Los Angeles' Venice Beach, and you'll see enormous drum circles pounding out rhythmic beats that can be heard for miles or watch capoeira practitioners fly, spin and kick their way through their martial arts dance moves.
Or you might see old bums on the sidewalk, panhandling or selling artwork. You can watch muscle-bound men and women swinging from rope rings or lifting weights at the world-renowned Muscle Beach workout area.
What you likely won't notice as easily are the hundreds of homeless teens and twentysomethings who claw for survival every day amid the prettiest people and greatest ocean views in America. They are among an estimated 1.8 million children nationwide who are reported homeless, which means the actual figures are probably more than 2 million, as many of them don't admit they're minors for fear of being shipped home. It's also believed an average of 13 kids die on U.S. streets each day.
One of those fighting to keep it together is Rolando, a soulful soft-spoken 20-year-old African-American who goes by the name "Youngster" and hails from Long Beach, about an hour away from Venice.
"I currently live on the beach. I've been out here since I was 12, maybe younger," Rolando says. "It's been weird all these years, watching everything grow and change, the people and the environment here. Sometimes I don't like it, sometimes I do. I'm trying to go to school, but it's hard for street kids. They have way more places to take a shower and clean up a little than ways to go to school."
While the downtown area is making some definitive changes for the better, L.A.'s beach scene is still rife with people like Rolando. They often look "hard" but in reality are hiding an extreme vulnerability and pain.
On a sunny Saturday in August, actor and aspiring filmmaker Luke Barnett drove through the crowds and into one-on-one meetings with some of these young people. Some, like a 16-year-old named Pedro, have defined their dreams—he wishes to turn 18 and qualify for electrician training school. But most are vague when asked about the future—it's just not part of their worldview, which focuses mostly on the day-to-day of survival.
Rolando claims "family issues" as the reason he chose to leave home, a common refrain heard on the beach. Yet according to Michael Leoni, a twentysomething filmmaker who's part of a team working on Spare Some Change, a documentary about the Venice Beach homeless, most of the kids and young adults out here—even the ones with seemingly detailed stories—are actually hiding a far more disturbing past.
Leoni and his partners, who include Barnett and Michelle Kaufer, hope their film's impact will extend beyond just being a documentary and create a movement to end homelessness. As they've interviewed the homeless on the beach, they've also invited several to become involved in the project as well. One 19-year-old named Ryan enthusiastically coordinated several different shooting setups that afternoon alone—Leoni and his team rave about Ryan's focus and how his organizational skills are helping them move much faster than they anticipated. And with a desire to submit the film to the Sundance Film Festival, such planning is key.
"I've been out here four months, but I was up in Ridgefest in the Mojave Desert for five years with my father," Ryan explains. "My brother and I left for a vacation, liked it here and we got stuck, too. I was on the streets of Phoenix for three years, too. Here it's hard because you don't know where you sleep, not sure about eating, but I enjoy it overall. Misjudging us is one thing. All the kids have a hard time out here. Economy's so dead, we're not here because we want to be. It's our life now. I'd like to have a home. It don't matter what kind of work I do. I help others before I help myself, that's just who I am."
"We got another kid off heroin and into a 90-day Christian rehab in Texas," Leoni says. "And now he wants to come back and work on the film. We're just providing friendship, mainly. They don't want to be out here, they're abused or their mom dropped them off at a rest stop. Not one of these kids wants to be here. They wear masks to hide their emotions. It takes a while to get the truth from them. These kids are just trying to survive each day, and some of them have done so since they were little kids."
Kaufer has also come to learn some sad truths about the youngsters on the beach: namely, that even as outsiders are labeling them as rebels, or drug addicts or lazy, these kids have created a community, with a moral code anyone would be wise to follow.
"I realize now these kids are all heart, and they take care of each other. If there's 15 of them and one has $20, they give each a dollar first," she explains. "That's why it's hard to get out—because some get an aid check for $200 a month, but they divide it up. This is their family, they travel together, eat together and sleep amongst each other.
"A lot of these kids run away at a really early age, so their emotional growth will stop," Kaufer continues. "They don't have anyone saying how to save, get a job or get an apartment. It's challenging if you never had a positive role model in your life. It's challenging to take those steps. Even if groups will help them, you have to get to the psychological level they're on and teach them they're capable of anything."
"We give so much money to Africa and all these countries, which is amazing, but in our own country, we have kids dying every day from drug abuse and suicide," Barnett says. "It's important to get a crack addict off the street, but a 16-year-old still has so much more time and energy to get it together. We're not giving up on them, and neither should anyone else."
This article is adapted from the original version, which appeared in the November/December 2009 issue of RELEVANT magazine.