A Conversation Behind the Veils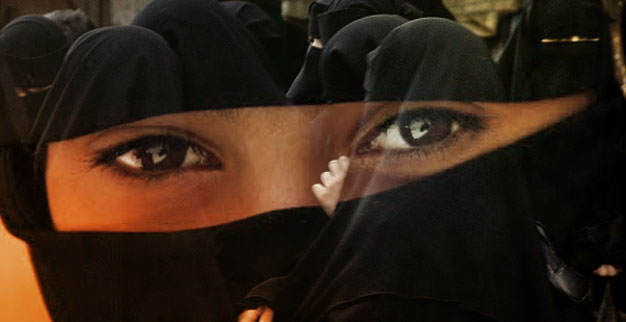 Fatima served refreshments every time I entered her house. If she had none to serve, she would send the neighbor's children to the shop across the alley to purchase some. She modeled the Arab law of hospitality, teaching me that every guest must be served refreshment. I had to learn not to model the American law of personal preference. I despised cream-filled cookies. I flinched every time I saw her tray. But I learned to smile as I ate them.
Fatima was hungry for companionship. A new bride recently pregnant, she spoke some English and discussed everything with me—except Jesus. She would not let me talk about Him.
One afternoon we were chatting as we sipped our tea.
"Audra," Fatima began cautiously, leaning back against the wall and hugging a pillow to her abdomen. "In America do mothers treat their sons' wives badly?"
"Not usually. In some homes maybe," I answered. "My mother-in-law is like my own mother. She treats me like one of her daughters."
"Hmmph," Fatima snorted. "My mother-in-law has a black heart. She treats me like khidama [a servant]. Before I married her son, she invited me to her home and gave a party for me. She was good to me. But now I am khidama to her. What kind of aunt is this? Why does she do this?"
I sat forward from my slump against the wall. "Aunt?" I asked surprised.
"Yes, of course, my ama, my father's sister." She was surprised by my surprise.
"Your husband is your first cousin?" I asked.
"Of course." She frowned. "Why are you asking me this? It is better to marry the son of an aunt or uncle so a bride will know the kind of man her husband is. He will be from her family."
"Ah," I nodded, understanding. Before marriage, a Yemeni bride knew her husband by appearance only. Most contact was forbidden. A bride could not know what her husband was like beyond his appearance. If he was a close relative, the bride had the perceived security of family connections to protect her.
The midday prayer call wailed out from the mosque down the block. I stood to go as Fatima pulled out her prayer rug and pointed it east toward Mecca. Fatima motioned me to sit back down.
"Wait, Audra. Glissee [sit]. I will be finished soon."
I sat down. I was curious but hesitant to watch her prayers. Fatima put on flip-flops to enter her closed bathroom.
"Fatima, I can't stay long." I looked at my watch. "I need to fix lunch for my family." Fatima did not answer. I remembered that it was forbidden to talk in the bathroom in the vicinity of lurking jinns.
Fatima returned from washing her face, arms and feet. With her limbs partially dabbed dry, she stood at the edge of her prayer rug. She smiled briefly and knelt, turning her face to greet the angels she believed were sitting on each of her shoulders. She bowed her face to the floor and began to recite her prayer. She extended her arms with her palms upward. Her lips moved in whispers. She lowered her head occasionally to touch the floor.
I wanted to leave. I wished I had not stayed. I felt like her prayer was a demonstration not to confirm her piety but to convert me to it. I turned my face and counted the rings on the curtain rod. I wondered what Madison was doing and if the boys had made it into Kevin's Arabic lesson. A flicker of anger prickled inside me.
When she finished Fatima stood slowly and rolled up her rug. A calm, pleased look spread over her face. She sat down on the thin foam mufraj [couch] and picked up the Quran I was not allowed to touch.
"Audra, do you pray?" She lifted her chin high and arched her eyebrows at me.
"Of course I pray," I answered. I wanted to add, "but not as a show for others."
"How many times?" Her tone sounded more accusing than curious.
"Our Book says that we are to pray all the time, without ceasing," I answered. "There are certain times I pray—before I eat to thank God for food and at night with my children to thank Him for the day. I pray early in the morning when I am alone with God and study His Book. But I also pray when I am walking in the street or cooking or anytime." 

She frowned as she digested my words. "But how do you wash before you pray?" she asked. "How can you pray all the time when you must be clean before the God to pray?"
"Fatima," I answered. "Being clean before God is more than washing the outside of your body. How can God be satisfied with somebody that is clean on the outside if her heart is unclean on the inside?"
Fatima did not hesitate. "Our prayers and good deeds make us clean on the inside."
"Prayers and good deeds are strong enough to change one's heart?" I challenged. "How can they be? If you hate someone in your heart but you do good deeds, has the hate in your heart changed?"
Fatima knew I knew her feelings for her mother-in-law. She shrugged. "It is enough."
"How do you know it is enough, Fatima?" I continued. "God does not think as a man thinks. How do you know this makes you clean enough for God?"
"How can anyone know this, Audra?" Fatima answered. She set aside her Quran and sighed deeply as she collected our teacups on her plastic tray. She leaned back again and sat silent for several minutes.
"The God is merciful," she said slowly, shrugging her thin shoulders. "One can only hope for His mercy." She glanced at her Quran and sighed again.
"Fatima, God requires perfection. No matter how merciful He is, He requires us to be perfect."
Fatima nodded vigorously in agreement, almost upsetting the tea tray. "Yes, yes, of course." She seemed pleased to find something we both believed.
"But," I kept talking. "We cannot be perfect on the outside and imperfect on the inside. That is not perfection. It is an appearance. It only looks like perfection."
I moved closer to her on the mufraj. "We can never be as perfect as God requires, Fatima. How could we? It is beyond our ability. That is why God Himself provided the only Way we could be made perfect before Him. He proved the Perfect One, Jesus, the Messiah."
The minute I spoke Jesus' name Fatima's chin jerked up, and she turned her face away, standing immediately with her tray. "It is late," she said. "My husband will be home for his lunch."
She waited for me to gather my things. I sighed and put my notebook and pen into my bag. I had mentioned Jesus; our conversation was over. I looked at Fatima. She had told me what she believed about Jesus. He was the Isa of the Quran: an important prophet who had never sinned, had healed the sick and had raised people from the dead. But she believed Him to be a lesser prophet than Mohammed. She told me what she believed, but she would not allow me to tell her what I believed. It was almost as if she was afraid.
I closed my bag and followed her from the living room. I kissed both of her cheeks before slipping into my shoes.
"Ma'a salama [Good-bye]," I whispered.
"Ma'a salama. Hata bukrah. [Good-bye. Until tomorrow.]" She hugged me, searching my face to see if she had offended me. She pressed a cream cookie into my hand to eat on the way home. She peered through the crack in her door as it closed between us.
I walked slowly the down the steps and into the dirty alley, kicking a stone along the dry, dusty ground. I had never met anyone so convinced that what I believed was wrong, and who believed so strongly in what I knew to be wrong.
The sun burned through my dark jumper and scorched along the street under my stinging feet. There was no shade along the sidewalk.
I wondered why Fatima believed the Bible was corrupt. Because she had been taught that from birth? I kicked away a candy wrapper that had blown against my shin. A new question wormed its way into my thoughts. Would I believe the Quran if I had been taught it instead of the Bible?
My head was sweating under my scarf. The sun seemed to bore right through it. I loosened it, wishing I had not bought the bulgur. I had one hundred riyalls left in my purse, enough for either cold bottled water or a ride home, and I wanted both. My throat was parched and stinging from blowing grit. I flagged a taxi and murmured directions in Arabic. I would wait to drink the pure water I knew was at home.
---
Excerpted from: Behind the Veils of Yemen by Audra Grace Shelby. Copyright © 2011; ISBN 978-0-8007-9518-4. Published by Chosen Books. Used by permission. Unauthorized duplication prohibited.