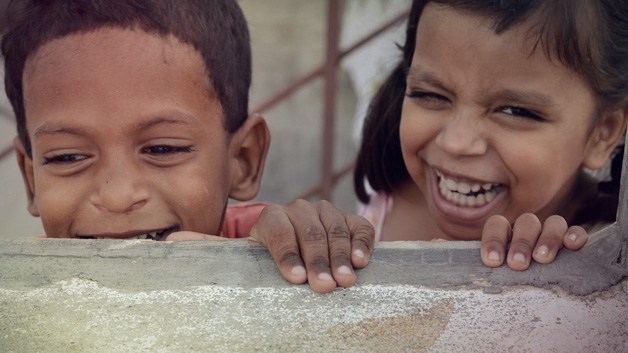 India was a place I had dreamed of visiting—someday, when I was wiser and more mature. I never envisioned my then-19-year-old self boarding a plane and a train and arriving at an orphanage in rural India for a two-month stay, but fresh out of my first year of college, that's where I found myself. After two self-centered semesters at the University of Texas at Austin, I knew it was time to be pushed to the edge of myself. I registered for a trip through Adventures in Missions and in June, I was standing on the balcony of Sarah's Covenant Homes (SCH) looking out onto the dusty streets of Ongole, India.
I've never felt more joy. I've never felt more whole and at peace.
India as a nation is riddled by brokenness—broken hearts, broken bodies, a broken economy. During my stay, we worked at SCH, a home for children with special needs. These children had been exposed to an injustice built into the nation's Hindu culture for centuries. Indian society is built on the crumbling foundation of an intricate caste system. The stories of the lowest caste—the Untouchables—are haunting. Look below them a bit and you will find India's special needs community.
Hinduism revolves around the concept of reincarnation. Live a good life, and your next one will be better. You may come back as a wealthier citizen, a king, or even a cow. Lead a life of shame, and each life will find you further down the caste system. This has created an epidemic of disrespect towards the special needs community. Hearts and minds driven by the idea of reincarnation are unable to recognize value in a life so full of pain and struggle. Many born with mental or physical disabilities are abandoned. I spent a day at the beach with a girl whose parents wrapped her in a rice bag and threw her into the garbage because her hands and feet were deformed. I witnessed the miraculous recovery of a baby girl with hydrocephaly, an inability to drain fluid around her brain, who had been abandoned at a state hospital. For weeks her head swelled, filled with fluid from a preventable condition, ignored by doctors as she inched closer and closer to death. I met a child who was abandoned in a graveyard by her terrified parents.
Many of these children were sent to a state orphanage for special needs children. Their heads were shaved and immobile children spent their days on mats, often ignored and forced to sit in their own waste. There they were dehumanized, robbed of identity, opportunity and affection. Although many children are still existing in homes like these across India, today more than 100 have been taken into the custody of Sarah's Covenant Home (SCH), where they are given love and food and surgeries and everything they need to survive. Beyond survival, many children are enrolled in mainstream schools. At SCH these children are loved beyond measure by staff, missionaries and volunteers—a priceless gift that has brought many children back from the brink of emotional death.
Needless to say, I fell in love with SCH. I consider it to be one of my homes and these children a part of my family.
After returning to Texas and beginning my sophomore year, I couldn't help but do more for the children. It was one of those inexplicable pulls and, although school was overwhelming and the task was daunting, I began fundraising for SCH. I did a project for my 20th birthday and was able to raise around $5,000, I sold calendars and met with churches and businessmen. This December, I was even able to travel back to India for a two-week visit during which I helped make profiles for a rebooted sponsorship program. 
All of this is to say that God does not show injustice to everyone. He chooses people specifically and with great consideration. He chooses them so that they will have an impact. He chooses the people He knows will answer the call. Injustice is not seen—it is shown. God chose me to see the injustice in India, and my soul would not be at peace if I chose to remain silent.