4 Things Christians Need to Watch for in President Trump's First 100 Days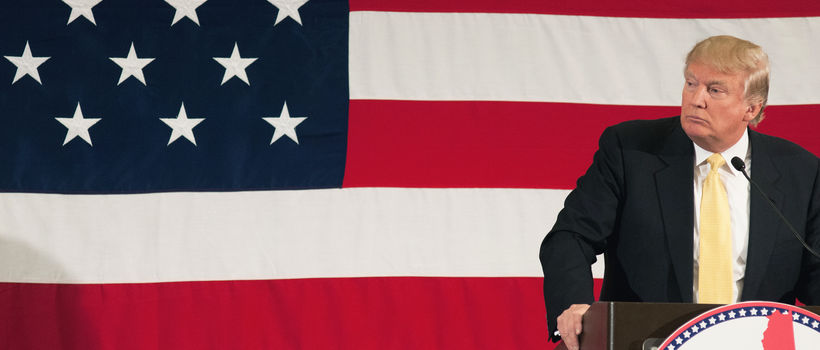 Donald Trump is now the 45th president of the United States of America. The campaigning phase is over and the governing begins.
The late governor of New York Mario Cuomo, famously said that, "Politicians campaign in poetry and they govern in prose." In other words, campaigns are times of flourish and exaggeration, but governing is grammar and rules. But no one in recent political history has pushed the limits of campaigning like Trump. And as he begins his presidency, the man who has broken so many expectations of modern campaigning must now govern under a new set of rules and expectations.
Every newly elected administration enjoys a period after the inauguration known as the "First 100 Days." This is something of a honeymoon for the new president and the country, a time of optimism and new initiatives where the recently elected leader of the free world moves quickly to take advantage of the momentum of his campaign and high approval ratings to accomplish some of his key campaign promises.
So as we look ahead, what might we expect from the first 100 days of the Trump Administration? Moreover, as Christians what should we pray for during this period? Undoubtedly, there are innumerable needs for prayer and Christian discernment. Here are four areas that should garner the focus and prayers of Christians.
The Court
While a majority of the evangelicals who voted in 2016 supported Trump, there can be no doubt that his candidacy and campaign caused a sharp divide among Christian voters—if you need proof, just scroll through Facebook or Twitter or bring up the new president at church. If there was one issue, though, in which Christians could look for hope in this new administration, it was his promise to appoint pro-life judges to the Supreme Court. It has almost been a year since Associate Justice Antonin Scalia died, and the seat which he occupied remains vacant.
The Supreme Court has become a cause célèbre among evangelicals since the 1973 ruling in the case of Roe v. Wade (which effectively legalized abortion in America). There are reportedly eight individuals on Donald Trump's short list to fill Scalia's vacancy. You can expect that a name will be put forward quickly, in all likelihood within the first 100 days.
As Christians who are concerned about life outside and inside the womb, we should pray that the appointee to this lifetime post owns an understanding of the law and an appreciation of truth grounded in personal experience with the source of all Truth.
The Congress
President Trump enters his first term in office with Republican majorities in both the House and the Senate. This presents the Republican party with an opportunity to shape the government and curtail many of Barack Obama's policies and legislative initiatives. Chief among the targets for the new Republican government is the Affordable Care Act—also known as Obamacare.
The ACA revolutionized the insurance industry and brought insurance to over 20 million people who were previously uninsured. But while the ACA was lauded by Obama and represents a key pillar of his legacy, it caused insurance premiums to skyrocket and created a number of difficulties on the civil liberties front. Trump ran on the motto of "Repeal and Replace" (as in, repealing the law, and replacing it with something else). While specifics as to when and how this might be done are few, you can expect that within the first 100 days, Trump's administration will work with Congress to begin rolling back some of the provisions of Obamacare.
As Christians, we should pray for those whose lives have been enriched by the availability of insurance, and be ready to take up the mantle of servants and serve those who find themselves in need.
The Country
There have been periods throughout our history as a nation when the role of Christians in the world has shifted and changed. There can be little doubt that we are in such a period. Our country has enjoyed a time of relative prominence and success around the world during the last 25 years, but increasingly that prominence is being challenged.
The late 1990s and early 2000s were an era of unprecedented economic growth globally and greater interconnectedness among countries. This globalism was defined by trade partnerships between nations that lubricated commerce and bolstered freedom.
One such partnership supported by President Obama was the Trans-Pacific Partnership. This agreement was meant to increase trade and promote stability among the Asian and Pacific Rim countries. Regardless of the relative merits of TPP, you can expect that Trump will withdraw from this agreement within the first 100 days.
As Christians, we should pray for our country's place in the world and above all that America might be a force for peace among the nations.
The Culture
As a nation, we have experienced periods of division before, often they have been violent and prolonged. In the past, we have literally gone to war with one another.
We are divided by geography, as urban values conflict with rural aspirations. We are divided ideologically as conservatives and liberals disagree about the shape and scope of government's role in our lives. We are divided ethnically, as those born outside this nation are increasingly made aware of their status apart from natural citizens.
And we are divided spiritually, as some place great hope in the political system and other believers in the Jesus Christ increasingly realize that "here we have no lasting city, but we seek the city that is to come."
The new president made a great many promises regarding the direction of our culture—his entire campaign was built around the idea that he could "make America great again." You can expect within the first 100 days of his presidency that he will curtail immigration from conflict-prone areas of the world in some way and make moves to begin building a wall along the Mexican border.
As Christians, we should pray for our divided culture and for the man who will now lead us.
Over the next 100 days and beyond, we would do well to pray like King Solomon when he began his reign of Israel. He prayed, "Give your servant therefore an understanding mind to govern your people, that I may discern between good and evil, for who is able to govern this your great people?" (1 Kings 3:9)
We have an opportunity to show the watching world that our hope is not in kings and princes, but in King of Kings and the Prince of Peace whose kingdom we seek is not of this world.