45 Million People Are Still Living in Slavery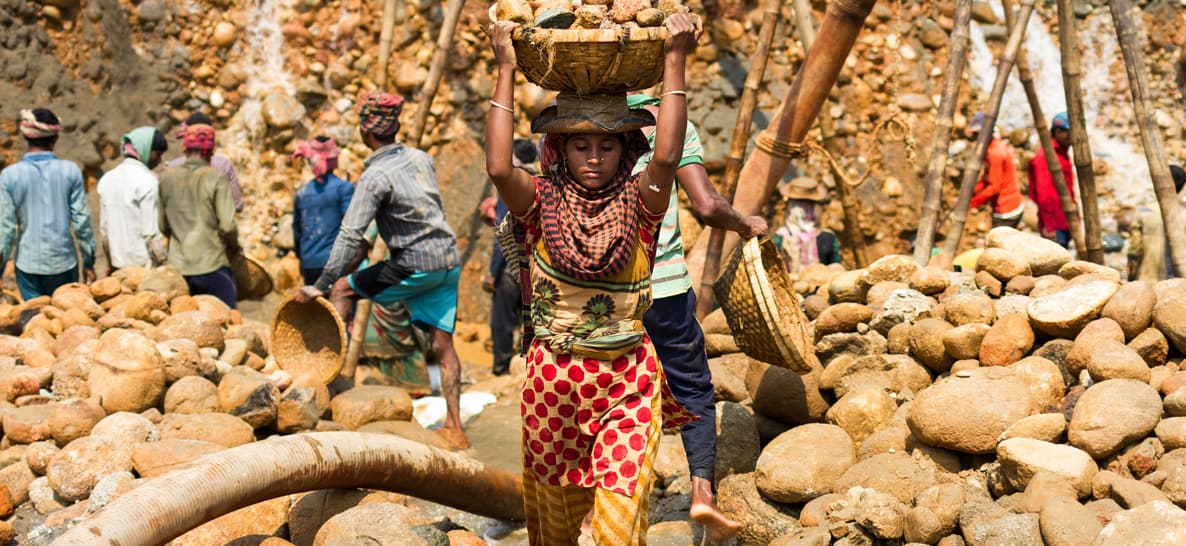 Eighth-grade history left a lasting impression on me when I saw real images from the Atlantic slave trade of the 1800's.
Pencil drawings of people like sardines on the lower deck of a slave ship. People with their faces behind literal cages on the shoreline. Bearded white men in large hats and high belts, hands holding a whip, some bills or a drink.
I remember sitting in that social studies class at 13 years old and feeling rage. I remember thinking, "Surely, if I were alive back then, I would have fought this. I would have picketed the auction block, Washington or opened my house to the Underground Railroad. Surely," I claimed inwardly, convicted to my adolescent core, "I would have done something."
My innate sense of justice needed to believe—demanded to believe that I was not the type of person who could be complicit in the face of loaded ships and auction blocks.
Fast forward 25 years later, and I consistently experience stories that take me right back to eighth-grade history class. I've seen 12-year-old girls, malnourished figures with unbrushed hair, bartered for sex in back rooms in India with my own eyes.
I've read reports of hundreds of stateless people shipped in, trucked across highways, and sold to the highest bidder as property. I've watched pimps pedal sex with teen boys and stood by watching my husband text a girl locked in a hotel and hiding in a bathroom, desperate for help, in a foreign country where her passport was taken away. She was hours from being sold to Arab men as a sex slave. I've sat across the room from a group of fisherman who shared their stories of being drugged, forced to labor 20 hours a day for years on fishing boats, under horrific conditions.
Turns out, we humans are still enslaving each other after all.
Back in that eighth-grade class, I learned that an estimated 13 million Africans were enslaved as a result of the Trans-Atlantic Slave Trade. Today, the recent estimate from the Global Slavery Index comes in at 45 million individuals enslaved around the world.

And while the estimates of current slaves do vary greatly, the reality is that slavery—the actual buying and selling of human beings for the sake of profit—is thriving more today than at any other point in history.
And for the last seven years, after stumbling into the problem personally and helping to begin a counter-trafficking organization, I've worked to tell stories of the most vulnerable. My daily role is to communicate the realities of human trafficking in such a way that people are hopefully inspired to action.
Several unique factors make the communications around the modern abolition movement incredibly and uniquely challenging.
Modern slavery is perceived as a far-away problem.
The average person in the West hears about sex slavery in India or forced labor on the fishing boats of Asia, and it doesn't feel like their problem. The divide between us and them spans wide. Sure, we hear about trafficking in modern countries like the United States or Canada (and slavery remains a growing concern in North America), but it doesn't feel like the most pressing injustice on our country's radar.
It doesn't seem to affect us personally, so why should we really care?
Protection of privacy is important.
It is also extremely challenging to have people care about abolition work when there's a limit to the types of photos and details which we can share.
No other social justice issue sees as many blurred faces, cropped pictures and fake names. And while this type of reporting is absolutely necessary to protect survivor dignity, the reality is that it is harder to emotionally connect with the faces and names we have to protect through discretion. Capacity for public compassion is often lost when we can't show the eyes of those impacted or the unedited footage we capture.
The crisis goes by many names.
The different understandings of terms and definitions about the crime itself also adds to the confusion around this global conversation. For example, in the areas where our organization often works, when we talk about sex trafficking, we are referring to individuals who are forced to provide sexual services (through "fraud, force or coercion") or who are under the age of 18.
However, there are some police communities, especially in the West, who view all instances of prostitution, even by consenting adults, as "human trafficking." Understandably, how do you determine the levels of exploitation and manipulation, even for "consenting" adults? But the result is still the same: confusion.
If you go far into the world of counter-human trafficking and the NGO community, the confusion around terms continues, especially with words like "rescue" which remains both highly subjective despite their common application. Whereas one group calls a "rescue" the actual removal of an identified trafficked survivor with police evidence, another group calls a "rescue" the offering of a job to a prostitute.
The resources required to do the work necessary and ramifications of each vary greatly.
The statistics around modern slavery are also so staggering, the average person feels overwhelmed; it's difficult to act when you don't believe you can make a difference. And it's hard to make an impact when the solutions are also so incredibly complex and multifaceted.
Conversations about the power of making arrests, the corruption and complicity of local governments, the holistic care for survivors, the mechanisms of business and labor, the dangers of coming against criminal syndicates—these are not simple ideas or odds to overcome—especially in the NGO community. Partial-solutions are the stuff of forward progress, but most advocates want straightforward, full-circle, neat and tidy stories of success—something that rarely happens in this work.
I read a legend once about when Abe Lincoln first met Harriet Beecher Stowe, an abolitionist who also wrote Uncle Tom's Cabin in 1852. The story goes that he leaned down, shook her hand and said, "So you're the little woman who wrote the book that started this great war."
History tells us that the power of story, even a fictitious one, can send shock waves through society—transporting an issue no one can really solve into a human reality from which no one can turn away.
Because whether our modern society wants to admit it or not, we are allowing actual slavery to thrive on our watch. And I, for one, don't want to tell my own eighth-grade daughter that I didn't do anything to try to stop it.