5 Ways Christians Can Become Better Citizens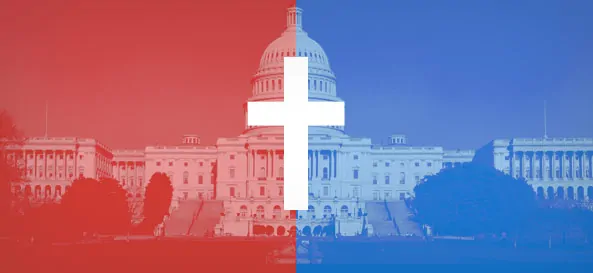 There is just one universal language. No matter what country you call home or the level of education you achieve, body language is the dialect we all speak fluently.
And body language was on full display in last night's State of the Union address. As President Obama plowed through no fewer than 74 bursts of applause, proposing a wide swath of ambitious reforms, the Democrats in attendance demonstrated their approval: standing ovations, pats on the back, nods of the head. Any casual observer could see they believed in the messages being communicated.

Just like any casual observer could tell the Republicans did not. Snorts, eye rolls, disinterested stares, head-shaking made it clear those who disagreed.
On a night when the country tuned in to see a State of the Union, we got anything but unity. The party lines were clearly drawn.
As I watched the president's speech and the left and right responses, ranging between uninhibited enthusiasm and dismissive opposition, I couldn't help but wonder about the body language of the Church. For us as well, the last four years have held more opposition than unity. We've embraced attack ads, name-calling, hyperbolic accusations and fear.
Is it possible that our political petulance is a turn-off for those far from Christ? Have we become so deft at communicating what we're against that we've forgotten what we are for? Mahatma Gandhi famously said, "I like your Christ, but I do not like your Christians. Your Christians are so unlike your Christ." Scrolling through my Twitter feed during the State of the Union last night, I see what he means.
But it doesn't have to be this way. I believe the Church can rise up and be the Church again. A fractured political constituency doesn't dictate we be bitter; it demands we be better. And I believe we are up to the task. So, here are five ways we can get it right.
1. Banish fear.
"Fear not. I bring you good news of great joy." This should be our message.
Instead, we've adopted a language of fear in hopes it would garner votes. Instead of being for something, we're against everything. "If we don't act now, this nation will be destroyed." "The government is coming to take your guns away from you." "We're becoming Greece." These are all fear-based arguments that have seeped their way into the Church. But there is a way fear can be combated, which brings us to number two.
2. Reject divisive pundits.
Every student ministry in America teaches kids to choose their friends wisely because the people you hang out with have a great impact in your life. Everyone has heard the teaching: garbage in, garbage out.

Why don't we follow our own advice? If you spend your drive to work listening to angry talk radio, your evenings watching even angrier talking heads and your time in social media reading what outraged friends and colleagues have to say, you've got an influence problem.
Proverbs 6:19 warns us about those who "stir up dissension in the community." These doomsday prophets make their livelihood from conflict. As sons and daughters of God, we have a higher calling.
3. Pursue unity.
The State of the Union is a misnomer; we aren't really united. Political factions, differing opinions and voting preferences have been quite divisive in our culture. The Church should take a different approach.
Instead of screaming on Facebook and arguing in the break room, can't we show the love of Jesus to people even if we strongly disagree with them? Jesus didn't intimidate or manipulate to win arguments. He didn't engage in raucous debates to make His point. Instead, He just loved people. Jesus understood there was something much deeper at stake.
4. Realize that winning is different for us.
Winning an election is the goal of politicians, not the goal of Christians. We are called to win the souls of men. Every word, every action, every conversation should be conducted with that truth in mind.
If our political zeal overshadows our passion for the lost, we cease to be the Church. We're just another Super PAC running another smear campaign.
5. Honor our leaders.
Our faith isn't a coat we check at the door. Our faith stays with us always—whether in the pew or the public square. Our faith defines us. And our faith teaches that we are to honor and pray for our leaders. First Peter 2:13 says, "Submit yourselves for the Lord's sake to every human authority," and 1 Timothy 2:1 tells us to pray for "kings and all those in authority."
If the Church dedicated herself to prayer rather than criticism, we might be amazed at what God would do.
Whether you were applauding or shaking your head during last night's speech, there is no doubt the political winds are changing. Let us change with them. Let us throw off the bitterness and dissension of the past, and let us pick up a Christlike approach to the political process.
Let's show our country and the world that we have more than an argument. We have something better. We have the hope of the world. Go share that hope today.
Bryan Roberts
A former church planter and lead pastor, Bryan currently works as a freelance writer helping ministries communicate the Gospel. . His passions are his family, writing, communicating grace, building the local church, and the Texas Rangers. You can read his blog here, and follow him on Twitter.