85,000 People Signed a Petition for a Chicken Restaurant to Clarify Its Stand on 'Biblical Teaching'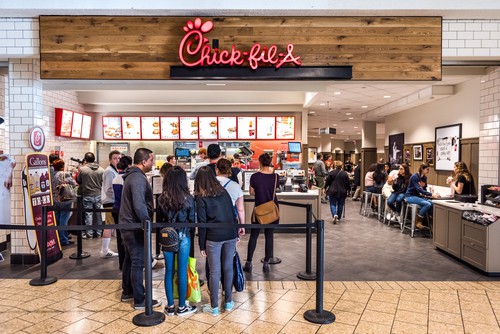 The controversy surrounding Chick-fil-A just won't stop spiraling.
Earlier this week, the fast food chain announced that its contracts with three charitable organizations— The Salvation Army, Fellowship of Christian Athletes and Paul Anderson Youth Home in Georgia—would be expiring. Instead of renewing them, the company said that moving forward, it would be partnering with charities in the local areas where their restaurants are located that serve homeless communities and support education initiatives. 
Conservative critics of the move accused the restaurant chain of (in the words of former Arkansas Governor Mike Huckabee) surrendering to "very leftist anti-Christian hate groups." All three organizations have Christian affiliations, and some have drawn criticism from LGBTQ+ activists for internal policies. 
However, Chick-fil-A said that moving forward, faith-based charities would still be considered for charitable partners and that the move is part of a large-scale shift in its giving strategy to emphasize local partners.
In a response, The Salvation Army said, "We're saddened to learn that a corporate partner has felt it necessary to divert funding to other hunger, education and homelessness organizations — areas in which The Salvation Army, as the largest social services provider in the world, is already fully committed." The added, "We serve more than 23 million individuals a year, including those in the LGBTQ+ community. In fact, we believe we are the largest provider of poverty relief to the LGBTQ+ population. When misinformation is perpetuated without fact, our ability to serve those in need, regardless of sexual orientation, gender identity, religion or any other factor, is at risk. We urge the public to seek the truth before rushing to ill-informed judgment and greatly appreciate those partners and donors who ensure that anyone who needs our help feels safe and comfortable to come through our doors."
Now, the American Family Association has posted a petition, encouraging followers to sign it to force Chick-fil-A to "clarify that you still hold to biblical teachings regarding human sexuality, marriage, and family, and reinstate these Christian ministries."
As of posting this, more than 85,000 people have signed it. 
The petition says, "it looks like you are abandoning Christian values and agreeing with homosexual activists who say believing the Bible makes you a hater."
One of the hallmarks of the AFA is to mobilize consumers to avoid businesses that don't directly support conservative Christian ideas. They have a "Naughty and Nice" list that tells consumers which companies explicitly use the word "Christmas" for their holiday marketing campaigns. "If a company has items associated with Christmas, but did not use the word 'Christmas,' then the company is considered as censoring 'Christmas,'" they explain. 
But Chick-fil-A isn't a seminary or a church. It's not theology school. It's not a faith-based nonprofit. And though it does a lot of charitable work, it's not a charity. It's a chain of chicken restaurants. 
Consumers obviously have the right to support whatever businesses they choose, and donors—as well as private businesses—have the right to give to whatever charities they want. But AFA's complaint against Chick-fil-A isn't that the restaurant is supporting organizations that they don't like; it's that Chick-fil-A isn't supporting the organizations AFA wants them to. AFA doesn't have any idealogical opposition to Chick-fil-A supporting local charities (at least, none they've expressed); instead, they seemed to be opposed to Chick-fil-A not exclusively supporting charities they like and approve of. 
This means that AFA's demand for complete ideological adherence to their values isn't reserved for ministries or political campaigns. They want private businesses to behave like ministries too, to the point that they toe explicit political and religious beliefs. They are literally demanding that a fried chicken restaurant chain "clarify that you still hold to biblical teachings regarding human sexuality." 
Is that what we should want? Should we want business leaders and fast food executives to dictate the terms of nuanced debates surrounding issues as complex as theology and human sexuality? Can we still discuss our agreements—and disagreements—about religious and social issues without insisting random businesses uphold the exact same values as we do?
The stated mission of the AFA "is to inform, equip, and activate individuals to strengthen the moral foundations of American culture, and give aid to the church here and abroad in its task of fulfilling the Great Commission." Those all seem like worthy goals. But is mob-mentality Christianity that demands adherence to very selective principles (why do they choose to focus on such a narrow scope of issues?) fulfilling the Great Commission in any meaningful sense?
Before He ascended to heaven, Jesus told His followers, "Go therefore and make disciples of all nations, baptizing them in the name of the Father and of the Son and of the Holy Spirit, teaching them to observe all that I have commanded you." AFA's tactics here aren't making disciples. They're simply mobilizing more followers (and donors) for the AFA. Americans who watch Christians rally in droves to the ideological purity test of a fast food chicken chain can hardly be blamed for determining that the modern Church is seriously flawed.
Jesse Carey
Jesse Carey is a mainstay on the weekly RELEVANT Podcast and member of RELEVANT's executive board. He lives in Virginia Beach with his wife and two kids.