Here's What You Need to Know About the Migrant Caravan Marching Through Central America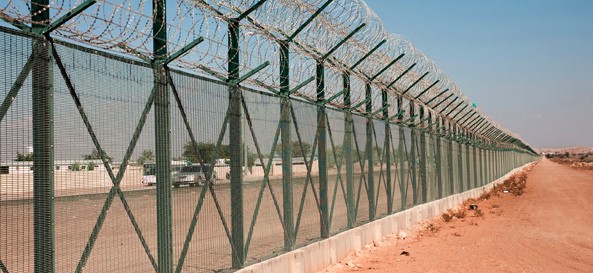 In recent days, President Trump has used strong rhetoric to speak out against a large group of migrants, currently marching north toward the United States border through central America. At a rally, he said, "I will seal off the border before they come into this country and I'll bring out our military, not our reserves. I'll bring out our military."
Who Are They?
The group is currently comprised of more than 5,000 people, many of whom are families. Many are young children and even babies. Caravans like this are organized by activist in central America. Most of the migrants are from Honduras and El Salvador, and are fleeing poverty, instability and violence. Their goal is to walk through Mexico and come to the United States.
President Trump and his Religious Right backers are whipping up fear about the "caravan" of immigrants fleeing violence and poverty. Here are images from @CNN. We Christians have another term for this "caravan": "God's children" pic.twitter.com/OIir4MXOAS

— Jonathan Merritt (@JonathanMerritt) October 19, 2018
In a statement, Security Secretary Kirstjen Nielsen said, "We must remain mindful of the transnational criminal organizations and other criminals that prey on the vulnerabilities of those undertaking the irregular migration journey."
However, Pres. Trump on Twitter suggested the caravan has been infiltrated by "Middle Easterners."
Sadly, it looks like Mexico's Police and Military are unable to stop the Caravan heading to the Southern Border of the United States. Criminals and unknown Middle Easterners are mixed in. I have alerted Border Patrol and Military that this is a National Emergy. Must change laws!

— Donald J. Trump (@realDonaldTrump) October 22, 2018
What Do They Want?
Ultimately, they want to come to the United States. Legally, the U.S. must grant asylum to people who come to a designated port of entry (specific border crossings), and are under the threat of violence or persecution.
However, there have been reports of border agents limiting or not allowing asylum-seekers to come into the country.
A United Nations High Commissioner for Refugees spokesperson said in a statement, "We wish to reiterate and underline that any individuals within that group that are fleeing persecution and violence, they need to be given access to territory and they need to be allowed to exercise their fundamental human rights to seek asylum and have access to refugee status determination procedures."
Can the President Send Military to the Border?
Using the military to stop border crossing (beyond the National Guard) is somewhat questionable legal territory. A Pentagon spokesperson said that they have not "been tasked to provide additional support" beyond the National Guard despite Trump's tweet.
From CBS News: "But that promise [of sending the military to the border] won't be possible without first declaring a national emergency and getting a congressional waiver. In April, the president did deploy the National Guard to assist at the border, a move previously done by both President George W. Bush and President Barack Obama.