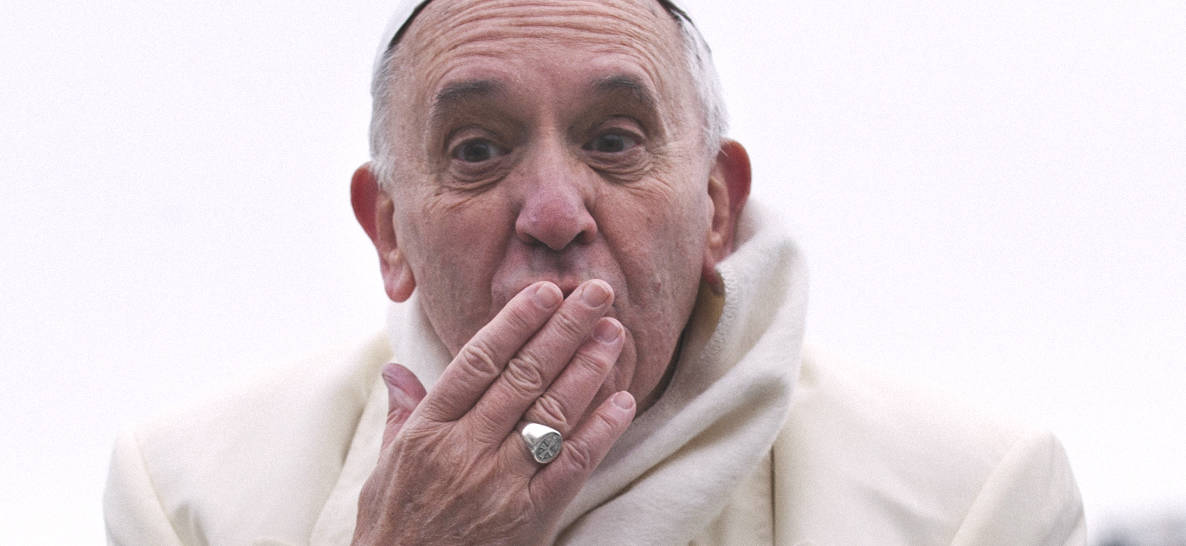 There's a reason "if it bleeds, it leads" is a trope of news media. And sure, we see a lot of violence, drama and generally bad news in the headlines each week. But not all news is bad news.
Here are five good things that happened this week, from pope rock albums to centenarian sprinters.
This week marked Pope Francis' first visit to the U.S. In Washington D.C., New York and then Philadelphia, the pope brought important messages about the importance of caring for the environment, welcoming immigrants, helping persecuted Christians and more. He warned against fanaticism, materialism and letting politics get in the way of caring for the poor and marginalized. "Real human beings take precedence over partisan interests, however legitimate the latter may be," he told the U.N. General Assembly in New York City.
But on top of all his other accomplishments, His Holiness is also delving into the music world. The pope teamed up with Believe Digital for an LP titled Wake Up!, which features some of his speeches laid over ""uplifting musical accompaniment ranging from pop-rock to Gregorian chant." The album will release Nov. 27, but your ears can be blessed with the first single ""Wake Up! Go! Go! Forward!" released on Soundcloud. (The pope comes in about 2 minutes into the track).
Though European leaders have not been able to agree on a plan for accomodating the hundreds of thousands of refugees who are streaming into Europe, they did make some headway at a meeting in Brussels this week. Among other things, the group agreed to give 1 billion Euros (Or $1.1 billion) to the U.N. refugee agency UNHCR, the World Food Programme and other agencies helping people who are fleeing violence in the Middle East.
Hidekichi Miyazaki recently celebrated his 105th birthday, but his age hasn't stopped him from entering running competitions. He already has the 100-metre world record in the over-100 category at 29.83 seconds, and this week, he set the world record for the over-105 category at 42.22 seconds. Miyazaki wasn't happy with the time, "I started shedding tears during the race because I was going so slowly. Perhaps I'm getting old," he told the AP. He said he plans on continuing to train, as he's still "fit as a fiddle."
My brain might not be the sharpest, but physically I'm tip-top," he said. "I've never had any health problems. The doctors are amazed by me. I can definitely keep on running for another two or three years. One of his goals is to race Olymic sprinter Usain Bolt. We'd love to see that.
After a funeral for a colleague who had been killed, a group of Kentucky state troopers stopped into a McDonalds to grab something to eat. Five-year-old Isabella Gregory, who was in the restaurant with her family, had spotted part of the funeral procession earlier in the day, so when she saw the officers in McDonalds, she decided to treat them to ice cream. She also paid for one of the officer's meals when he didn't quite have enough cash—all using her own money from her allowance.
We needed that! one of the officers wrote in a Facebook post. "Relief comes in all different shapes and sizes, thank you for supporting us, Isabella."
Eden Stanley was born with a condition that caused his fingers on his right hand to not develop properly. Usually, a prosthetic robotic hand could cost his family thousands of dollars, but Eden caught the attention of a group called e-NABLE, which uses 3-D printing technology to create lightweight, affordable prosthetics. Thomas Jackson, who is part of e-NABLE, designed and constructed a robotic hand that replaces the four fingers missing from Eden's right hand.
And, Jackson says, 3-D printing will allow them to keep providing Eden and kids like him with prosthetics as they grow. "He's 7 now, but he might need eight new hands between now and 18," Jackson told a Tallahassee news station. "Before, it wasn't cost effective to do that, and now, with 3-D printing, it changes all that. We can scale up the size of the design and reprint another one."
Bonus
Featuring Kevin Durant and JJ Watt cheering on people doing their everyday activities, this may be the most heartwarming insurance commercial ever created.