Life, Liberty and the Pursuit of Emptiness?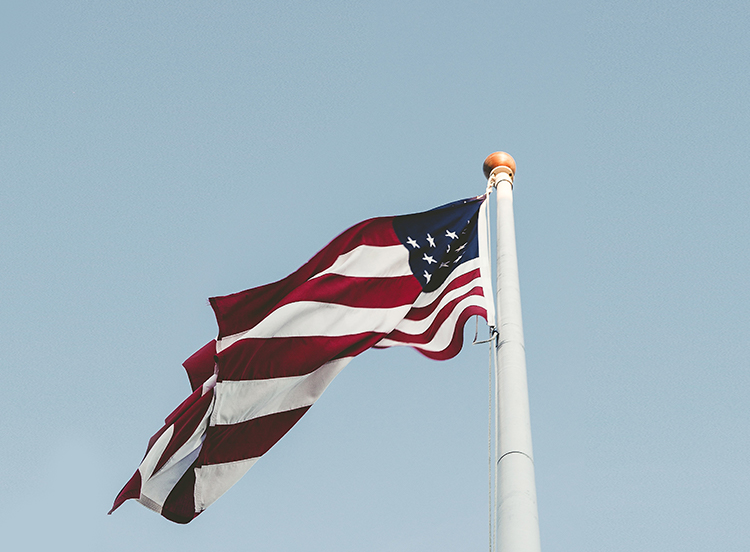 "The not-so-middle-class, not-so-comfortable Jesus we see in the Bible is a difficult pill for modern American Christians to swallow," my friend and pastor told me.
In the ancient world, followers of Jesus caught a lot of trouble from the powers that dominated the first and second centuries AD. The movement of Christianity across cultures and ethnicities caused a stir in the religious and political systems of the day. Many were upset to hear of a king with broader jurisdiction than Caesar and of a kingdom that called them to selfless nonviolence and reconciliation instead of oppression and conquest.
Jesus preached a message of love for neighbors and enemies alike, insistent on God's compassion for the poor, the immigrant and the outcasts on the fringes of society. Everyone was welcome in this new world which was coming to life in the midst of persecution and death—a far cry from the shallow veneer of happy, risk-averse, comfortable faith we see so often today.
Life, Liberty and the Pursuit of Emptiness
Old Testament scholar Walter Brueggemann said, "We have merged the promise of the gospel with the American dream, and the big task is to pull those two things apart, which of course people resist." Let's give it a try.
Peculiarly, Americans celebrate the right to "life, liberty and the pursuit of happiness." In an ideal world, freedom allows each of us to work on something meaningful that makes life better for everyone. In reality, freedom is typically used to manipulate others to work on what will make life better for us.
The pursuit of happiness, though, is a funny phrase. Maybe it refers to the way in which people apply their freedom to do what makes them happy, but the functional translation of the pursuit of happiness has become that everyone ought to live the American Dream.
The Problem at the Core of the American Dream
The American Dream preaches that to be a model citizen, one must zealously chase success, prosperity, self-sufficiency through hard work and upward mobility (which I like to pretend means being able to fly, but is really less fantastic than that).
The American Dream praises those who have a picture-perfect spouse; go into debt to live in a sizable home surrounded by a white picket fence; own a new SUV and a shiny sedan in the garage; have 2.5 children in the second- or third-floor bedrooms; drive from their home in the affluent suburbs to the children's school for soccer practice and parent-teacher conferences; stay home every night to watch mindless TV after long days of corporate ladder-climbing; grocery shop at big-box department stores; and go to the lake with the boat on weekends.
Most of the American Dream is manageable and comfortable, largely separated from people who don't subscribe to the same cultural expectations. We rarely try to make anything better in the world because we're too busy building our own little kingdoms in our own socio-economic enclaves. Everyone else is doing it, we think.
When we first got married, my wife and I inadvertently fell into an American Dream lifestyle. We had a modest house with a white fence and a two-car garage for our two vehicles (though the neighborhood was home to minor drug trafficking and a shady party scene—everyone's American Dream is a little different). We shopped at department stores stocked high with things we didn't need and watched movies instead of volunteering at a local charity or welcoming people from different backgrounds over for dinner and conversation. We got into a comfortable rhythm.
The point is not to call all these things bad; a lot of these things can be good in some contexts. They aren't inherently problematic unless this privileged lifestyle defines us and insulates us from the suffering and injustice in our communities and the world. The American Dream isn't meant to become our identity; it's full of prosperous notions, but it's too small.
When our perspective of a meaningful life is a cookie-cutter imitation of a national philosophy, we lose out on being uniquely ourselves and recognizing the dignity of those who "don't measure up." It's dangerous when a system supplants an individual's identity. The empires of earth insist we pledge allegiance, but our citizenship belongs to a humble king and an upside-down kingdom.
God doesn't see numbers in systems; he sees faces, personalities, dreams and fears. We tend to zoom out and categorize groups of people, but God gets up close to each human heart.
How Conflict Reveals Who You Really Are
The American Dream becomes problematic because it robs us of the struggles in which we dig deep for meaning and identity. The American Dream's call to comfort, security and predictability is rooted in self-centered pursuit of success.
Part of what makes you uniquely human is the story of how you've dealt with conflict. You can tell a lot by the way someone encounters resistance; it allows their authentic personality to emerge. You can't wrestle depression, cancer or unemployment without seeing who you really are under pressure.
Conflict not only reveals your identity—it also refines it. Challenges help us learn and grow far more than comfortable routines can. You can't wrestle with God over your dreams and your fears without walking away a little bewildered and sore, but grateful for what you've learned. Conflict is an opportunity to gain clarity. In the intensity of conflict, you shed what you don't need. You get focused on the bare essentials about who you are and what you must do. The sooner you accept that conflict is inevitable, the better you can prepare to work through it.
In the end, God's not even opposed to comfort. He invites us to find our comfort—not in stable homes, financial prosperity and American Dreams—but in connection with Him through the conflicts we face. Our job is not to resolve the conflict, but to walk with Him through it, so we can help others navigate their conflicts, too.
John Weirick
is a writer in Greenville, South Carolina, and is the author of The Variable Life: Finding Clarity and Confidence in a World of Choices, from which this article is adapted. Visit thevariablelife.com to find more.