Alex Jones Is Liable For Defamation After Spreading Sandy Hook Truther Conspiracies. So What's That Mean?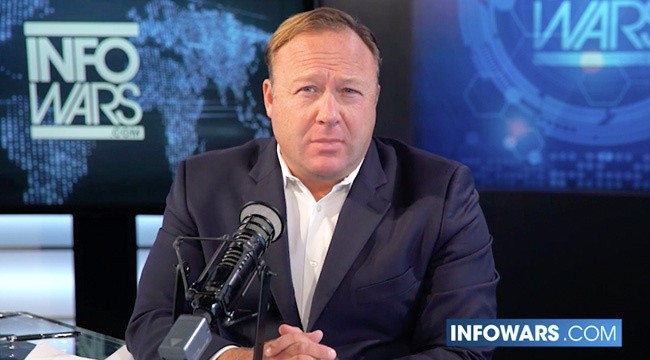 Alex Jones, the infamous conspiracy theorist and host of Infowars, has been found liable for damages in lawsuits that parents of the children killed in the Sandy Hook shootings brought against him for claiming the whole thing was a hoax.
The parents and their lawyers claimed Jones and his companies like Infowars and Free Speech Systems broke court rules because they didn't turn over documents showing how and if the bogus talking points about Sandy Hook turned a profit. Judge Barbara Bellis said Jones and his companies' "failure to produce critical material information that the plaintiffs needed to prove their claims" violated court rules. This means the judge will hold a hearing on how much Jones is on the hook for in terms of damages. This is more or less the outcome that would have happened in a jury had determined in favor of the families. A jury will likely determine how much Jones' owes next year.
Jones took his anger to the airwaves. "These individuals, again, are not allowing me to have a jury trial because they know the things they said I supposedly did didn't happen," he said. "They know they don't have a case for damages. And so the judge is saying you are guilty of damages, now a jury decides how guilty you are. It's not guilty until proven guilty."
In 2012, 20-year-old Adam Lanza killed 20 first-graders and six teachers at Sandy Hook Elementary School after killing his mother at home. He killed himself when police arrived on the scene.
In the aftermath of the tragedy, Jones portrayed the shooting as a hoax staged by actors who wanted more gun control in the U.S. Though Jones has since said he believes the shooting did occur, his conspiracy theories at the time sparked an enormous amount of online harassment against the bereaved family by "truthers" who accused them of pretending. This led to the lawsuit, with the families seeking damages for defamation and emotional duress.
"What's clear from Judge Bellis' ruling is that Alex Jones and the Jones defendants have engaged in a long, continuous course of misconduct in this case designed to prevent the plaintiffs from getting evidence about Mr. Jones' business and about his motives for publishing lies about them and their families," said Christopher Mattei, a lawyer for eight of the victims' families.