It's Not Just Your Imagination: Americans Are Getting Less Tolerant
Does it ever seem to you like Americans just aren't quite as accepting as they used to be? Well, it's not just you. In fact, there's science to back it up—and it's pretty concerning.
Public Religion Research Institute just finished a new study that found a small but growing minority of Americans who believe businesses should be able to refuse service to others because of their religious beliefs. This was first brought up in the infamous lawsuit a few years back, in which the Christian owner of a bake shop refused service to a gay couple looking to buy one of his wedding cakes. But whatever merits that lawsuit did or did not have, the underlying attitude has started to spread.
In 2014, only 16 percent of Americans believed that "it should be permissible to turn away customers based on their sexual orientation, gender identity, religion or race." In 2019, that number has nearly doubled to 30 percent.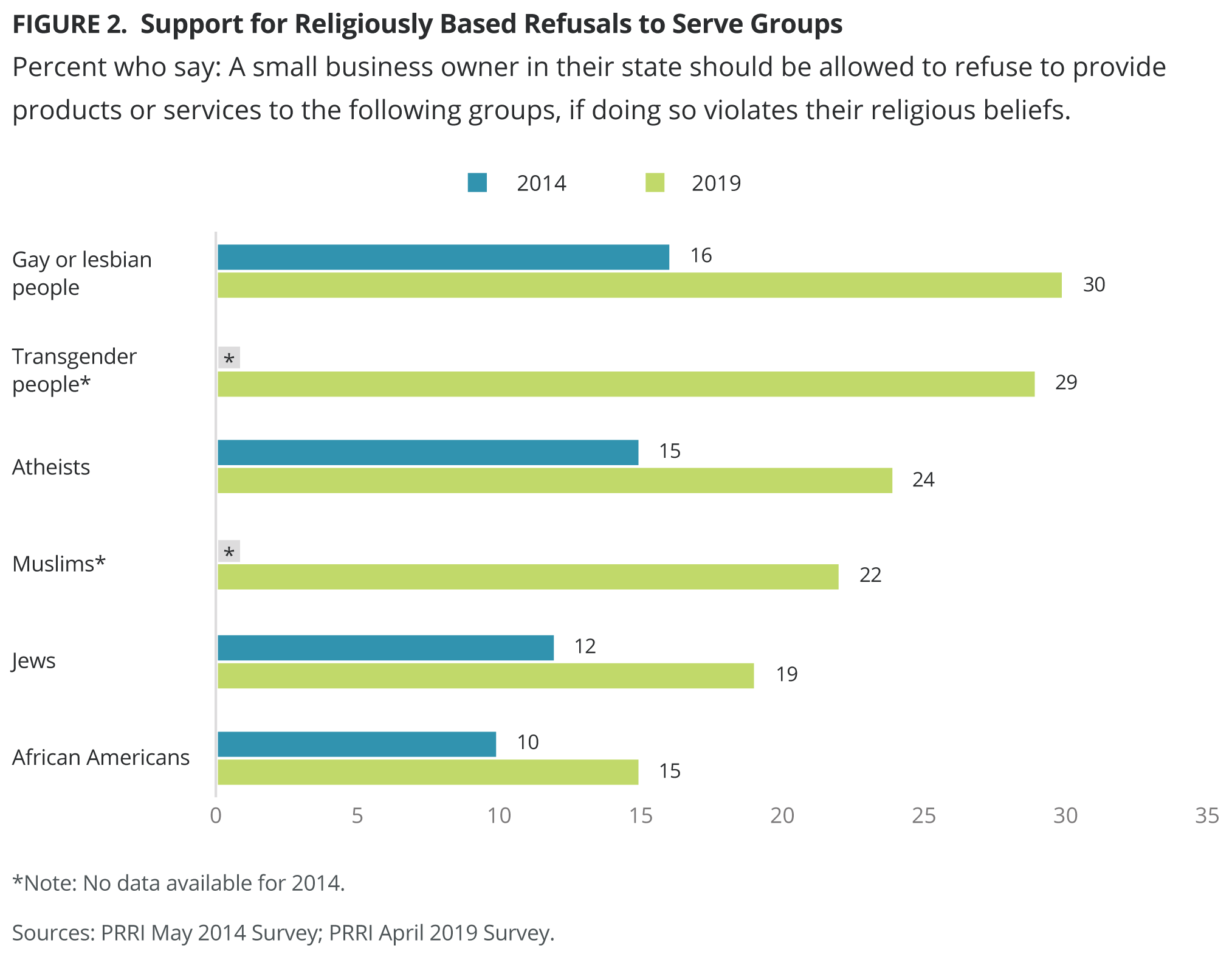 The numbers don't get much prettier as you dig into them. There's a partisan divide, with 47 percent of Republicans and 18 percent of Democrats agreeing with the policy, but both of those numbers are much higher than they were five years ago when just 20 percent of Republicans and 11 percent of Democrats agreed.
About one in five Americans believe that businesses should be able to refuse service to Muslims on religious grounds—a number that includes 32 percent of white evangelicals and 28 percent of white mainline Protestants, but only 21 percent of nonwhite Protestants and 19 percent of Catholics.
19 percent of Americans say it's acceptable to refuse service to Jews, and fifteen percent say the same thing about black people. Those numbers are up from 12 percent and 10 percent respectively from 2014.
Jesus' most famous parable might just be the one about the Good Samaritan, in which at least part of the takeaway is that loving your neighbor means helping people who are different from you. But a growing number of Americans are finding plenty of loopholes on the road from Samaria to Jerusalem.