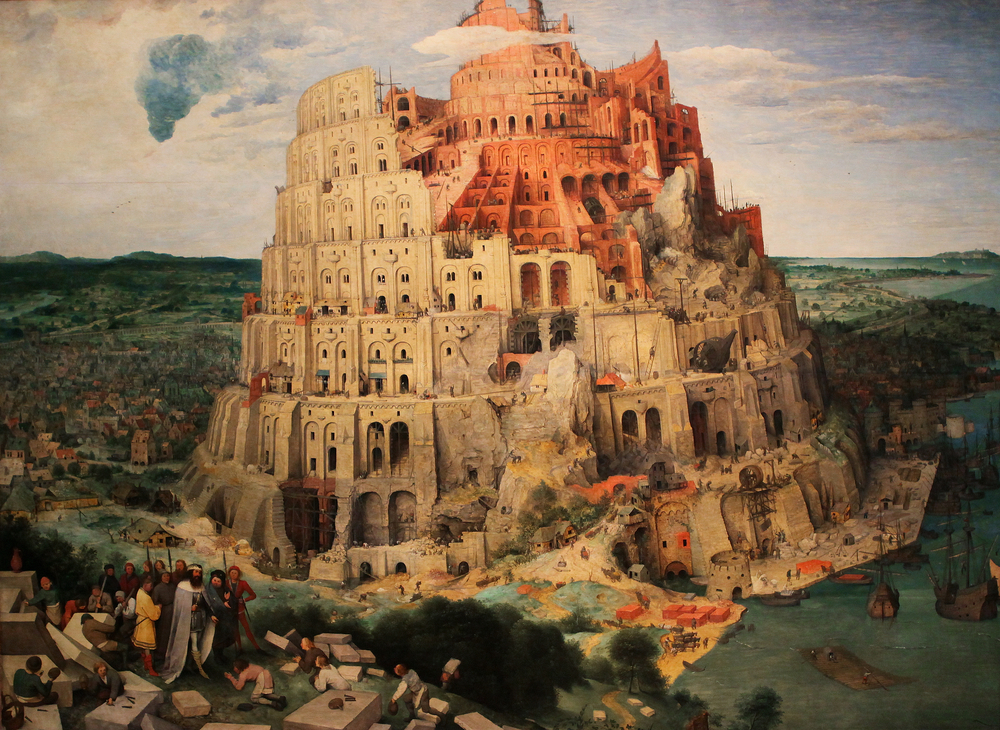 One of the very first stories in the Bible — not long after Noah parks the boat and lets everyone out — is the tale of the Tower of Babel. You know the one. People start building a very tall tower so, to stem the tide of their hubris, God confuses human language and scatters the inhabitants of the city across the world. There's a lot of scholarly discussion around this story (and similar stories that appear in other ancient texts) but one very key takeaway is that God was not a fan of the Tower of Babel. Which means there's only one thing to do: Build it again!
That's the idea of Ken Ham anyway. He's the Young Earth Creationist behind Answers in Genesis who founded the Creation Museum and the Ark Encounter, exhibits that provide evidence for Ham's interpretation of the first few chapters of the Bible. Now, he's looking to expand to the Tower of Babel, which Ham says will be a "replica" of the tower itself (though Genesis itself offers scant details about the structure).
Well, what could go wrong? True, the one historic example we have of attempting to build the Tower of Babel led to calamity but that was probably a one-time thing, right?
Now, Ham admits that "this structure might seem like an odd addition for a ministry devoted to upholding the authority of God's Word and spreading the gospel through its many outreaches." But he assures us that his motives are "diametrically opposed to the reasons of the original builders over 4,000 years ago." Well, that's a relief.
His actual reasons appear to be linked to …Critical Race Theory? Yes, the nefarious bogeyman de jour appears to be the motivating factor here. Ham argues that the theory of evolution is inherently racist, and his new Tower of Babel exhibit will help dispel the influence of CRT, which he calls an "ungodly idea that we must instruct people to see and judge people based on the melanin level in their skin, which is the opposite of what Scripture teaches."
This is an insultingly reductive definition of Critical Race Theory, the complex corner of legal academia that has become a source of a lot of tension in the culture wars. As we've written about at length, Critical Race Theory argues that society is divided into striations of power and, in the U.S., those striations have historically been divided along racial lines in ways that continue to affect our lives today. In other words, while a more traditional view of racism holds that individuals can be racist, critical race theory argues that systems can also be racist, whether or not the people who take part in them hold deliberately racist views.
In fact, Ham illustrates this point in his own article about the Tower of Babel exhibit. He writes that "while most evolutionists are probably not racists, the philosophy they hold is inherently racist, implying that some people groups are more closely related to apes than others." Whether or not you agree with his assessment of evolution's racist roots, this is a good example of critical race theory in action. The individuals, he argues, aren't racist, but they are taking part in a system that upholds racism.
What does all this have to do with the Tower of Babel exhibit? Well, Ham says the Tower of Babel story illustrates the true origins of racial diversity, so the exhibit will combat CRT's "divisive" agenda which is, according to him, being promoted by "education systems and politicians throughout Western nations."
It certainly sounds like Ham is well-intentioned here, writing that he hopes to "proclaim mankind's true history as described in God's Word." But too many Christians are squaring up against Critical Race Theory when, in fact, a proper understanding of it can be a useful tool for combating racism in the world around us. To make CRT into a super villain, its critics have resorted to strawman arguments that bear very little resemblance to the actual thing. And when you're making up your own language to justify a new culture war, than building a new Tower of Babel becomes sadly fitting in more ways than one.