No, the People Who Raided the Capitol Were Not Antifa
In the wake of Wednesday's harrowing events in Washington D.C., a noxious conspiracy theory bloomed almost immediately from the least reliable parts of the internet. This theory posited that the marauding mob which were arrayed in MAGA paraphernalia, replaced the American flag with a "TRUMP 2020" flag and had in fact been incited by President Donald Trump himself, were not actually Trump supporters. Instead, they were members of antifa, the radical and largely hypothetical leftwing bogeyman.
This theory could have just stayed in the dark corners of unserious message boards where it belonged, but it found a champion in Rev. Franklin Graham, son of the late Billy Graham and one of Facebook's most prominent voices. Graham told Religion News Service that the mob was "most likely antifa." Florida Rep. Matt Gaetz repeated the claim during an address to the Senate.
It's easy to see the appeal to the theory, especially if you're looking to scrub the stain of culpability from your side in the culture wars. But it's not accurate.
The theory hinges on photos taken inside the Capitol that show two members of the mob. One was the immediately recognizable bare chested man in a viking hat and star-spangled face paint. That man is Jake Angeli, but he goes by QAnon Shaman, which kind of tells you all you need to know about the guy. He was unmissable in the D.C. uproar, and various Trump supporting social media voices pointed out that he had also been photographed at a Black Lives Matter rally in 2020. This was help up as proof that Angeli is running a false flag operation from the left.
It's true that Angeli was at a BLM rally last summer. However, other photographs reveal that he was there as a counter-protestor, spreading pro-Trump QAnon conspiracies. Mashable even points out that he has spoken at pro-Trump rallies.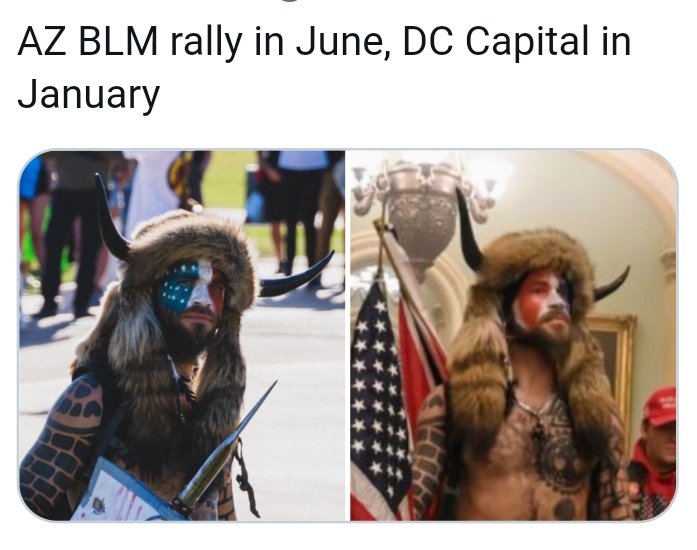 And then there's a theory being spread by Lin Wood, a pro-Trump lawyer and prominent peddler of galaxy brain conspiracies. He shared a photo of a person who stormed the Capitol alongside a photo he found on a site called "PhillyAntifa.org." This was enough for Wood to deduce that this person must be antifa, and the tweet was shared nearly 50,000 times before Twitter suspended the account.
It's not immediately clear that the two photos are of the same person. But even if they are, Wood isn't proving the point he thinks he is. The PhillyAntifa.org's photo is of a man named Jason Tankersley, a neo-Nazi white supremacist. PhillyAntifa didn't post the photo because the man is part of their community; it's a warning to avoid him. Rep. Louie Gohmert also shared a photo of Tankersley in the Capitol, highlighting what he claimed was a hammer and sickle tattoo on Tankersley's hand. However, the tattoo was actually from a video game. Other photos of Tankersley's reveal a wide collection of tattoos, which include a large swastika on his chest.
The temptation to blame someone else for your own side's problems is human nature, and antifa is nebulous enough to make for a convenient scapegoat. But the facts really could not be clearer in this case. Video of Trump inciting folks at his rally to march down to the Capitol is there for anyone to watch who wants. And from there, the facts speak for themselves. Capitol police report that four people died during the invasion on Wednesday. One woman was shot by police, and three others died in what are being called "medical emergencies." This is gravely serious business, a national crisis years in the making, and it will require gravely serious people to deal with it. There's no need to offer anyone spreading easily disprovable conspiracies a seat at the grownup table.
Tyler Huckabee
Tyler Huckabee is RELEVANT's senior editor. He lives in Nashville with his wife, dog and Twitter account.