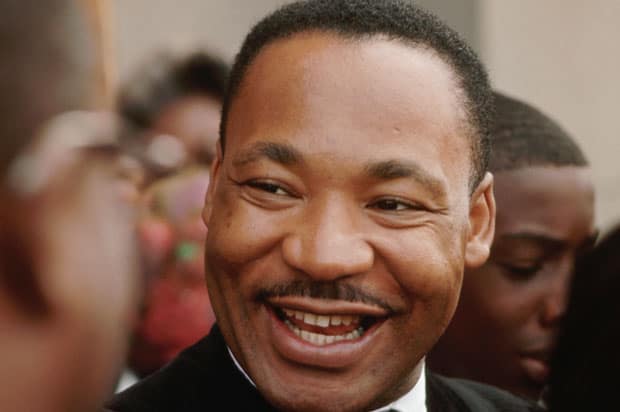 Last week, conservative outlet Standpoint published an article titled "The Troubling Legacy of Martin Luther King", in which historian David Garrow unearthed several shocking allegations against the civil rights leader from archived FBI documents.
Among other ugly claims, the documents compiled during an FBI investigation accuse King of soliciting prostitutes who at one point laughed at and encouraged a forcible rape taking place in his presence. While King's extramarital affairs have long been suspected by historians, these new allegations would make him a sexual predator and criminal. Nevertheless, many of Garrow's colleagues have taken issue with his article, and suggest that the claims are as flimsy as they are explosive.
Garrow isn't exactly a muckraker. He's a Pulitzer Prize winner who wrote Bearing the Cross, considered one of the definitive King biographies. He writes in Standpoint that these new documents demand a "fundamental … reconsideration of Martin Luther King's historical reputation."
The most shocking claim in Garrow's 8,000-word article is regarding the rape, which was alleged to have taken place in Washington D.C. According to a note in an FBI report, King and a group of Southern Christian Leadership Conference members checked into a Washington D.C. hotel and were making crude jokes about women in their congregations. It says one woman present objected to the conversation and was then raped. A handwritten note next to the report says that "King looked on, laughed and offered advice."
But many historians take issue with the evidence, which is perhaps why The Atlantic, The Washington Post, The New York Times and The Guardian all passed on publishing Garrow's article before Standpoint finally agreed. First of all, the entire claim is based on a handwritten note next to a summary report of secret FBI recordings — not a direct transcript. That's a pretty shaky foundation for such a claim of this magnitude. As The Guardian notes "we have no tangible proof of a recording, nor a transcript in the public record. More importantly, there is no way to verify who edited the transcripts or when."
And then there is the source itself. The FBI's vendetta against King is the stuff of legend, with agents desperate to undermine the Civil Rights Movement. One agent famously sent King's family a letter, encouraging him to kill himself. "No person can overcome facts, not even a fraud like yourself," it read. "Lend your sexually psychotic ear to the enclosure. You will find yourself and in all your dirt, filth, evil and moronic talk exposed on the record for all time." Against this backdrop, any notes about King's life — particularly damning claims like these — must be held extremely suspect.
Other historical scholars pushed back against Garrow's article as well. "It is deeply irresponsible for a historian to cast such FBI sources, which can be deeply unreliable, as fact," Jeanne Theoharis, the author of The Rebellious Life of Mrs. Rosa Parks, told The New York Times. "Most scholars I know would penalize graduate students for doing this."
Another curious point against the claims was made by Clarence B. Jones, King's longtime lawyer. As he notes, if the FBI had real evidence that King was involved in a rape, why didn't they make any arrests? FBI Director J. Edgar Hoover considered King one of the most dangerous men in the United States and sent his agents out with orders to find any excuse to embarrass him and derail the Civil Rights Movement. If they'd actually found one, why didn't they use it?
The actual records in question remain sealed until 2027. Until historians have a real opportunity to pour over those documents and recordings, Garrow's claims should be held at arm's length.