Study: 43 Percent of Americans Believe Being a Christian Is an Important Part of Being 'Truly American'
A new study from the Public Religion Research Institute has found a number of interesting stats about shifting beliefs in America. Among them, 43 percent of Americans say that "being a Christian" is an important part of being "truly American." That's a decline from 53 percent who said the same thing in 2015.
Republicans were more likely to agree with the statement, with 63 percent saying being a Christian was important to being truly American, while only 35 percent of Democrats agreed. White evangelicals were the most likely to agree, at 76 percent. Only about half of other religious demographics agree, with Hispanic Catholics (52%), white mainline (non-evangelical) Protestants (49%), white Catholics (46%) and other Christians (46%) saying so.
Americans were far more likely to agree that believing in individual freedoms like the freedom of speech were important to being truly American, with 96 percent of all Americans agreeing. Other high performing signs of being truly American were believing that every citizen has a right to vote (94 percent) and accepting people of diverse racial and religious backgrounds (92 percent).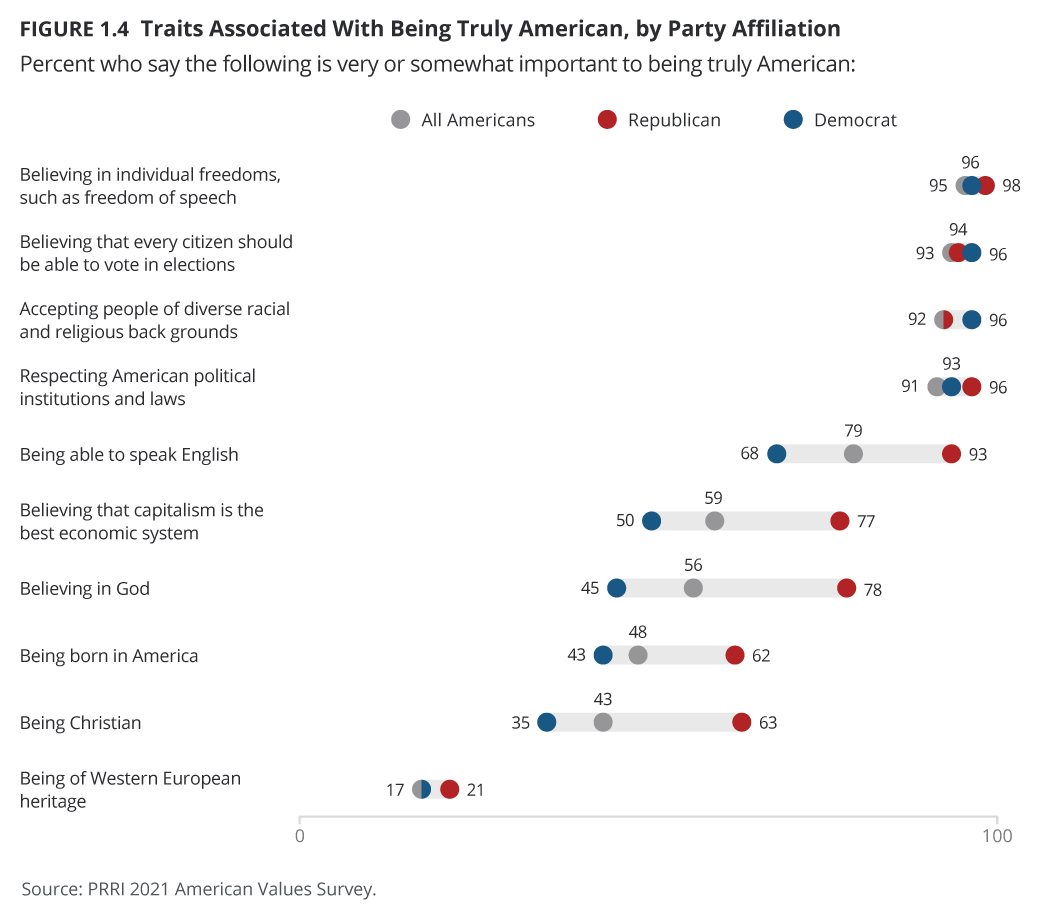 Also interesting is the number of Americans who believe their country has a "special role" in human history has fallen off a cliff in recent years. In 2013, almost two-thirds of Americans agreed with the statement "God has granted America a special role in human history." In the new study, that number plummeted to 44 percent — a 20 percent decline.
Unsurprisingly, respondents were split along partisan lines. 68 percent of Republicans agreed with the statement, compared to just 33 percent of Democrats and 40 percent of Independents. But the number dropped among all political groups from the 2013 study.
White evangelicals are the most likely to agree, with 75 percent saying they believed God has a special role for America, but even that is a drop from 84 percent in 2013. 67 percent of Black Protestants, 50 percent of Hispanic Catholics and 55 percent of "other Christians" agreed with the statement as well.
Mainline Protestants and White Catholics were significantly less likely to agree, with both at 46 percent — that's a huge drop from 75 percent and 60 percent respectively in 2013. Meanwhile, only 29 percent of Americans in other religious groups and 18 percent of religiously unaffiliated Americans agreed.
It's not clear exactly what PRRI meant by the question, which may account for the wild divergence. Most American Christians believe that God has a special role for all people and all nations, so there's nothing particularly novel about agreeing with the polling question. But then, there is a strain of thought in American Christianity that singles the United States out uniquely as a "shining city on a hill," as President Ronald Reagan famously put it. That thinking has fueled some insidious forms of Christian Nationalism, and led to all sorts of trouble. But without PRRI getting a little more clarity in its line of questioning, it's not totally clear whether or not this stat should be troubling.
Tyler Huckabee
Tyler Huckabee is RELEVANT's senior editor. He lives in Nashville with his wife, dog and Twitter account.