As Republicans are poised to block an investigation into the attempted insurrection on January 6, the conspiracy theories that funneled many of the rioters' participation is continuing to swell to new levels of popularity in the U.S. QAnon, a bizarre and fluid whirlpool of misinformation and delusions, can no longer be considered a "fringe" belief. A new study from Public Religion Research Institute and the Interfaith Youth Core found that around 14 percent of Americans believe in the tenants of QAnon. That comes out to around 30 million people, roughly the same number of Americans who identify as white evangelical Protestants.
Speaking of white evangelicals, they are the most likely religious demographic to believe in QAnon. The PRRI report found one in four white evangelicals believe in what it identified as the three core beliefs of QAnon.
First, that "the government, media and financial worlds in the U.S. are controlled by a group of Satan-worshipping pedophiles who run a global child sex trafficking operation." Fifteen percent of Americans agreed with the statement, including 23 percent of Republicans and eight percent of Democrats.
Second, "there is a storm coming soon that will sweep away the elites in power and restore the rightful leaders," a statement that found traction with 20 percent of Americans, including 28 percent of Republicans and and 14 percent of Democrats.
Third, "Because things have gotten so far off track, true American patriots may have to resort to violence in order to save our country," which garnered agreement from 15 percent of Americans, including 28 percent of Republicans and seven percent of Democrats.
All three statements found agreement with about 25 percent of white evangelicals. A nontrivial number of Hispanic Protestants also believed first two statements (26 percent agree that the U.S. is controlled by Satanic pedophiles, 29 percent agree that "the storm is coming") although just 12 percent agreed that true Patriots may need to resort to violence.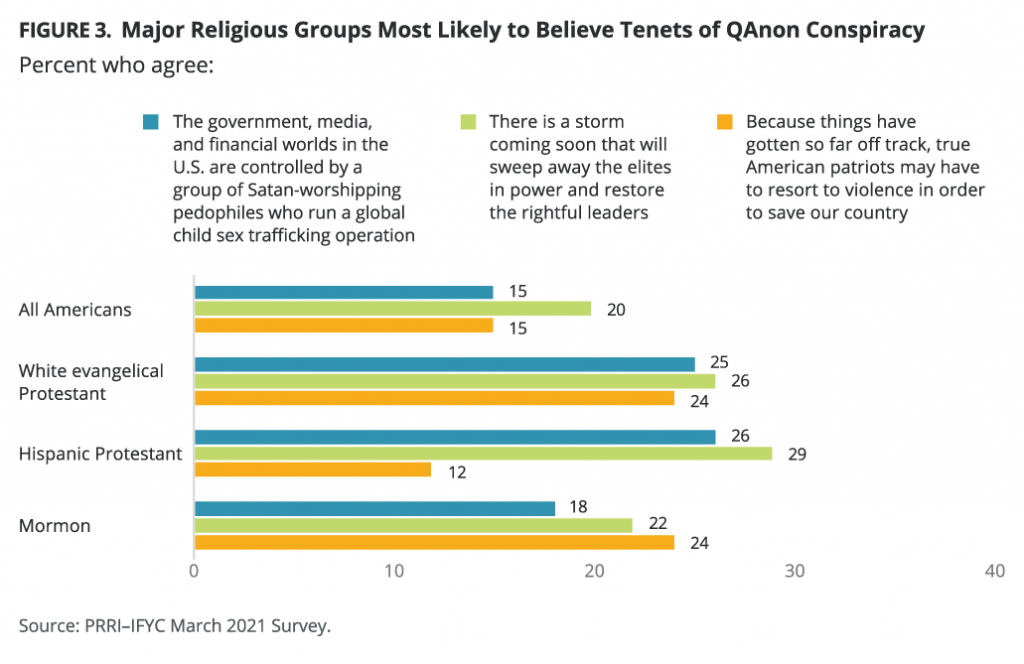 The biggest factor in whether or not a person believes in QAnon was pretty clearly the type of news they watch. Forty-eight percent of Americans who watch far-right news sources like One America News Network or Newsmax believe in QAnon, compared to 20 percent of those who watch Fox News, 12 percent who trust local news, 10 percent who watch CNN, and five percent who watch broadcast networks or MSNBC.
As striking as it is that 14 percent of Americans are QAnon believers, it's probably just as notable that around 46 percent of Americans can be labeled "QAnon doubters." That is, they do not necessarily believe in QAnon, but they also don't reject it entirely. Just 40 percent of Americans were willing to completely reject QAnon. 55 percent of Republicans fell into the "doubters" category, with just 21 percent willing to reject it altogether.
"It's one thing to say that most Americans laugh off these outlandish beliefs, but when you take into consideration that these beliefs are linked to a kind of apocalyptic thinking and violence, then it becomes something quite different," Robby Jones, the founder of PRRI, told the New York Times.
The QAnon conspiracy began on seedy internet message boards, when an anonymous poster who went by Q claimed to have high level access to secret government operations. Over the course of former President Donald Trump's administration, Q would post cryptic messages about Trump's plan to jail his political opponents, Hollywood elites, tech billionaires and anyone else believed to be associated with a clandestine cabal of Satan-worshipping pedophiles who secretly ran the nation. Q-adherents pour over these posts — called "Q drops" — for clues about the next steps in Trump's four dimensional chess game.
As the conspiracy has spread, it's become less tied to the message boards that spawned it, and more unwieldy as well, evolving into several sects — not unlike denominations. The PRRI poll found many QAnon believers also get entangled in other conspiracies, such as the effectiveness of COVID-19 vaccines and the belief that President Joe Biden stole the election.
QAnon has also found proponents on Capitol Hill, with highly visible believers like Georgia Rep. Marjorie Taylor Greene, who spread QAnon conspiracies on her social media before she was elected. She has since distanced herself from those beliefs.
All of this adds up to a very serious problem for the U.S., and for the white evangelical church in particular. If white evangelical pastors knew that, say, around 25 percent of their congregations believed that Jesus was a talking avocado, you can be reasonably certain they'd identify this as an issue worth addressing from the pulpit. QAnon is not appreciably less outlandish and, considering the number of believers who think political violence may be on the table, is potentially more destructive.
Are pastors prepared to take the threat seriously? There have been several reports of pastors stepping down after their congregations were radicalized into QAnon belief. Come to think of it, how many white evangelical pastors themselves are QAnon believers? The answer is, at the very least, not zero.