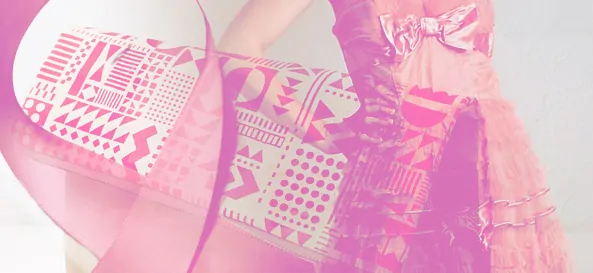 I love the month of October for a lot of reasons, but it's also a month I dread every year. While the leaves are vivid with color, retail stores everywhere are awash with pink because it's breast cancer awareness month.
I lost my mother to metastatic breast cancer in January, so it's not my disregard for breast cancer awareness that bothers me about the pink ribbon. The reason I am sick of the pink ribbon is because, in my experience, the pink ribbon does more for the person who purchases it than those affected by the disease.
Nowhere is the problem with "pinkwashing" more evident than with Etsy and their "Tickled Pink" email and subsequent corporate cop-out.
Two weeks ago, Nicole Smith, a member of Etsy's marketing team, curated an email full of sellers' items clad in the ubiquitous pink "breast cancer awareness" ribbons. Though I have my qualms with the pink ribbon for all it does and does not represent, the email seems innocent enough until you click through each of the listings. Only eight out of 24 items listed in the "Tickled Pink" email actually claim to donate to the cause they tout, yet Nicole's email encourages Etsy users to purchase the pieces as a way to "show love to the women in your life."
In short, these Etsy sellers have happily capitalized on a sensitive issue, thoughtlessly tacking pink ribbons onto their products without supporting the cause itself. Etsy's celebratory endorsement of the sellers' deplorable opportunism only adds insult to injury. Since Etsy earns money from each item sold on their site, both they and their sellers are profiting from others' pain—and from their consumers' ignorance. Because let's face it: Not everyone is going to read the fine print to make sure their purchase donates to the cause.
And herein lies the issue with pinkwashing, as Etsy has so finely exemplified for us:
When there is no charitable action behind the product—on the part of the seller or the buyer—it turns breast cancer awareness into a trendy parade of pink paraphernalia, making breast cancer awareness about the appearance of generosity, rather than actively making a difference in the lives of those in need. It gives consumers buying bags of pretzels and footballs and tennis shoes—or, in this case, mugs and door wreaths—the feeling of having been generous, without their actually having to do anything.
But as one blogger named Hila so aptly states:
"Consumerism is not 'awareness' about cancer; it's consumerism. Let's not pretend otherwise."
That realization alone is enough to make blood boil, but then there is Etsy's dismissive and impersonal response to the criticism over their breast cancer awareness marketing tactics. For examples, see Nicole Smith's tweet to Acacia and Mary Andrews' forum response and quote for the Daily Dot.
As if those responses weren't bad enough, there's Marie Kelly's response to my forum inquiry, which makes it sound like I'm just another Negative Nancy trolling the Internet.
And then there's Nicole Smith's reply to my private message on Etsy, which, although I can't reveal its contents due to Etsy's site policy, was nearly verbatim what Mary Andrews published publicly, with zero acknowledgement of my personal story as a daughter of a breast cancer patient or as an Etsy seller who actually donated a portion of my profits to my mother.
Etsy has had ample opportunity to express solidarity with those who have been directly affected by breast cancer and to hold themselves accountable to their brand as a "community of artists, creators, collectors, thinkers and doers." But instead, they have chosen to make excuses for themselves and label criticism as "negative reference to other sellers," as if voicing our frustrations and concern equates to hate speech.
This, ultimately, is why I have lost faith in Etsy's brand, and it is the reason why I am choosing to close my Etsy shop: They have made it clear that my voice doesn't matter, nor do the voices of Acacia or Hila or anyone else who is disturbed by their actions.
I'm not just upset by their ignorant and insensitive attempt at marketing to those affected by breast cancer. I am angered by their continued disregard of the voices in their community asking them to be accountable for their actions.
Nothing says corporate cop-out like a deliberate blind eye to someone else's pain.
I'll finish this post by saying that Etsy and other corporations like them are only partially at fault. As consumers, we have to acknowledge our responsibility in this issue by being active in our charitable efforts. The pink ribbon on your bumper, Facebook profile picture, sweater or cereal box means absolutely nothing if you are not reaching out to the people around you.
True generosity is radically active.
It is not fluffy or pink or cutesy or marketable. It is not the over-sexualized saving of second base. It is not the color of your bra in a cryptic Facebook status. It is tangible. It is personal. It is scary. It is unnerving. It is ugly-crying on the couch with your friend as she (or he!) discusses their diagnosis.
If you know someone battling breast cancer, or any other terminal illness for that matter, then reach out. Make them a meal. Run a marathon for them. Hold a benefit for them. Send them a card. Cry with them. Promise to care for their families when they are gone.
That is how you support a breast cancer patient.