Puerto Rico Needs Help Now. Here's How You Can Get Involved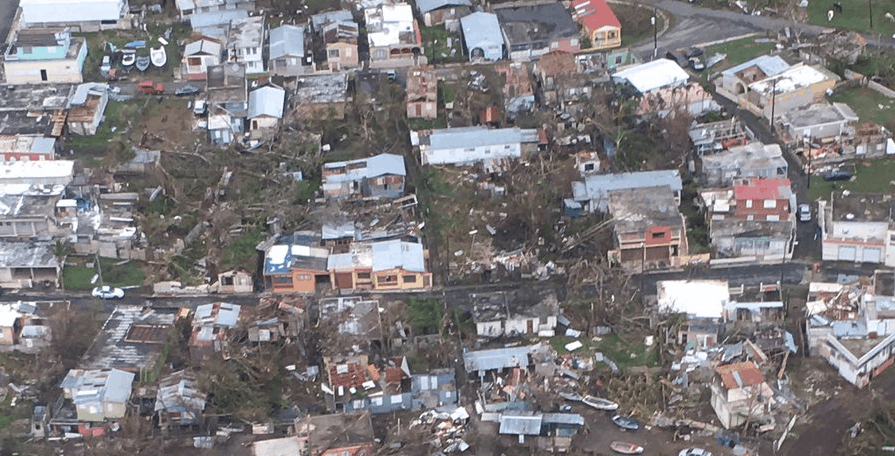 According to CNN, officials are describing the current status of life on Puerto Rico as "apocalyptic" after the category 4 Hurricane Maria hit the island on Wednesday. While the death toll is so far limited to 13, the human toll is just starting to be understood. Infrastructure has been destroyed, about 95 percent of cell service has been wiped out, all power has been lost and officials are evacuating in preparation for the imminent collapse of a dam.
"Hysteria is starting to spread. The hospital is about to collapse. It's at capacity," Mayor Jose Sanchez Gonzalez of Manati told the Associated Press on Saturday, weeping. "We need someone to help us immediately."
Culminamos el vuelo sobre el sureste de Puerto Rico. Algunas imágenes del impacto de #Maria en la infraestructura. pic.twitter.com/fWuQtS2qeg

— Ricardo Rosselló (@ricardorossello) September 24, 2017
New York Governor Andrew Cuomo visited Puerto Rico to survey the damage and said he was told that Puerto Ricans are expecting three to four months without power, but The New York Times reports that power outages may continue for up to a year. Those without a generator will have to make do without air conditioning, refrigeration, stoves—possibly even water.
Puerto Rico's nonvoting U.S. Congresswoman Jenniffer Gonzalez told the Times that "the devastation in Puerto Rico has set us back nearly 20 to 30 years. I can't deny that the Puerto Rico of now is different from that of a week ago. The destruction of properties, of flattened structures, of families without homes, of debris everywhere. The island's greenery is gone."
"We are U.S. citizens," Puerto Rico Gov. Ricardo Rosselló said. "We shouldn't be the lesser for it."
"There's a humanitarian emergency here in Puerto Rico," Rosselló told the Associated Press. "This is an event without precedent."
Events without precedent will require equally unprecedented responses.
Here's how you can get involved.
The Salvation Army is accepting donations for hurricane relief here, while GlobalGiving's Hurricane Maria Caribbean Relief Fund is accepting them here.
ConPRmetidos is a Puerto Rican nonprofit, and it's accepting donations as well.
The Miami Foundation has created the US Caribbean Strong Relief Fund to support relief efforts in Caribbean nations.
Unidos PA' Puerto Rico was started by a Philadelphia-area nonprofit called El Concilio to raise money for hurricane relief.
GoFundMe has created a sort of charity aggregator page for all Puerto Rico and Caribbean Island-based charities, and you can browse their selected relief organizations and donate to them here.
If you know of any other could organizations supporting relief in Puerto Rico, feel free to post them in the comments.