Putin's Untold War on Christianity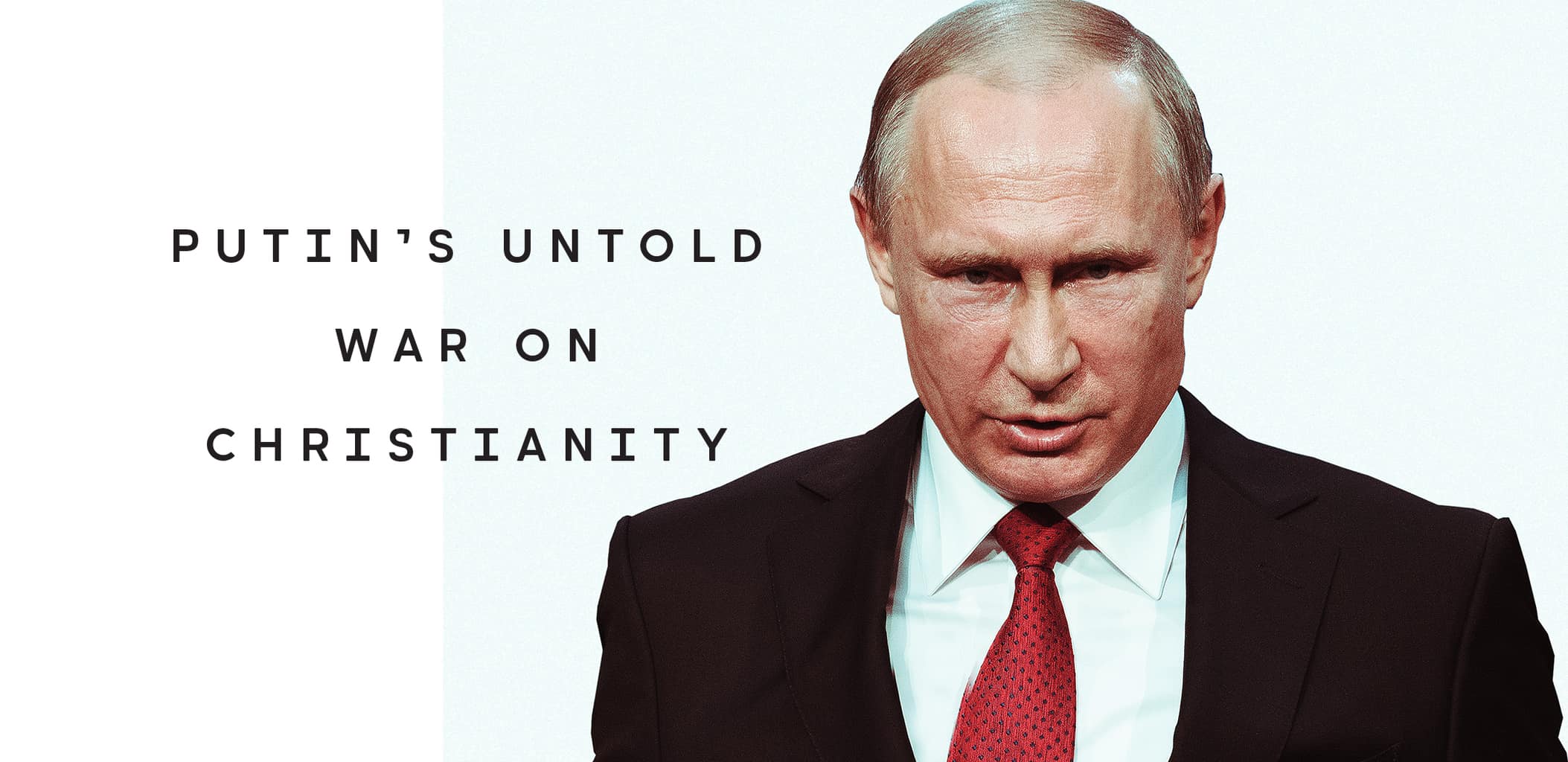 Let's start with the basics.
If you are a Russian citizen in 2018, it is currently illegal for you to share the Gospel with a friend in your home. It's illegal for you to invite others to your church. VKontakte— the Russian equivalent of Facebook—can't be used to spread anything that might be considered "evangelism." In fact, all religious dialogue has been banned outside of churches and other religious sites.
On the street. Online. Even in your own home.
This is not the most recent or even most brazen of Russia's recent attempts to curtail religious freedom within its borders, but it is illustrative of the Kremlin's new attitude toward religion. The Russian Orthodox Church is deeply intertwined with Russian identity, closely connected to national politics and given broad legal preference over minority religions in the country. While the Soviet Union famously attempted to stamp religion out completely, Russian President Vladimir Putin has embraced the Russian Orthodox Church and, critics say, trans- formed it into another arm of his infamous propaganda machine.
By granting it liberties either restricted or flat out denied to other religions and sects, there is strong suspicion Putin has embraced the state church solely because he's able to remake it in his own likeness.
But how did we get here? How did a country that seemed to be bucking decades of Orwellian control slip back into authoritarianism, and why haven't more churches in the West spoken up on behalf of their fellow Christians abroad?
The answers are twisted up in a murky web of politics, nationalism, Putin's aforementioned knack for propaganda and a healthy dose of good, old-fashioned fake news. But as Russia's aims become clearer and the fortunes of its religious minorities less certain, experts are saying it's imperative for Christians—and fans of religious liberty in general—to start paying attention to what's going on. And, they caution, what's happening in Russia could happen elsewhere.
It already is, if you know where to look.
THE LAW OF THE LAND
In the early summer of 2016, Russia passed a little-noticed pair of laws broadly billed as "an- ti-terrorism" in their nature and intent.
The laws became known as the Yarovaya Law, named for Irina Yarovaya, the hawkish head of the Parliamentary Committee for Security and Anti-Corruption. The laws increased the scope of Russia's already vast law enforcement agencies, expanding their legal surveillance capabilities and data mining operations.
Those measures were concerning enough, reportedly causing discomfort even among the Putin-friendly parliament. But they were able to pass a vote, riding on a wave of national unease after ISIS downed a Russian commercial plane over Egypt in 2015.
Tacked onto the Yarovaya Law was the provi- sion against evangelism or "missionary work" outside of specific, designated spaces. The law defined missionary activity as: "The activity of a religious association, aimed at disseminating information about its beliefs among people who are not participants (members, followers) in that religious association."
"It would be fair to say that various actors have been seeking for quite a long time to get some so-called 'anti-missionary' package through and that this turned out to be the convenient way of pushing it through," John Kinahan says.
Kinahan is the chief editor at Forum 18, an organization that monitors religious freedom in countries like Russia, Belarus and some central Asian countries. In his view, the Yarovaya Law is a significant step in a slow, steady trend toward the complete restriction of religious freedom.
"Putin is clearly not somebody very comfort- able with people using their freedom," Kinahan says. "And given the legislative moves that he's made, given the actions of state officials, not only racial freedom and religious belief but other human rights too, it's very hard to come to any other conclusion."
Organizations found in violation of the law can be fined up to a million rubles, roughly $17,000.
The government's newly heightened surveillance capabilities drew the bulk of what little international attention was paid to the passage of the laws. The passage of new laws against missionary work did not even warrant mentions in write-ups from The Economist or Reuters.
Some of the indifference can be attributed to the lack of a vocal minority in Russia to sound the alarm. Estimates vary since there is no official census of religion in Russia, but the most recent Pew Research Center study found that 71 percent of Russians consider themselves Eastern Orthodox and another 15 percent say they're "religiously unaffiliated," meaning atheist, agnostic or "spiritual but not religious." Between 8 and 10 percent consider themselves Muslim, with the rest affiliated with some other religion.
Religious minorities did attempt a campaign to change Putin's mind. Head of the Advisory Council of the Heads of Protestant Churches in Russia, Sergei Ryakhovsky, posted a letter to Putin that read, in part:
"The obligation on every believer to have a special permit to spread his or her beliefs, as well as hand out religious literature and material outside of places of worship and used structures is not only absurd and offensive, but also creates the basis for mass persecution of believers for violating these provisions."
The letter ended: "Vladimir Vladimirovich [Pu- tin], on behalf of thousands of evangelical Protestants, we ask you not to allow this repressive and unconstitutional law to be adopted."
The protests on behalf of religious minorities were sincere, but had even less visible of a presence than protests focusing on the Yarovaya Law's digital surveillance legislation. And they've had just as much an impact. That is to say: none.
A LONELY MISSION
"I think Jesus has been clear in Scripture that faith needs to be part of our social life," says David Curry. "It affects our morals, our family life, and you just can't keep authentic Christian faith within the boundaries of a building. So those kinds of laws, which say, 'Keep your faith limited to … ' [are] the ultimate threat to freedom of a religion."
Curry is the CEO of Open Doors USA, an organization that advocates for persecuted Christians and is one of the few places taking Russia's threat to religious freedom seriously.
"My concern is that Putin's ultimate goal is to nationalize the Christian movement entirely in Russia," Curry says. "And I see that as a great threat to the spiritual health of the country."
In 2016, the United States Commission on International Religious Freedom listed Russia among their tier one "countries of concern" on their annual list of the world's worst violators of religion freedom, alongside countries like Iran and North Korea.
Nevertheless, the United States has largely kept mum on the subject. It's an odd position for a country as famously protective of religious freedom as the U.S., both within its own borders and around the world. The U.S. sends by far the most missionaries to other countries (127,000 annually by the most recent estimate; Brazil is a distant second at 34,000).
While religious freedom is a human right in every country, few nations have made it a cornerstone of their national identity in the same way the U.S. has.
Part of the reason the Yarovaya Law failed to gain much attention in the U.S. was be- cause at the same time it was being passed, Russia was making U.S. headlines for different reasons: hacking the 2016 U.S. presidential election.
News that U.S. intelligence believed Putin had masterminded an immense campaign to sow chaos into American democracy paralyzed national politics and sucked all the media attention. Now-President Donald Trump was then trying to cast Russia as unfairly maligned, expressing admiration for Putin's strongman tactics.
Then-President Barack Obama was loathe to look overly partisan, and spent most of the summer demurring on his opinion about what the Kremlin may have been up to.
Hillary Clinton was generally too busy shielding her own campaign from Julian Assange's email leaks to pay much attention to Russian legislation.
All of this meant awareness of another Russian scandal on top of the already hotly contentious media narrative fell solely to more specialized agencies, like the bipartisan United States Commission on International Religious Freedom.
The lack of international awareness of the Kremlin's brazen roll-back of religious freedom ironically coincides with American opinions of Russia actually improving. A Pew study in the summer of 2017 found that 29 percent of the U.S. has a positive view of Russia compared to just 19 percent in 2014.
Much of that rise can be attributed to a partisan divide (34 percent of Republicans have a positive view of Putin, compared to just 13 percent of Democrats), but at least some of it can also be chalked up to a general lack of information. With the White House currently toeing a fine line with the Kremlin and much of the U.S.' attention focused on religious controversies at home, Americans tend to have a more favorable view of Putin's actions than his actions warrant.
"The urge to control is quite a strong part of Putin's approach," says Kinahan. "He is, after all, a former secret policeman and such people don't normally become very keen on freedom in any kind of way."
And for people who are keen on religious freedom, Russia is trending in a truly worrisome direction—and it shows no sign of slow- ing down. Last August, Russia said Jehovah's Witnesses violated the country's anti-extremism laws, effectively outlawing the religion.
"It certainly would be our view that based on the evidence that the trends of free be- lief for wider human rights in the region are downwards," Kinahan says. "[There is] a seemingly increasing climate of fear."
Tyler Huckabee
Tyler Huckabee is RELEVANT's senior editor. He lives in Nashville with his wife, dog and Twitter account.