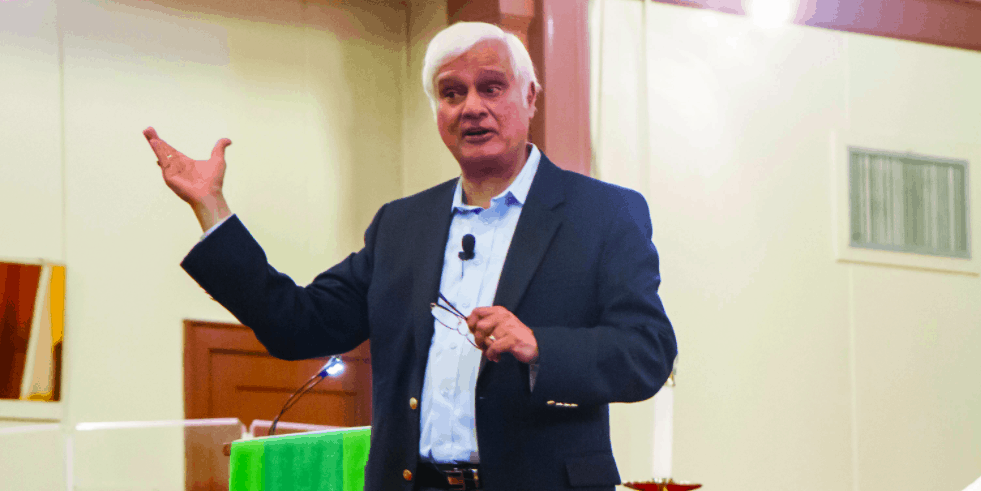 Famed apologist Ravi Zacharias has spent the past few weeks embroiled in a complex scandal in which he has had to defend himself from both accusations of inappropriate online conduct with a woman and questions about the authenticity of his credentials.
On Sunday, Ravi Zacharias International Ministries (RZIM) released its first official statement addressing the situation. You can read the whole thing over at Christianity Today.
The primary accusation involves a lawsuit regarding a woman who emailed Zacharias nude photos. Zacharias said he had maintained a friendly online correspondence with the woman over a number of months, and that he attempted to end the relationship when her language became first romantic, then sexually explicit, including what Zacharias called "unwanted, offensive, sexually explicit language and photographs."
"I have learned a difficult and painful lesson through this ordeal," Zacharias said in the statement. "I failed to exercise wise caution and to protect myself from even the appearance of impropriety, and for that I am profoundly sorry. I have acknowledged this to my Lord, my wife, my children, our ministry board, and my colleagues."
The woman Zacharias had been emailing and her husband sent him a letter through their attorney demanding $5 million in exchange for keeping the correspondence a secret. They say Zacharias encouraged the relationship and chose to "exploit her vulnerability to satisfy [his] own sexual desires."
Zacharias says he told his organization's governance committee of the situation immediately. He responded to their letter with a federal lawsuit, in which he claimed they were attempting to extort him. Zacharias' lawyers claim that the woman's husband was aware of the correspondence and that the couple, "conspiring together, labored relentlessly to foster a relationship with [Zacharias] in hopes of manipulating him into a compromising position." That lawsuit was settled last month, and the terms are unknown.
The couple gave copies of Zacharias' emails to a blogger named Julie Anne Smith on Friday. In a since-deleted blog, Smith posted the emails online. An October 2016 email showed the woman told Zacharias she was going to reveal their "secret and its soul-searing shame" to her husband. Zacharias responded by saying, "If you betray me here, I will have no option but to bid this world goodbye, I promise," a statement some outlets have construed as a suicide threat.
Zacharias' statement largely defends his actions while admitting that he should not have been engaged in "extended communication" with the woman.
[lborder]
Let me state categorically that I never met this woman alone, publicly or privately. The question is not whether I solicited or sent any illicit photos or messages to another woman—I did not, and there is no evidence to the contrary—but rather, whether I should have been a willing participant in any extended communication with a woman not my wife.
The answer, I can unequivocally say, is no, and I fully accept responsibility. In all my correspondence with thousands of people in 45 years of ministry, I have never been confronted with a situation such as this, and God and my family and close friends know how grieved I have been.
[/lborder]
The increased scrutiny on Zacharias has led to a renewed interest in his credentials, which critics have long thought were exaggerated. According to CT,  Zacharias' online bio had state that he'd been "honored with the conferring of six doctoral degrees," implying that he had six doctorates. In fact, while Zacharias received a Master of Divinity from Trinity International University, his doctorates are all honorary. A new, updated bio on his website does state that he "has conferred ten honorary doctorates, including a Doctor of Laws and a Doctor of Sacred Theology."
"In earlier years, 'Dr.' did appear before Ravi's name in some of our materials, including on our website, which is an appropriate and acceptable practice with honorary doctorates," stated RZIM issued in a separate statement on Sunday. "However, because this practice can be contentious in certain circles, we no longer use it."