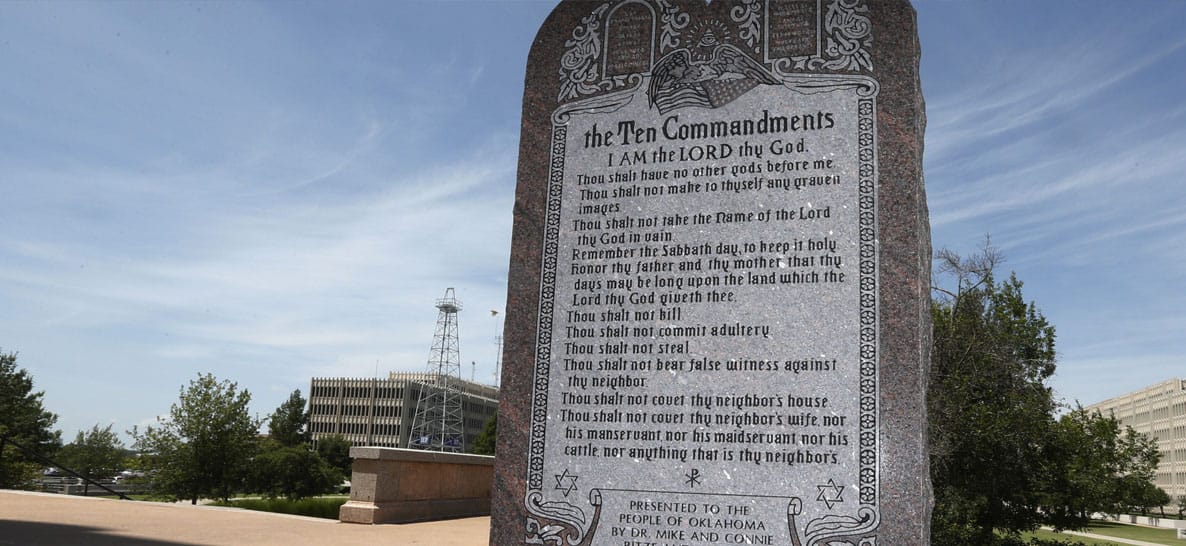 Editor's note: This piece originally ran in 2016. This week, The Satanic Temple is back in the news as a trailer for an upcoming documentary about the group has just been released.
The Satanic Temple seems to have a knack for grabbing headlines.
You may have seen the group's massive statue of the goat-headed demonic deity Baphomet, in which two children look adoringly as the winged beast sits on a throne. They've threatened to "donate" the massive bronze statue to state government areas that are also home to large donated monuments of the Ten Commandments.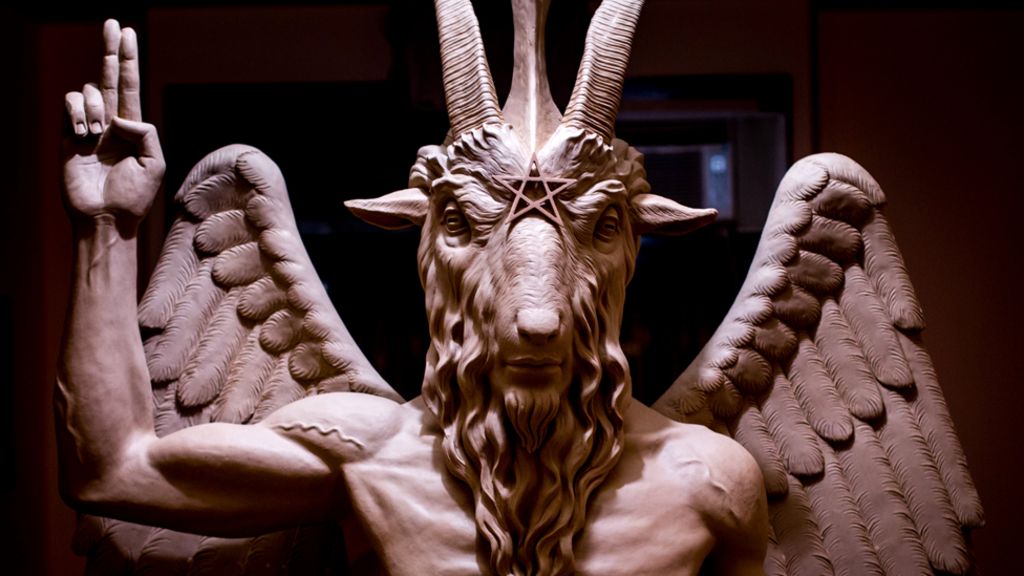 In Oklahoma, the move forced the state to remove their Ten Commandments monument from the capital grounds (though, lawmakers urged voters to fight for its return).
Recently, a man affiliated with the Satanic Temple has been showing up to municipal meetings in a black, hooded robe to deliver "Luciferian" invocations in the same settings that also allow local Christian ministers to open meetings in prayer. In Phoenix, lawmakers decided to ban prayer altogether instead of allowing a Satanic Temple member from opening the government gathering.
The group announced an initiative, this time aimed at schoolchildren: An "After School Satan Club" at public elementary schools that are also home to Christian after-school programs. In a statement, they explained, "It's important that children be given an opportunity to realize that the evangelical materials now creeping into their schools are representative of but one religious opinion amongst many."
Unsurprisingly, parents weren't thrilled.
What They Believe
On the surface, the agenda of the Satanic Temple seems, frankly, a little terrifying. That is, until you learn what the group is actually about. Not only does the Satanic Temple not believe in God, but they don't even believe in the devil.
For them, Satan is a work of fiction and a symbol they've embraced on purpose: It—very effectively—invokes a reaction, especially in the Bible Belt. As they explain on their site, in their opinion, "Satan is symbolic of the Eternal Rebel in opposition to arbitrary authority, forever defending personal sovereignty even in the face of insurmountable odds."
Even though they are clearly against any belief in the supernatural (including both Christianity and Satan-worship), they do, believe it or not, have some values in common with proponents of religious liberty.
Two of their seven tenets directly address address individual freedom:
The struggle for justice is an ongoing and necessary pursuit that should prevail over laws and institutions;

The freedoms of others should be respected, including the freedom to offend. To willfully and unjustly encroach upon the freedoms of another is to forego your own.
It's these ideas—not the biblical concept of an actual Satan—that serve as motivation for their high-profile civic activities.
What They Want
At their core, the Satanic Temple seems to mainly be opposed to large institutions that impose ideas and values—particularly religious ones—onto people who are free to adhere to whatever ideas they want. It's the idea at the heart of the Establishment Clause in the First Amendment of the U.S. Constitution: "Congress shall make no law respecting an establishment of religion, or prohibiting the free exercise thereof."
Sure, their campaigns to open city council meetings with Satanic speeches and to erect demonic statues provoke a reaction, but that's the point.
They want to challenge the way government—which is supposed to represent all of the citizenry—seems to, in some cases, afford Christians certain platforms that aren't given to other religions. And in order to get their point across, they've used the most extreme imagery possible—Satan himself—as their mascot.
They aren't out to just challenge Christianity; they are attempting to challenge state-sponsored acknowledgements of it. Individual liberty—to believe whatever you want, even if it is the Bible—is at the core of their message.
David Suhor, the guy who wore a cheap Halloween costume to perform rituals at a Pensacola city council meeting, explained to The Washington Post, "When one group wants their message to be the only one and they try to enlist the agenda of the government, people get angry. True religious diversity means I don't have to respect what you believe, but I'll defend your right to believe it."
Are They Right?
Recently, the State Department released a report that found that 74 percent of the world's population lives in countries that religiously prosecute people under government authority. Some of the primary offenders are Muslim countries. As the report explains:
In many other Islamic societies, societal passions associated with blasphemy—deadly enough in and of themselves—are abetted by a legal code that harshly penalizes blasphemy and apostasy. Such laws conflict with and undermine universally recognized human rights.
In America, no one is being tried by the government for blaspheming Islam or the Bible. There is freedom to believe whatever you want.
That's ultimately why the Satanic Temple is doing what they are doing. They are attempting to protect an idea that is increasingly unpopular around the world: That governments shouldn't enforce religious practices.
Yes, there is historical context for Christianity's role in American life (it overwhelmingly remains the popular religion in the country), but that's not what the Satanic Temple is mainly challenging. They want people to be free to practice whatever religion they want.
They just want to make sure the government isn't preventing them from doing so by elevating one religion over others. Yes, they are vocally anti-religion, don't believe in the supernatural and want to sway people away from belief in God. But they still think people should be allowed to believe, without having the government influence their outlook.
You may not agree with their methods or even their message. (They seem to relish in offending and frightening people.) But, when it comes to religious liberty, the Satanic Temple is out to make a point: Government favoritism toward one religion is an ideological slippery slope.
What happens when theology becomes a political issue? What happens when other religions demand the same platforms traditionally given to Christians in the U.S.? What happens when religion is legislated? Where's the line between the allowance of religious displays on government property and the endorsement of religious ideas?
Despite their demonic statues, black robes and creepy videos, the Satanic Temple believes an idea that even most Christians would agree with. We should be free to believe and practice religion without government interference—even if that's an idea that some people find offensive.