Trump's Favorability Ratings Among Christians Have Sharply Receded During the Pandemic
In March, President Donald Trump's favorability ratings soared to the highest of his political career, benefitting from experts call a "rally around the flag" effect that often takes place during a national crisis. However, according to Pew, Trump's overall favorability ratings have fallen seven points in just four weeks. Now, 43 percent of Americans hold favorable views of the President and 54 percent have an unfavorable view. That's more or less normal for the last few years of the Trump administration, but the recent Pew poll finds a sharper decline than usual among Christians.
White evangelicals have made up the bedrock of Trump's support since 2016, when 80 percent of white evangelicals voted for him. Today, only 66 percent say they have favorable views of him — a sharp drop from last month, when 77 percent did. Similarly, 48 percent of white Catholics say they have a favorable view of Trump now, compared to 60 percent in March. And Trump's favorabilities among white mainline Protestants have fallen from 62 percent to 44 percent over the last month.
Non-white Christian groups have always supported Trump in far fewer numbers and they did not see nearly as significant of a change last month, hovering between 36 to 44 percent favorable.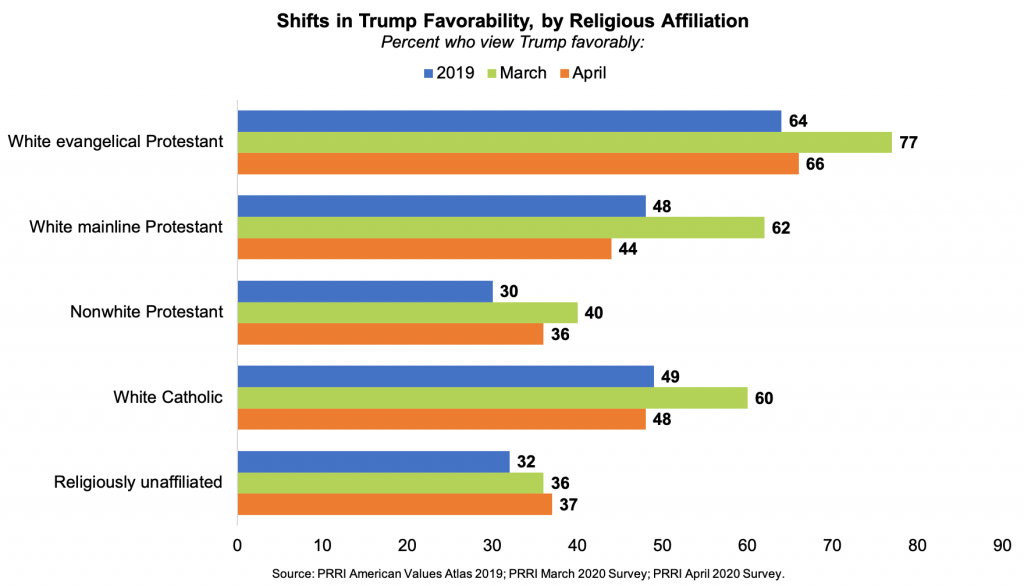 Favorability is not the same as voting, and Trump made it clear in 2016 that he can still get votes from people who don't necessarily like him. But Trump's 2020 campaign is reportedly nervous about presumed Democratic nominee Joe Biden's favorability ratings in battleground states. In a close race and a famously finicky electoral college, a few points of favorability could be the difference between the White House and the doghouse.