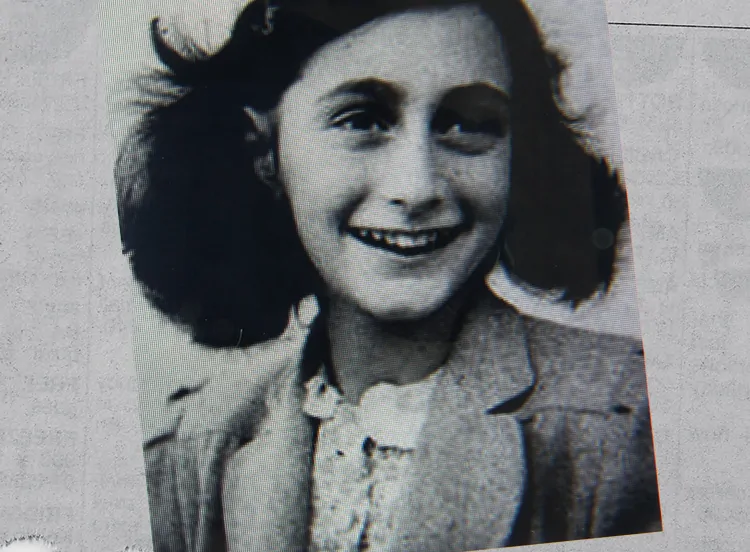 Seventy-five years ago, Otto and Edith Frank realized they couldn't take any more chances. Nazi Germany's march reached a fever pitch, and they were on the hunt for Jews to add to their labor forces. The Franks gathered a few belongings and moved to "the hiding place"—a secret den they'd been preparing for a worst-case scenario. And on July 6, 1942, a then-unknown young girl named Anne Frank followed her parents into the hiding place.
Anne's now famous, tragic story is well known because of its proximity to us. The look on her face is familiar, her beautiful smile is made agonizing by the realizing of how easily she could have been saved—how many opportunities to rescue her passed by while rich, powerful men in other countries argued about politics and timing. It's easy, looking at her, to swear "never again." It's easy to say we've grown up as a world, and would never suffer something like that to happen now. But that, alas, is not true. Something like that could happen again. It already is.
***
The current situation faced by Syrians and Iraqis displaced by war is perhaps the worst humanitarian crisis in the world.
Over 5 million Syrians have been forced to seek refuge in Jordan, Lebanon, Turkey and other countries. Another 6.5 million Syrians remain in Syria, but have been displaced from their homes—people literally fleeing for their lives in an active war zone. Nearly half of Syria's entire population has been displaced by the war.
That's only the beginning.
Sixty percent of Syrian refugees are young people who have experienced traumas we can't imagine: seeing a parent tortured or a sibling killed, watching entire city streets explode, fleeing from their homes or across borders in the dark of night, with shells flying over their heads or rebel soldiers chasing them. One childcare worker in Syria said, "There are no longer any children in my country—even a 4-year-old can tell you everything about war."
The sights.
The sounds.
The terror.
The Lost Generation
Called Syria's Lost Generation, these children have not only been traumatized, they've also lost the support structures—schools, social clubs, neighborhood activities—that generally provide a positive pathway to the future. Now they sit idly in dusty refugee camps or urban slums in foreign countries, feeling their future slip through their fingers.
Syria was a beautiful country, lush and green. People from surrounding countries often vacationed near Syria's beaches, enjoying an inviting culture of good food, art, architecture. Now, not just the beauty of Syria has been destroyed, but the necessary civic infrastructure as well; the majority of schools and hospitals are currently unusable.
Syrians who once enjoyed a middle-class lifestyle in a fertile land, now live in tents in the Jordanian desert. The Za'atari Refugee Camp is home to more than 80,000 Syrians.
Some have been there for over three years.
Fifty-seven percent of the population of Za'atari is under age 18; 20 percent are under age 5.
Even more vulnerable than refugees living in camps, are those hidden in the shadows of urban areas. Crowded into ramshackle apartments or abandoned buildings, these families face hopelessness everyday. They can't work legally, so they scrape together a living by cleaning toilets or hauling produce. Even children search for odd jobs to earn a few coins. UN-provided food vouchers offer help, but never enough to fill hungry bellies.
The Iraqi Refugee Surge
In recent months, Syrian refugees have been joined by 1.8 million Iraqis fleeing ISIS. Many of these displaced people left behind successful businesses and middle-class lifestyles, losing everything. I've heard of soldiers ripping gold earrings from little girls' ears, determined that displaced families would have nothing of material value. You can learn more about the plight of displaced Iraqis here.
For two years, I've been following the stories of Syrian refugees—and more recently the stories of displaced Iraqis—and vetting organizations serving them. Last May, I traveled to Jordan to see for myself what refugees face.
I discovered a grim reality; I met competent, loving mothers and grandmothers—women so much like me and my friends—who were suddenly dependent for their next meal on the kindness of strangers. (You can read about my experience with these women here.) But in Jordan I also enjoyed glimpses of hope. I found local churches and NGOs starting educational programs for refugees not eligible for public education. I saw newly created "child-friendly spaces," safe places where kids can play and just be kids again. I saw wise and loving adults using arts and music and stories to begin the healing of trauma.
In the midst of such darkness, the amazing people I met are being lights in the darkness and agents of restoration. And we get to join them.
The need to give generously to help amazing people in Jordan, Lebanon and Iraq is becoming dire. For years, the need has been great. And now, a new tragedy is shaping up.
One million people who have survived and fled the civil war in Syria and ISIS in Iraq now face the deadly cold of winter without the basic necessities to keep them alive: shelter, heaters, warm clothing, mattresses, blankets, and, of course, food.
Turning the Tide
If you've read this far, you hopefully want to do something to help. If your favorite relief organization is serving Middle Eastern refugees, by all means send them a generous gift. But if you're looking for an organization you can trust, read on.
Below are some groups we have personally donated to and supported. While Middle Eastern Christians and other religious minorities have often been targeted for violence—and we must help them—the vast majority of those suffering are Muslims. Each of the organizations listed below serves refugees regardless of religious affiliation. Muslim refugees I talked to were deeply touched when Christians expressed the love of Christ in simple, practical ways.
After working closely with World Relief in the Democratic Republic of Congo, this Christian relief organization that works directly through local churches has opened an office in Jordan to serve both Syrian refugees and displaced Iraqis. For as little as $10, you can provide hygiene products for a family who left their homes with nothing, and $35 will feed them for a week. Or you can help fund kids clubs and "child-friendly spaces" where kids who have suffered so much can have the freedom to play again. Donations will be applied where most needed.
The Lebanese Society for Educational & Social Development (LSESD) has long been respected for its broad range of services including education, trauma expertise and Christian publishing. Currently there are 1.5 million Syrian refugees in Lebanon; 50 percent are children, most of whom can't access Lebanon's education system. When you donate to LSESD's Refugee Relief program, you can designate for children's education or winterization for families.
Questscope has worked with at-risk kids in the Middle East for over 30 years, providing mentoring and informal education programs to kids who need a second chance. Since that describes most refugee kids, Questscope is uniquely prepared to empower kids and young people in refugee camps and urban centers. You can read my recent blog about their work here. While emergency relief is critical, it is also vital to invest in the future by developing young leaders in the refugee population. That's exactly what you do when you donate to Questscope.
Manara Ministries has been serving Middle Eastern refugees for decades: first Iraqis, then Syrians, now a new wave of displaced Iraqis. Visiting Iraqis living in tents, churches and unfinished buildings, Manara is on the front lines of service, offering hope through food assistance as well as mobile medical clinics. Donate here.
Jeremy and Jessica Courtney, founders of the Preemptive Love Coalition, have lived in Iraq for the last eight years. Providing heart-surgeries for sick Iraqi children allowed them to build relational bridges across religious and ethnic divides. This has positioned them perfectly to respond to the hundreds of thousands of women, children and elderly Iraqis forced from their homes. Your donation can help them provide winter clothing, housing, education and healthcare for the people they have come to love.
Mission One's Middle East Team is committed to offering the blessings of Christ in word and deed. They provide winterization supplies, diapers (a huge need for refugees) and basic food items, as well as the story of Jesus through resources and personal sharing. Because of an extensive relational network, donations to this ministry reach the least accessible and most vulnerable displaced people.
Recognizing the scale of this crisis, Hollywood producers Mark Burnett and Roma Downey have joined with the Institute for Global Engagement to create The Cradle Fund, a broad-reaching initiative to partner with suffering churches in Jordan and Iraq to serve refugees in their communities. TCF hopes to mobilize Christians from around the world to maximize emergency relief efforts. Your donation will help provide winter clothes, blankets, mattresses, heaters, diapers and baby clothes, food and housing subsidies.
If you'd like to learn more about the reality of refugee life, check out this series of articles by my friends, Andrew and Becca Ulasich, who recently spent three months meeting with refugees. Through beautiful writing and photography they put a human face to the crisis. They also provide a helpful overview of the Syrian war and links to further information.
If you prefer to donate to an organization that is not faith-based, please donate to the World Food Programme of the UN, which provides necessary food vouchers to refugees. This help from the U.N. is critical for refugees and for the organizations that serve them.
These words from one of Middle East Bible Fellowship's newsletters perfectly express why I wrote this blog, and why I don't hesitate to ask for help on behalf of refugees: "At Christmas we celebrate that our redeemer has come! Jesus—the light of the world—promises that a day is coming when there will be no more war, no more suffering, and no more death. Until that day, as the body of Christ, we are called to bring wholeness, support, and hope to those who are suffering."
Amen and Amen.
This article was originally posted on lynnehybels.com in 2014. It has been republished here with permission.