Weekly News Roundup: July 27-31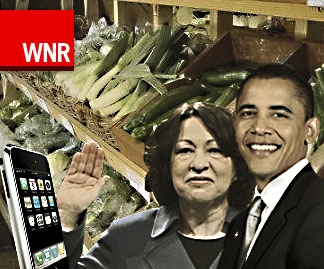 This week, hackers got a leg up thanks to security experts, swimming went back to the basics, and the leader of the free world took time out for a backyard beer. These stories, plus a major move in the Senate and some bad news for Whole Foods defined the final week of July 2009.
Organic Foods Are No Better For You
OK, brace yourselves Whole Foods-shopping-hippies: According to an independent study in the U.K., organically grown foods are no better for you than traditional foods. Apparently, organically and conventionally grown produce have similar levels of vitamins, minerals and all around nutritional value. Of course, conventionally produced foods have the added benefit of providing essential pesticides. So, to anyone reading this who's wearing hemp pants and riding their recumbent bike to their gig as a life-drawing model, the only difference between your organic food and conventional produce is the price and the misplaced sense of self-satisfaction. Of course, if you shop at farmers markets, at least you're benefiting the local economy.
Obama Takes On Boston Race Battle
President Obama drew criticism last week for throwing his hat in the ring in a racial dispute in Boston. The problem arose when Cambridge, Mass. police were summoned to the house of Harvard professor Henry Gates after a 911 call reporting a possible break-in. It turned out that Gates was returning to his home after a trip to China, and had to shoulder his way through a stuck door. When responding police asked Gates, an African-American man, for his identification and Gates refused, saying he was being antagonized due to his race. The responding officers eventually arrested Gates, who accused the Cambridge Police Department of racial profiling.
Obama entered the picture last week when he stated that the officers acted "stupidly" in dealing with the call. This raised a furor in the media, and especially with one of the arresting officers, Sgt. James Crowley. Crowley denies any allegations of racial profiling, and has even taught classes to the Cambridge PD against racial profiling. In response to this, Obama invited Crowley and Gates to share a beer with him and discuss the issue at the White House. After the sit-down, Crowley called the meeting productive and said that he and Gates plan to meet together again in the future. The most important question on the media's mind, however, was what beer Obama would choose. He went with Bud Light. No accounting for taste.
Sotomayor Confirmed by Judiciary Committee
Sonia Sotomayor came a step closer to becoming the first Hispanic Supreme Court justice when the Senate Judiciary Committee voted to confirm her. The panel's 12 Democrats voted for Sotomayor's confirmation, but six of the seven Republicans on the panel voted against her. The lone affirmative vote was South Carolina Senator Lindsey Graham. Graham spoke to the Senate, and praised the fact that a Hispanic had been nominated to the Supreme Court, saying, "Now that is a big deal. I gladly give her my vote." After this victory, Sotomayor is expected to be easily confirmed by a full Senate vote next week with a strong Democratic support base and five Republicans lending their support as well.
Plastic Swimsuits Banned
Following an absolutely ridiculous number of world record-breaking performances at the world swimming championships in Rome, the high-tech polyurethane suits that have been ubiquitous in the sport for the past few years have been banned. After the high-performance suits led to conspicuously improved performance, many coaches decried them, saying the swimmers' success was suspect. The move to ban the suits has been praised by just about everyone, even swimmers who wore the suits and broke world records in them. Of course, the big news from the world championships was uber-mensch Michael Phelps finally losing to someone (German Paul Biedermann). After losing the race, sparks flew from Phelps' ears, and he repeated the phrase "Does not compute" a few times before exploding in a shower of circuitry.
iPhone Vulnerable to Hackers
Security experts at the Black Hat conference have uncovered some pretty serious faults in the iPhone that may enable hackers to remotely take control of the phone and use it for identity theft. The interesting thing is that hackers probably didn't know about these flaws until security experts pointed them out, and presenters at Black Hat said the information could be used by hackers to develop software to break into iPhones within two weeks. Thanks guys.