Weekly News Roundup: July 6-10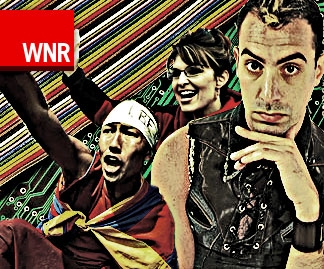 Over the long weekend and throughout the week, the news cycle has shown early signs of emerging from Michael Jackson hysteria. Though niggling details of everything MJ still seem to dominate most coverage, the media has at least begun to cast a furtive glance toward more timely matters. As the world braces itself to be offended by Sacha Baron Cohen all over again, unrest erupts in China and former vice presidential candidate Sarah Palin makes an enigmatic career change, the second week of July 2009 is showing itself to be one to remember.
GM Emerges From Bankruptcy
Automaker General Motors has emerged from its brief bankruptcy, and is now majority-owned by the United States government. The new GM is much smaller and leaner, and its 40-day bankruptcy case was called by one expert the fastest ever for a company its size. Of course, with the company being owned by the government, you will now have to file several forms and have them notarized in order to get repairs on your banana-yellow Geo.
The Sarah Palin Resignation Saga
Alaskan governor and erstwhile vice presidential candidate Sarah Palin raised a furor of speculation when she resigned her gubernatorial post this past Friday. Palin will step down from her role 18 months before the end of her term. Among the reasons Palin gave for her resignation were ongoing ethics complaints filed against her administration, which she called "frivolous." Palin said the time and money devoted to defeating the complaints were rendering her ineffective. All of this has fueled predictions about her next move. According to Palin, she wants to have a vocal role in putting forth the GOP agenda. While many pundits speculate she may be gearing up for a 2012 presidential run, others believe she may be headed for a broadcast position.
Bruno Gears Up to Offend
If it's been entirely too long since you've squirmed uncomfortably in a movie theater seat, unsure whether your laughter is being induced by humor, nervousness or guilt, there's good news. Comedian Sacha Baron Cohen is back with another incognito reality film that's sure to offend the sensibilities of just about everyone who sees it. In Bruno, Cohen plays the eponymous Austrian fashionista, interviewing (and no doubt drawing lawsuits from) everyone from actual terrorists to former presidential candidate Ron Paul. It remains to be seen if it has the cultural impact of Borat. We just hope it doesn't spawn as many catchphrases that are repeated ad nauseum by people who can't really do the accent.
Chinese Protests
Violent protests broke out in Urumqi, China leading to unrest in other cities around the country. The protests centered around tensions between the minority Uighur ethnic group and the majority Han. Uighur spokespeople claimed that the violence was the result of Chinese police reacting with force to a peaceful protest by Uighur students. The students were seeking the arrest of suspects behind a fight last month at a factory in southern China in which two Uighurs were killed.
The Chinese government has reported the incident quite differently, saying Uighur protestors took to the streets with weapons and began rioting. They claim that the force behind the unrest is a separatist movement called the World Uighur Congress, led by Rebiya Kadeer who is living in exile in the United States. It's interesting to note that unlike the ongoing protests in Iran in which social networking sites gave the world an inside look at the reality of the political situation, most reports and images coming from Urumqi have been by Chinese state-run media.
North Korean Hackers
A wave of Internet attacks that slowed down websites in the U.S. and South Korea may be linked to North Korea. The attacks were aimed at dozens of sites, including the White House and South Korea's presidential office, Defense Ministry and National Intelligence Service. It also disabled access from South Korea to several U.S. government sites. Overall, the effects were negligible. In their race to become the most diabolical comic book supervillains in the world, North Korea has gotten to the level of mild irritant. They're an entire totalitarian regime, and they couldn't even pull off what Timothy Olyphant and a handful of geeky minions managed in Die Hard 4. It's not even worth sending in Bruce Willis. Justin Long could probably handle this one solo.