Weekly News Roundup: June 15-19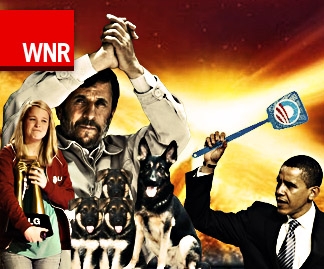 The big story shaping the news this week was the growing tension between the administration of Iranian president Mahmoud Ahmadinejad and the Iranian people. Thus far, mass demonstrations have erupted in the wake of a highly suspicious election, and have led to widespread violence and oppression by forces loyal to Ahmadinejad. As the story unfolds, the international community watches in anticipation of what may be one of the most historic moments in Iran.
Iranian Elections
The big story everywhere this week was the unrest in Iran. Following a suspicious landslide victory in the presidential election by incumbent Mahmoud Ahmadinejad, protesters took to the streets. Ahmadinejad is being accused of stealing the election, which isn't a big surprise seeing as how he's deeply unpopular, somehow managed to win three out of every four votes cast, somehow managed to beat popular challenger Mir-Hossein Mousavi in Mousavi's hometown and inexplicably counted 40 million handwritten ballots and declared a winner within a couple hours. Hmm.
The streets of Iran have seen the country's largest mass demonstrations in 30 years. Protests have led to violent clashes with police, with at least seven demonstrators losing their lives. Moreover, journalists and reformist politicians have been imprisoned, and foreign journalists have been booted out of the country.
In the midst of all this, social networking sites like Twitter, Facebook and Flickr have become an invaluable source of up-to-the-minute news on the situation. As tensions grow, it appears Iran is headed for a drastic, catalytic event.
In Lighter News:
9/11 Hero Dog Cloned
Nothing else this week had the gravity of the situation in Iran, but this week did see its share of weirdness. In a story that's partially heartwarming, partially the harbinger of a bleak, dystopian future, a police search and rescue dog who helped locate people trapped in the rubble after the 9/11 attacks has been cloned. Five times. Trakr, the heroic German Shepherd who saved lives in the wake of Sept. 11, died in April. On Thursday, Trakr's former handler James Symington was presented with five clones of the heroic pooch. We know all the bioethical questions this raises, but everybody loves a clone, so why don't you?
Girl Wins Texting Title
A 15-year-old girl from Des Moines, Iowa, has won the title of the nation's fastest texter. Kate Moore estimates that she sends between 400 and 470 texts a day, or somewhere in the neighborhood of 14,000 a month. The LG U.S. National Texting Championship pitted her against 20 other finalists from around the country in a test of speed and accuracy. We're not sure if emoticons netted extra points, but we assume. Moore took home a $50,000 prize for her efforts, and admonished parents to let their children text more, adding, "It pays off!" Other than the very slim probability of winning a national texting championship, we're not sure how.
Boy Hit by Meteorite
A teenager who wasn't so lucky this week was 14-year-old German boy Gerrit Blank who became the second person in recorded history to be struck by a meteorite. A piece of space rock the size of a pea hit Blank on the hand, leaving a scar. If we have our facts straight, this is merely a precursor to death raining down from above every major city before the government calls upon a rag-tag team of oil drillers to save humanity from extinction to the tune of a kickin' Aerosmith soundtrack. We can dream anyway.
PETA Angry That Obama Swatted Fly
During a CNBC interview at the White House on Tuesday, President Obama displayed reflexes that would have made Mr. Miyagi soil himself when he swatted a pesky fly. He tried for a few moments to shoo the insect, ultimately bringing the hammer down and dispatching it in one swift death blow. Rather than gasping in awe and respect as the rest of the world no doubt did, the People for the Ethical Treatment of Animals (also known as PETA, or "those attention-starved media opportunists") expressed disappointment with the president's decision to kill the fly rather than humanely deal with it. Evidently they expected the Commander in Chief to catch the fly, excuse himself from the interview on live television and go find the nearest open window from which to release the barely sentient creature. PETA kindly offered Obama a Katcha Bug Humane Bug Catcher for future insect problems. The White House had no comment on the matter, but if they had one, we think it would have been something along the lines of, "Seriously?"