Weekly News Roundup: March 16-20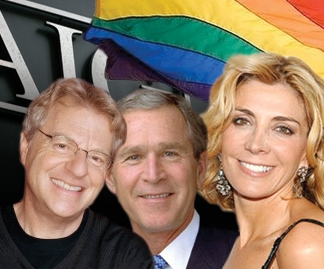 Once again, here's your roundup of the week's most important, interesting and utterly asinine stories. The third week of March brought scandal, controversy, tragedy and humor. Here are the stories that made the third week of March 2009 memorable.
AIG bonuses
It was revealed this week that AIG, after receiving $180 billion in government bailout money, payed out $165 million in executive bonuses. Not surprisingly, this raised a public outcry. The House of Representatives has passed a bill to recoup the money, levying a 90 percent tax on them. Moreover, Treasury Secretary Timothy Geitner has taken personal responsibility for paying the company bailout money without knowing of the exorbitant bonuses, and President Obama called the bonuses a symptom of "a bubble and bust economy that valued reckless speculation over responsibility and hard work." We're sure AIG executives have learned their lesson, and will now have their Maserattis plated in 12 carat gold instead of 14 carat.
Natasha Richardson dies
Tony Award-winning actress Natasha Richardson died after a ski accident in Canada this week. The wife of Liam Neeson, Richardson starred in such films as Nell and Patty Hearst, and won a Tony for her performance in the Broadway revival of Cabaret. She was a member of Britain's Redgrave acting dynasty, the daughter of Vanessa Redgrave and niece of actress Lynn Redgrave. Richardson was 45.
Jerry Springer moves in next to church
Jerry Springer ruffled feathers at a Catholic church in Stamford, Conn., by moving his studio next door. The trash TV king will be filming his talk show across the street from St. John's Church. Parishioners were none too happy about the move, and the parish's priest, Rev. Stephen DiGiovanni, has stated that he was less than thrilled to have Springer filming next door. The best way to solve this dispute is to have DiGiovanni rush Springer while shouting bleeped expletives, then be restrained by beefy security guards while a crowd of onlookers chants, "Jerry! Jerry! Jerry!"
US endorses UN gay rights text
The Obama administration formally endorsed a U.N. statement calling for the worldwide decriminalization of homosexuality. The Bush administration had previously refused to sign the statement, making the United States the only western nation not to sign the declaration. State Department spokesman Robert Wood told reporters, "The United States is an outspoken defender of human rights and critic of human rights abuses around the world. As such, we join with other supporters of this statement, and we will continue to remind countries of the importance of respecting the human rights of all people in all appropriate international fora."
Wisconsin's new state slogan
Wisconsin changed its state slogan from "Life's So Good," to "Live Like You Mean It." Unfortunately, the phrase has already been used by a variety of motivational speakers, authors and even Bacardi rum. Disaffected critics who claim the phrase have promised to try to block Wisconsin's attempt to get federal trademark protection of it. We personally think the most appropriate state phrase for Wisconsin would be, "Packers! Wooo! Packers!"
Bush in Canada
Former president George W. Bush made his first public speeches this week since leaving office. Bush spoke at the Telus Convention Centre in Calgary. The event sparked protests from people who claimed Bush should face war crimes charges. Since it was a Canadian protest, we assume it was incredibly polite, and written in both French and English. We kid, Canadian friends. We kid.