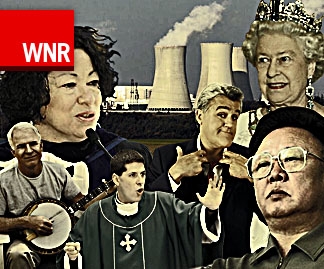 This week was full of political turmoil. In the midst of controversy from a judicial nomination, there was talk of war and a royal snub. On the entertainment side of things, a late night legend takes his final bow (kind of) and Steve Martin showed his range. These stories and more shaped the last week of March, 2009.
Obama Nominates Sotomayor
On Tuesday, President Barack Obama announced his nomination for the Supreme Court. Federal appeals judge Sonia Sotomayor would replace retiring justice David Souter, and would be the first Hispanic justice on the Supreme Court. While Sotomayor's appointment would be unlikely to shift the ideological balance of the court, some conservative groups have decried Obama's choice, calling Sotomayor a liberal activist. Regardless, it  is unlikely that the Republican minority in the Senate would be able to block Sotomayor's confirmation, though they could choose to filibuster. With 59 votes in the Senate, Democrats have more than enough to confirm Obama's pick, though not enough to stop a potential filibuster.
Leno's Legacy
Tonight will mark Jay Leno's last hurrah as host of The Tonight Show. Leno's been hosting the show for 17 years, an impressive stint, but not quite as epic a run as Johnny Carson's three decade tenure. Leno will be replaced by Conan O'Brien, and in a network scheduling kick in the teeth, will move to the time slot directly before O'Brien. It's not exactly a ride into the sunset. The whole thing is like throwing yourself a huge going away party and then moving into an apartment directly below your old one.
Father Oprah Switches Teams
Father Alberto Cutie, a Miami Catholic priest who's gained fame (and the nickname "Father Oprah") for his television shows, radio broadcasts and newspaper columns, officially joined the Episcopal Church this week. The 40-year-old priest was relieved of his duties after being photographed frolicking on the beach with a woman. Cutie says he wants to pursue priesthood in a denomination that allows married clergy. "I've seen with my own eyes how many brothers of mine serve God as married men and with the blessing of having their own families," Cutie said.
North Korea Threatens War
North Korea—evidently intent upon impressing S.P.E.C.T.R.E., Cobra and the Legion of Doom—stepped up their warlike rhetoric this week when they said that the treaty ending the Korean War was dead, and they are ready to attack. The United States and South Korea have already entered a pretty alert state, with top Army officer Gen. George Casey saying that the U.S. could gear up for conventional war with North Korea quite rapidly. The whole donnybrook arose when the international community condemned North Korea's underground nuclear test earlier this week. Were they surprised by the reaction? Evidently, North Korea thought that nuclear tests by a hawkish totalitarian regime led by a diplomacy-shunning despot intent on military domination of their closest neighbors would be welcomed by the international community. Who knew?
France Snubs the Queen
In other international relations news, tensions are high between England and France after the French government failed to invite Queen Elizabeth II to ceremonies marking the 65th anniversary of D-Day. British tabloids have accused French President Nicolas Sarkozy of trying to monopolize the spotlight brought upon the ceremonies by the attendance of President Barack Obama. France insists the whole thing is a bit of a misunderstanding, saying that a general invitation was sent to the U.K. where it was promptly snatched up by Prime Minister Gordon Brown. Of course, an etiquette-based spat seems a bit trivial compared to the nuclear armageddon being threatened by North Korea.
Steve Martin Back in the Charts
Steve Martin is back in the pop charts for the first time since 1981 with his new banjo album. The Crow: New Songs for the Five-String Banjo debuted at No. 106 on the billboard charts, and Martin played one of the tracks on last week's season finale of American Idol. It's nice to see Martin showing his range and artistry. Now if he'd just make another hilarious movie. It's been a long time since Planes, Trains and Automobiles. We're just sayin'.