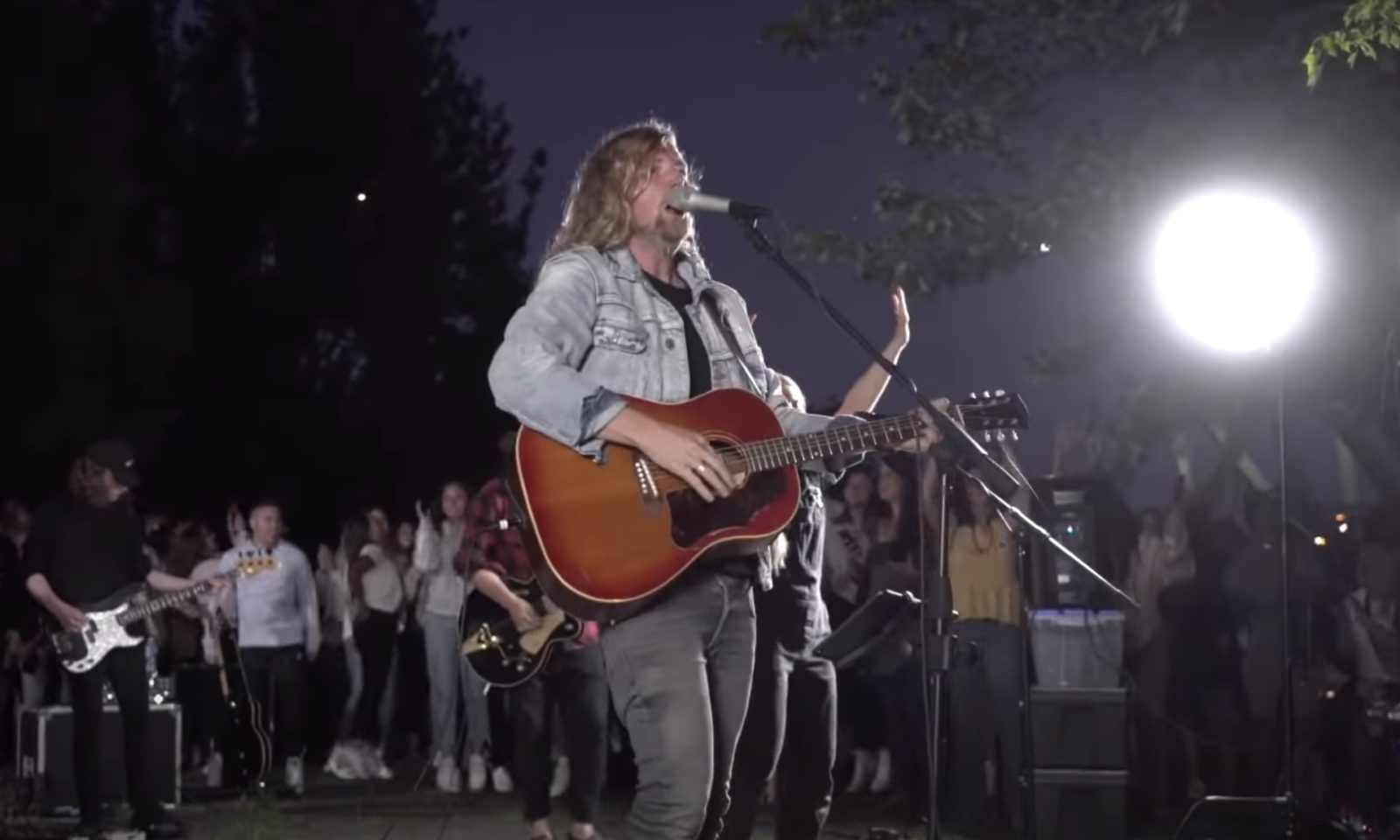 We've covered Sean Feucht's current Let Us Worship campaign, in which the one-time Bethel Music worship leader is traveling coast-to-coast protesting state-mandated social distancing guidelines with an outdoor concert series. His protest/worship concert hybrids have understandably stirred up a lot of strong reactions. Some from people who resonate with Feucht's notion that current guidelines issued by the government to help protect people from COVID-19 smack of authoritarian overreach. Some from people like the folks at Rolling Stone Magazine, who titled a report on Feucht's affair "Jesus Christ: Super Spreader?"
The headline did not appear to be intended as a compliment but Feucht has found a way to spin it as a bit of troll-y merch and says he will now be selling t-shirts with the title.
"The press went crazy," Feucht said in a video posted to social media, referring to an event in Nashville, TN. "The mayor came after us. The press wrote hit articles."
Feucht says an investigation turned up no evidence of COVID-19 being spread at the Nashville event. When reached for comment, Nashville Metro Health Department told RELEVANT that an investigation had found no local COVID cases connected to Feucht's event, but had themselves been informed that the majority of attendees were from out of state. "We do not receive reports of confirmed cases from other states so we cannot say that cases didn't occur," we were told.
Nevertheless, Feucht plans on using the "Super-Spreader" dig as a badge of honor. "We're turning what they meant to vilify us, we're turning what they meant to slander us right back for our good," Feucht continues.
Thanks @RollingStone for the brilliant idea!

Limited run of the JESUS CHRIST SUPER-SPREADER shirts out now!! ⚡️⚡️⚡️⚡️⚡️⚡️⚡️⚡️⚡️⚡️https://t.co/R2TUNALmb4 pic.twitter.com/m4GFtvFkhS
— Sean Feucht (@seanfeucht) November 20, 2020
NBC News spoke with Nashville Police Chief John Drake, who denounced Feucht's event. "I am greatly disappointed that the organizer of Sunday's event and those in attendance did not better prioritize their health and the health of others through social distancing and the wearing of face coverings," he said. "Personal responsibility is a necessity regardless of the purpose for a public event."
As of this writing, over 250,000 Americans have died of COVID-19 while the U.S. climbs towards 12 million confirmed cases.