What 'Love Your Enemies' Means in the Age of ISIS and Racism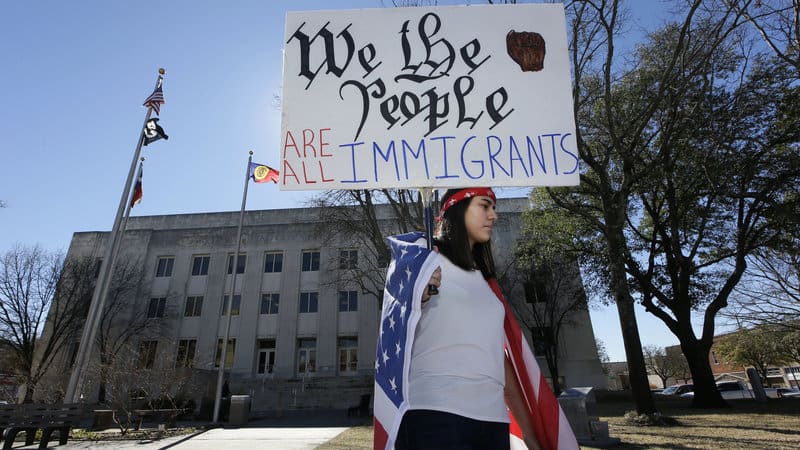 Officer Jeronimo Yanez is exonerated for fatally shooting Philando Castille.
Terrorists stab innocent people on the London bridge, the third terrorist attack in Great Britain in three months.
Immigrants live with the daily fear of being separated from their families.
Refugees from Syria are banned from entering the United States and face hostility worldwide.
In what feels like an increasingly volatile climate, that some of us are surprised by and others are less so, how does Jesus' exhortation to love our enemies find real traction in our living?
In His sermon on the mount, Jesus exposes our hearts by confirming what it is we already believe: "You have heard that it was said, 'Love your neighbor and hate your enemy'" (Matthew 5:43).
Yeah, that's pretty much how we naturally operate. He knows how we work.
But Jesus continued, "But I tell you, love your enemies" (Matthew 5:44).
And while it's a lovely sentiment to cross-stitch on a pillow, I skimmed right past it for years. I'll tell you why: In my mind, I didn't have enemies. I wasn't in a gang, so I didn't have explicit enemies. I wasn't a soldier who battled wartime enemies. I wasn't a political leader with access to nuclear codes.
I wasn't the heroine in an action movie where I was forced to kill or be killed. And the fact that I'd decided I didn't have enemies turned out to be pretty handy, because it allowed me to skip past Jesus' exhortations to people who admit that they do have enemies to love them.
So convenient, right? Because then I'm off the hook.
But if you know anything about Jesus, you'll know that "off the hook" was never His intention. Quite the opposite, in fact. The words of Jesus reach into our deep places to expose the convenient lies we tell ourselves to get off the hook.
And although I'd decided I was enemy-free, there's no indication from the biblical text that Jesus would see it the same way. When I began to take Jesus' radical command to love enemies seriously, I was convicted to love mine and amazed by those loving theirs in radical ways.
At the end of the fourth century, with many errant translations of the Greek Scriptures into Latin floating around, Pope Damascus charged Jerome with producing a new authoritative Latin translations of the Bible for the Western Church. Twenty-three years later, Jerome completed the Latin translation known at the Vulgate.
Imagine Jerome laboring away in his study. When Jerome listened carefully to Jesus' exhortation to enemy-love, he had to choose between several Latin words for "enemy." Because Matthew and Luke didn't use the Greek word "polemioi" for enemy, which would suggest something more along the lines of an enemy in war, Jerome rejected the Latin "hostis"—which would have limited enemy-love to love of the public enemy.
Instead Jerome chose to use the Latin word "inimicus." The latin "in-," means "not," and "amicus," means "friend."  It's where we get our English word "enemy."
Though the use of "enemy" in the Old Testament often did refer to a nation-state enemy of Israel, Jesus' exhortation was never meant to refer to a public enemy—like another nation's military force—that would let me off the hook. Jesus was commanding his followers to love those who were inimicus, "not-friends."
I'm back on the hook, and so are you.
Jesus was exhorting his followers to love the personal enemy. What that means is that if you'd been sitting on the grassy mount where Jesus was preaching His sermon, you would never have thought, "Phew! Well I'm off the hook." No, you would have started to sweat a little bit, as you thought, "It just got real."
The one Jesus calls us to love is the one who is other than we are. The reason Jesus' words are so wildly relevant today, is because He was calling His first-century listeners to love the ones who were really hard to love. In Luke's record of Jesus' sermon, Jesus challenges His listeners to love those who hated them (Luke 6:27), those who cursed them (8:28), those who mistreated them (Luke 6:28), those who slapped them (Luke 6:29), those who stole from them (Luke 6:19), and those who asked something of them (Luke 6:30).
And Jesus' first-century litany of the personal enemies who are hard to love evoke the same "enemies" we face today.
The charged demonstrations over racial injustice in the wake of the trial of Jeronimo Yanez summon Jesus' difficult call to love those who mistreat us.
Rogue criminals terrorizing London summons Jesus' command to love those who hate us.
The challenge to love and welcome refugees in need and immigrants without documentation summons Jesus' command to love those we've been taught to fear.
Today Jesus is asking each one of us—victim and assailant, terrorist and bystander, the one in need of welcome and the one who needs to welcome—to love the one who is other than we are.
To be clear, Jesus is asking us to do what is unnatural. What is counterintuitive to our survival. What is wildly difficult. In Jesus' economy of enemy-love, there is no one who is "off the hook." Because every person who chooses to be hooked into the upside-down and backwards way of Jesus is called to a love we would not naturally choose.
If Jesus' challenge, to love those who you do not want to love, makes you uncomfortable,  then you're probably understanding what he's saying. And the question for His followers today is what it looks like to do good (Luke 6:27), bless (Luke 6:28), pray (Luke 6:28), turn the other cheek (Luke 6:29), offer your shirt (Luke 6:29), give to those who ask (Luke 6:30), and let people walk away with your stuff (Luke 6:30).
It looks like knowing those with whom we are "not-friends." It looks like recognizing their humanity. It looks like doing good for those who are different than we are. Loving our "enemies" looks like moving toward those whose otherness makes us uncomfortable.
Corrymeela, in Ireland, is a community that creates space for those on opposing sides of political, religious and ideological differences to learn from each other so they can live well together.
The Tent of Nations, just a few kilometers from Bethlehem, is building bridges between people in different cultures to develop understanding and promote respect for one another.
Iraqi-born Minnesotan Sami Rasouli is facilitating reconciliation between Iraqis and Americans through the Iraqi and American Reconciliation Project.
Montgomery, Alabama, based Equal Justice Initiative is challenging America's history of systemic racial and economic injustice.
The English word "enemy" may be part of our problem, because we let ourselves off the hook if we're not in hand to hand combat with Lex Luther or Nazi soldiers. But Jesus' charge was meant to challenge people just like you, and like me, to love in radical ways.
The chief of police who stands arm in arm with Black Lives Matter protesters loves well.
The son of the murder victim who forgives the man who stole his father's life loves well.
The politically conservative attorney who helps immigrant parents without legal documentation execute legal directives for their children loves well.
Jesus' first listeners on a grassy hillside would have been surprised and miffed and challenged by Jesus' hard words about enemy love.
We should, too.