Why Being Involved in Local Politics Is a Christian Essential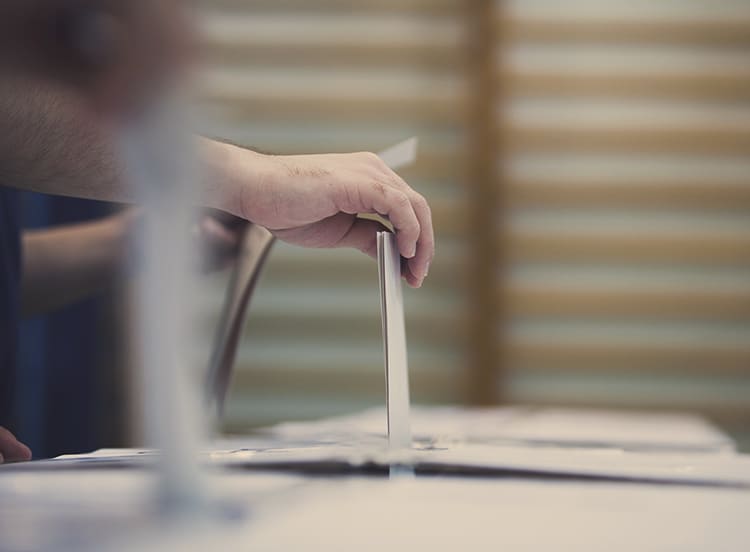 In recent years, we've seen our news feeds become so inundated with a seemingly constant stream of global catastrophes and political talking points, that it's no surprise many of us feel helpless and powerless regarding how to engage the current political climate.
In the age of the 24-hour news cycle, millions of Americans have developed a new (or tapped into an existing) rhythm where—regardless of our political persuasion—we awaken to the fresh political storm of the day and dedicate much of that day's emotion, patience and energy toward it.
Getting Involved
While I don't want to downplay the intensity of these daily political rhythms, I do want to suggest that we are in desperate need of realignment. We need to focus our social engagement to the place it's always mattered most: local politics. I say this in light of data from the 2014 midterm elections showing that voter turnout was at its lowest level since WWII and, worse, mayoral elections across the nation were decided with an average of less than a fifth of eligible voters.
Chew on that for a second. It is sobering. That means some of the most direct and immediately impactful decisions to our daily lives—budgets for roads and bridges, police forces, parks and recreation, board of education, after-school programming and new development—are decided by the severe minority of voters who actually went to the local polls.
These political decisions could potentially have dire consequences for those on the margins, and they are being passed into law while we're on Twitter. Again, our gaze must move to the proximate—to the local decisions made and coalitions formed—to those local officials and institutions that decide where our municipal tax dollars will go.
What textbooks are your kids reading? How is your police force combatting crime, enhancing their non-violent response training and engaging the local community? What after school programs exist for the youth, and what parks are reconditioned so the whole socioeconomic spectrum of your town can benefit from those third spaces? What is your city doing (or, most often, not doing) to stave off high-end residential and corporate development that puts Ma and Pa shops (most likely owned by your literal, next-door neighbors) out of business and forces low-income renters around you out? From where does your town get drinking water? Is it safe and clean? What about your electricity? Again, is it safe and clean? How is waste and recycling discarded? How often is it collected? Where does it go? These are all questions worthy of our engagement.
They are all decisions carrying significant consequences for you and your literal neighbors. And they are all answered at the local level.
A Christian Imperative
The good news of Jesus Christ has a lot to say about the answers to those questions (consider Jesus' parable about the sheep and the goats, for instance).
Many Christians are tempted to believe that they can stay out of the realm of politics altogether. "God is on the Throne," they say. While that may be true, Jesus is not deciding where highways will be built, nor is He drawing local bus routes, nor is He determining how police officers will be held accountable for misconduct (if they will be at all). Those who vote are making those decisions. And since all humans are called to manage the planet (Psalms 115:16), participating in local politics is one way that Christians live faithfully in the world as the firstfruits of God's renewed world.
Historic agents of change like civil rights activist and pastor Dr. Martin Luther King, Jr. knew that real change first starts at the grassroots, local level. Dr. King's calling to champion racial justice did not begin with the world, much less the nation. No, his dream of political justice and inclusion began locally, boycotting a single local issue in a single southern city: bus segregation in Birmingham, Alabama. Then, as the Holy Spirit often does, that political engagement naturally connected to other local, grassroots initiatives with like-minded agents and similar goals.
Even Jesus didn't begin his subversive, world-changing ministry by going directly to Rome or Jerusalem. No, the Son of Man stuck to the places he knew first: Nazareth and the countryside.
When we look locally we see that the same power imbalances that result in injustice internationally are at work in our towns. And if there's one thing the arc of scripture compels us to do, it's to pay attention to power. Are we voting only on behalf of our wishes, or are we considering the least of these among us? Are we using our power to dominate or to uplift others? Let us build neighborhoods and seek the shalom of our cities, keeping all of our neighbors in mind – from low-income renters to small business owners and those who need the parks for mixed use.
Renowned Catholic pastor, professor, and theologian Henri Nouwen is credited with saying that democracy only works when you vote with your neighbor's needs in mind. This is especially true today, and I invite you to get your hands dirty there–investing yourself in the decisions that have immediate and direct impact on your lives and the lives of your literal, proximate neighbors. Join the PTA, vote for the new police commissioner, go to redevelopment meetings, go to town hall meetings–do what you can for those amongst you who will feel the impact of local legislation.
Christopher Romine
Having studied theology and ethics at Fuller Seminary, Chris is a pastor and church planter for a new worshipping community in NYC. Chris speaks and writes on the Church's necessary role in matters of justice, power, politics and race.