Why the Church Should Support #BlackLivesMatter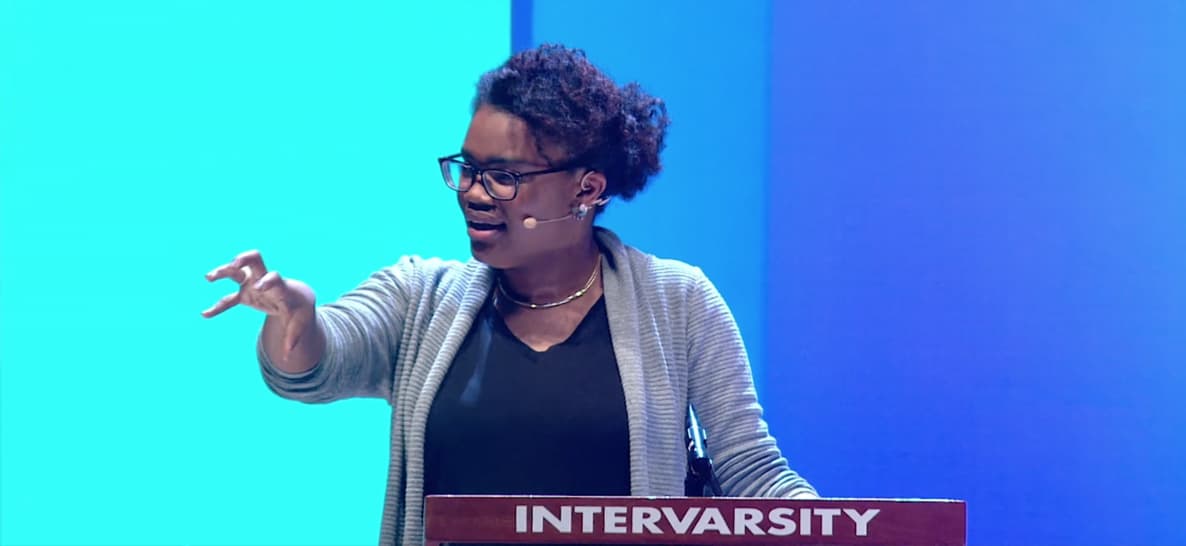 A few weeks ago, almost 16,000 college students gathered for Urbana, an evangelical conference promoting cross-cultural missions. While the event featured high-profile speakers like David Platt and Francis Chan, the most talked about session following the 2015 conference was Michelle Higgins' talk about the evangelical church and the Black Lives Matter movement.
Her address generated some controversy, mainly surrounding the her support for Black Lives Matter and some side comments she made during her talk—causing InterVarsity, the organization that hosts Urbana, to respond officially and in follow up interviews.
Regardless, no one can deny the importance of Higgins' speech, both in message and that it seems to represent the first major evangelical organization to put its weight behind the Black Lives Matter movement. Higgins, who is the director of worship and outreach at South City Church in St. Louis, issued a call to action, and at the very least, she sparked a much-needed discussion among evangelicals.
We talked to her about the Urbana talk and the importance of Black Lives Matter for all Christians.
First, can you describe what the Black Lives Matter movement is in a tangible sense outside of a hashtag?
There are three primary definitions for the Black Lives Matter movement. The first would be blacklivesmatter.com, which aspires to a political ideology—much like, in [the Christian] world, something like Focus on the Family. It's a political action committee. It's attempting to impact legislation for greater change in terms of creating new laws that hold more people in power accountable.
The second definition would be Black Lives Matters a decentralized movement that maintains its momentum by having local organizers and activists take on a clarion call to people in their own spaces. Every goal around the nation is we want to affirm that nobody has the right to decide whether or not a person is executed on the street. The movement is very clear in what it affirms. Nobody has the right to harass or kill a police officer—the movement is every clear on those things. But it is headless intentionally, and that's actually an opportunity for Christians.
The third definition comes from mainstream media, moreso media on the right. That definition would be that Black Lives Matter is an attempt to turn the nation into afro-centrisic values, an attempt to wipe out Jesus with Kwanza, that it's an attempt to destroy police forcers and government brutality around the United States. That third definition of Black Lives Matter is often one we hear the most, the one people say affirms the killing of police, affirms the hatred and blaming of white people. Sadly, it's that definition we hear in churches. But it happens to be the one that is the least true to the movement of Black Lives Matter and the actual political ideology.
So why do you think Christians need to embrace and support the Black Lives Matter movement?
I believe in my soul that the evangelical church missed an opportunity over at least two decades to be the Black Lives Matter movement. After Dr. King was killed, multiple other instances took the civil rights movement into something of what people would call an underground phase, and it's really just resurfaced on a national scale.
I believe the Church lost momentum. The Church in the '70s and the '80s began to separate justice and reconciliation, and in truth, those two words should be interchangeable. Reconciliation is not just a hug and a kiss and now we're OK. True reconciliation involves equity, racial equity. A number of different "hug a black person movements"—that sought after sitting at tables and talking to each other—stalled a real pursuit of reconciliation, which would be seeking both substantial, transformative change and a transformation of the heart that would lead to truth-telling on a systemic level.
The Church became comfortable in just holding hands and singing. The Church became comfortable in putting all our happy times inside the sanctuary and beginning to ignore a wave of injustices outside the sanctuary walls. The Church has decided to protest for innocent victims instead of do a holistic cry for the sanctity of all life, those who are "naughty" and those who are "nice." We missed our chance to be the Black Lives Matter movement.
We have to confess that the truth of God's image bearers being dignified only by the fact that they bear His image is what is driving Black Lives Matter. The Church should embrace Black Lives Matter because Black Lives Matter is preaching the gospel of life, of hope and of justice better than we are. We all got a problem with our own cultural supremacy, but if we really want to learn how to preach a fuller Gospel that really invites people to revel in the fact that they are alive and they are created in God's image, then we have to take the truth that we know is owned by the author of truth and we have to go and begin to participate with people who have a gram, a grain of that golden truth.
And the more we see God's truth shining through people that haven't even been purified by Him, the more they will see our fearlessness and our boldness in not watering down what we believe but not hiding our light simply because they don't share our beliefs. It's our greatest testimony.
Whenever we see God's truth, we have to know that the maker of that truth is stronger than any opposition to that truth that might arise. So if I hide myself from the areas where His truth is being preached, I'm actually participating in the perpetuating of some of the dangers and the lies that come attached to that truth. If I'm not in those spaces to tell people, "Jesus loves justice and Jesus loves you and He's calling you into His family," then what it's worth for me to go do missions in another country if I'm not rehearsing God's mission in my city? If I'm not rehearsing it here then I'm going to be really bad at making disciples of all nations.
Why do you think there's pushback on the Church getting more involved and supportive of the Black Lives Matter movement?
In the conversations I've had with people, they are afraid to affirm any part because they fear that it means they are affirming the whole. The fear of association is so huge. The discomfort with standing side by side with somebody who doesn't believe in Jesus is depressing to me, because how are we going to be a people on mission to the whole world if we can't march beside people and say, "Yeah, you should be able to able to live and not be afraid of police, but only if you're a Christian."
Again, it comes down to a difference of opinion. When the opinion of the conservative Christian becomes more important than the need of the person in their community, then they can feel justified in their actions and never have to confront their fears.
My challenge to those folks is how to do we participate in missions in Buddhist areas in China? How do we participate in missions in largely Hindu populations around the world? How do we participate in missions in the Islamic world? How do we partner with and attempt to shine God's light and to extend a hand of Godly fellowship to people who don't believe like us? They believe something different than we believe and yet we're called to be present with them.
Perhaps Black Lives Matter is harder to enter into for us specifically in the United States because our history is too fresh. None of us want to admit that African Americans in this country are seen as either superhuman or subhuman. People just don't care when black people die. They don't agree that black people are image bearers. So deep down, the reason may be that we don't want to enter into Black Lives Matter because we don't actually believe that they do.
How can we have meaningful conversations about race issues that are vulnerable and honest, but also help us all actually work together?
Well, everyone interested in working together has to educate themselves first. For instance I'll tell you right now Christena Cleveland's talk at Urbana '15 and Tom Skinner's talk at Urbana 1970 are two of the places evangelicals need to start.
And then don't talk about it on social media, just don't. Find somebody in the flesh who will sit with you through the mess and the insanity of saying the wrong thing for the wrong reasons and still protect you, because Christians are called to create safe spaces for each other to do dumb things.
If you're going to get onto social media and say anything, it needs to be spoken humbly. You need to display such a heavy amount of humility on social media that people can see, "This is a person I feel safe striking up a private conversation with."
I would say self education is huge, and actual tangible relationship—planning on being face to face with someone who doesn't think like you. And I don't even mean they have to be a different ethnicity. Find somebody who can help you process what you're learning. Often, it's a person who shares our cultural history who can help us the most at these early stages.
What can an individual do who is trying to affect change in his or her church?
We have to, as individuals, dedicate ourselves to telling the truth about our history. So look at your liturgical practices and ask, "Is there one narrative at the center that is more important than others? Are we uplifting certain confessions, particular creeds that were written by folks in Europe? Whether intentionally or accidentally are we pursuing whiteness as the narrative from which all others should be described?"
To really affirm that black lives do matter is to say we all agree that white lives don't matter more than black lives. If we begin to live that way in our worship space, then it will begin to trickle out outside of them.
Now, there are concrete ways to enter Black Lives Matter outside of the sanctuary. Are you a medical professional? Are you considering law school? How can you manipulate the privilege of your education for the purpose of releasing, of encouraging and uplifting the stories of the oppressed?
We don't see a pursuit for justice because we've been conditioned to pursue wealth and acclaim and not necessarily the flourishing of our neighbors. So you can say "black lives matter" and still go into a space where the "other" in your community is a person of native descent, of Mexican descent. Saying that you're dedicated to tearing down systemic race-based bias doesn't mean that you have to make sure that you go hug a black person, it means that you no longer find yourself as the center and most important part of your story.
Aaron Cline Hanbury
Aaron Cline Hanbury is a contributing editor for RELEVANT. You can follow him on Twitter at @achanbury