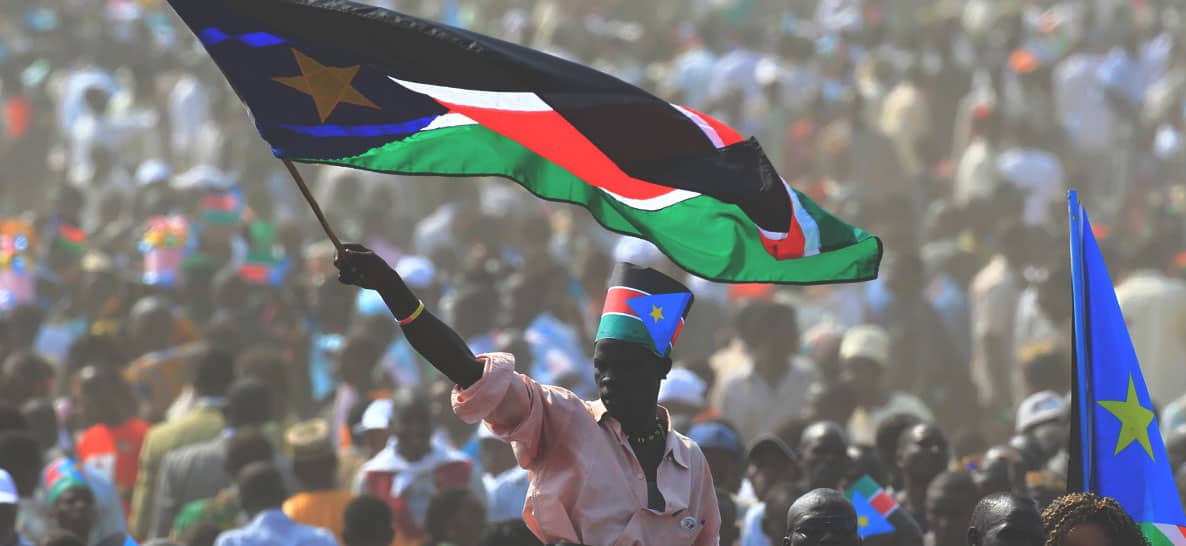 As the United States recently celebrated its independence, the newest country in the world, South Sudan, is entering its fourth year of independence. And the nation is wracked with greater suffering and conflict than when it broke off from its northern counterpart, Sudan.
South Sudan recently became the "world's most fragile state" with an ongoing civil war that has torn communities apart. If we look at the "issues" facing the country, it reads as a checklist for catastrophe: a man-made famine that has left millions on the brink of starvation, a cholera outbreak that recently took 17 lives, increasing economic uncertainty and renewed fighting that has killed thousands and displaced hundreds of thousands.
There are no climatic reasons for the existence of famine in South Sudan, as rainfall is good and previous harvests have been enough, but the inability to eat is caused directly by the fighting, destruction and displacement of people who can no longer sustain their livelihoods.
It is difficult to write about what is currently happening in South Sudan as it is now affecting communities our staff at World Relief have drawn close to. After some recent fighting broke out in Unity State, we had to evacuate all of our staff except the locally based staff who would be in more danger if located elsewhere. After weeks of trying to account for them, we found out that Galuoak, a young husband and father from our nutrition team, died from injuries sustained when a shell exploded near to where he was seeking refuge.
Another one of our team members, John, cannot be located. In our last communication with John's wife, she told us that they were hiding in the bush, scourging for "food" which is nothing more than non-poisonous leaves. John and his wife are currently caring for eight children, six of which are not his own. The hope that characterized the South Sudanese has long been replaced by something much more sinister. Death seems to be a bigger part of living than life itself. 
Does it have to continue? Can this cycle be broken? Christians across the United States were actively engaged in advocating for the creation of this newest state in the world in the 1990s, grieved by the plight of Christians in Sudan who were suffering at the hands of a regime that seemed bent on their extinction. But this area of the world has largely fallen off the radar for most people who are unaware that South Sudan now even exists.
At a diplomatic level, the UN Security Council recently imposed a new wave of sanctions on a number of South Sudanese military commanders, while an expanded peace process called IGAD Plus will now include the United States, the European Union (EU), and other African states in an attempt to forge a political settlement that can create peace in South Sudan. A newly appointed U.S. Ambassador, Molly Phee, also promises to elevate U.S. diplomacy in the country. On the ground level, many NGOs, including World Relief, continue to work to stave off famine by providing emergency food assistance to those recently displaced by the conflict.
However, more must be done. As the American church in the 1990s played a galvanizing role in elevating the suffering of the South Sudanese to capture the attention of President Bush, who made creating a lasting peace process in then Sudan a priority, we can pray, raise awareness, give, and advocate to ensure that our brothers and sisters in South Sudan do not feel alone in their suffering.
Scriptures remind us in 1 Timothy 2:2 that we should continually be praying for kings and all those in authority. Our battle is not against flesh and blood, but against the "powers of this dark world and against the spiritual forces of evil in the heavenly realms" (Ephesians 6:12).
We should be interceding and praying for God to bring about a lasting peace in South Sudan. Pray for healing for a people who have been traumatized by war, for those who are displaced and unable to find food, and for South Sudanese political leaders to come together to forge a true peace for their country.
The humanitarian needs of the South Sudanese are immediate, and there will also be a need for longer-term development. Giving will help not only with immediate needs but also allow local churches in South Sudan to be strengthened and empowered to serve the vulnerable in their communities.
Being informed and sharing the story of South Sudan demonstrates a solidarity with the South Sudanese that they are not suffering alone, and we are standing with them in their hour of need. Share with your friends on social media about what is happening and ask them to pray and give with you.
Proverbs 31:8 reminds us that we are to speak up for those who cannot speak for themselves, for the rights of all who are destitute. Our elected officials can act to pressure the South Sudanese to come to an inclusive, political solution through a variety of diplomatic means, but they need to hear from us in order to prioritize such actions.
When everything around screams hopelessness, the resiliency of the South Sudanese should give us hope that peace is indeed possible in this area of the world. Peace is not a natural state of being nor easy to come by but must actively be waged and prayed for.
At a recent training seminar attended by over 120 church leaders interested in equipping their churches to carry out small development projects, one pastor said, "Since I was baptized in 1955, I have never seen something like what has taken place in our community in the past three days. I am expecting that great changes will take place in this area as a result of this work that has just started. Please continue helping us understand this better." The church leaders committed to returning to their communities and begin implementing projects with the resources they currently possess.
This work is whispering hope and should give us confidence that as we stand in solidarity and pray and act with the South Sudanese that change is indeed possible.