Evil Redux: Revisiting An Old Question
The question of why a loving God would allow suffering is one that has likely plagued believers for as long as there has been a message to believe.
The question takes many forms: Why does He allow the atrocities of war? The ravages of disease? How can He abide the injustice and oppression that blanket the world? Or even just the everyday trials of our lives? But ultimately the question boils down to wondering why life on Earth sometimes sucks so much. If God really loves us, then why does He allow it? It's sometimes easier to understand suffering that happens as a consequence of people's own behavior—the withering of a drug addict's body, the paranoid and tortured mind of an evil dictator, the imprisonment of a criminal—and there is ample scriptural precedent for suffering as a consequence of a sinful lifestyle, but what about suffering that seems to have no direct link to behavior? The question is so common it's become a cliche: "Why do bad things happen to good people?"
Not surprisingly, the Scriptures offer us some guidance on this challenging question. The first thing to be said is that the popular notion of a "good" person is rarely aligned with what the Scriptures tell us. In his letter to the Romans, Paul writes that we "all have sinned and fall short of the glory of God," and the whole message of the story of redemption is that the human race as a whole deserves to suffer not just in this life, but also eternally, and that the salvation of Christ isn't something we "deserve" in any sense of the word. Rather, it is a gift offered freely by a God desperate to love us and welcome us into His family, if only we will receive it. So, from a certain perspective, there's no such thing as a person who doesn't deserve to suffer, and it is only Christ's sacrifice that frees us from our sentence.
But this answer is a tough pill to swallow, and often leaves us feeling frustrated and unsatisfied. After all, whether true or not, it's extraordinarily difficult to believe that a child sold into the sex trade somehow deserves the suffering that follows. Fortunately, that's not the end of the story. One of the paradoxes of the Scriptures is that even as they show us a humanity suffering for its rebellion against God, they also show us a God who seems to acknowledge the existence of unjust suffering; a God who hates injustice and oppression. In Psalm 12 we read that "'Because of the oppression of the weak and the groaning of the needy, I will now arise,' says the Lord. 'I will protect them from those who malign them.'" Psalm 68 calls God "a father to the fatherless, a defender of widows." Proverbs 6 says that "the Lord hate[s] … hands that shed innocent blood." And in Isaiah 58 the Lord calls on His fasting people "to loose the chains of injustice and untie the cords of the yoke, to set the oppressed free and break every yoke."
So how do we reconcile it all? How can God hate injustice when we live in a world filled with it? How can God speak out against suffering when the Earth is replete with it? How can God say He will arise to the groaning of the needy when the world seems to be more needy than ever before? In short: If God is love, then how can He allow suffering and evil to persist?
To say that these are difficult questions would be an understatement. Endless volumes have been written in an attempt to explain the so-called "problem of evil," and there is an entire branch of theology and philosophy (theodicy) devoted to reconciling God's goodness with the existence of evil. However, we don't have to be professional theologians to find some measure of peace with these questions, and a solid foundation can be achieved with a couple simple ideas.
In his book Mere Christianity, C.S. Lewis refers to this world as "enemy-occupied territory," and in addition to being a helpful metaphor, the Bible tells us that it's actually the truth. In the book of John (chapters 12, 14 and 16), Jesus refers to the devil as "the prince of this world," and in Mark chapter 3 He likens this world to a "strong man's house," with the devil as the "strong man" who owns it. In essence, the message of the Scriptures is that, due to humanity's sinful rebellion, God has temporarily ceded "rule" of the Earth over to the devil.
When wrestling with the problem of suffering and evil, it's helpful to take this broader view. A person can go crazy trying to figure out why some specific bad thing has happened to some specific individual, but in light of our living in enemy-occupied territory, suffering begins to make a bit more sense. In enemy-occupied territory, everyone suffers. Some more than others (and some vastly more), but no one gets out unscathed. According to Paul's Letter to the Ephesians this world is quite literally a spiritual war zone (Ephesians 6:12), and if there's one immutable fact about a war zone, it's that anyone caught in the middle is going to have a hard time of it. Unfortunately, if you live on planet Earth, there's nowhere you can go to escape the war.
This perspective helps to bring at least some measure of clarity to acts of otherwise inscrutable evil. The child sold into slavery or the starving millions in Africa aren't necessarily suffering as some sort of divine punishment for committing more sins than people living in comfortable prosperity (if anything, it is we who live in prosperity who will be judged more harshly for failing to help them), rather they're suffering because we live in a world where God does not enforce His will as law, a world where free-willed beings are allowed to choose to commit either evil or good, and where the devil and his angels are allowed to continue fighting their war with us at the center. In some ways, humans are spiritual refugees with nowhere to hide, and so we suffer the consequences of the war raging around us. The only difference being that humanity carries the blame for our own transgression, and humans are rarely passive victims in this war, instead choosing to act either to increase evil or to increase good.
Of course, the question remains about why God allows it to continue. Even if the world is a spiritual battlefield; even if it is enemy-occupied territory; even if humanity carries the blame for getting ourselves into this mess to begin with, why doesn't God stop it? Why doesn't He choose to step in and put an end to it all: to the evil and oppression and suffering and sin? Why does He allow it to continue when the cost seems to be so inconceivably high?
I'll explore these questions in a future article. But for now, let us abide in the fact that there are mysteries of God we will never understand. For as the Lord says in Isaiah 58: "My thoughts are not your thoughts, neither are your ways my ways." But if we choose to believe God when He says that He is good, that He is love, then we must trust that even in the face of suffering and evil that seems impossible to understand, somehow it is for the best, because it would not otherwise have been allowed by a God who has "loved us with an everlasting love" (Jeremiah 31).
In the face of such a promise of love, we can either "curse God and die," as Job's friends suggested he do (Job 2), or we can choose to trust that somehow it's all worth it and God knows what He's doing after all, even if we never understand the cost.
Dig Deeper:
The book of Job
See Also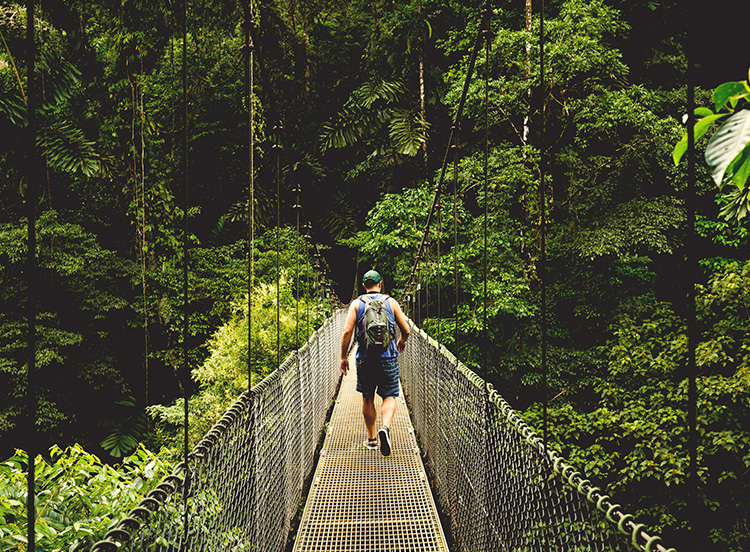 Ezekiel 28
Luke 13:1-9
Isaiah 58
Philippians 4 (esp. 4:11-13)
C.S. Lewis – The Problem of Pain & Mere Christianity