God Whispers: The Invitation Of The Voice
[Excerpted from
GOD WHISPERS,
available now from Relevant Books.]
When a friend calls you, how do you know it isn't just a prank caller? How do you know it's not your mother, father, brother, boss or neighbor? You know because you know your friend. By spending time with your friend, you know the speed of their words. You know the inflections. You recognize the tone. You know the voice. That's the way it should be with God: You know Him—His character, His nature, His word, His interests, His pleasures and displeasure, His joys and hurts—so well that you recognize Him and His involvement in your life.
If you don't recognize someone's voice, it may mean you haven't been listening. If you don't recognize someone's voice, it may mean you haven't been spending enough time with the person. If you don't recognize someone's voice, it may mean you need to get to know the person better.
God is inviting you to know more than just His voice; He is inviting you to know Him. It's an awesome opportunity. Elijah is a man who accepted the invitation. Even at his lowest moments, he could still discern the word of the Lord. First Kings 19 describes the famed prophet tucked away in a cave.
"What are you doing here?" the Lord asked.
Exhausted and disgruntled, Elijah explained, "I have been zealous for you, but everyone else has rejected your promises, broken down your altars and killed the other prophets. Now I'm the only one left, and they're going to kill me, too."
Elijah was ready to call it quits, but the Lord didn't immediately answer the prophet's concerns. Instead, He asked the prophet to do something a little odd: go out and stand on the mountain and wait. God was going to pass by.
Elijah obeyed. Waiting in one of the mountain's many caves, Elijah could hear the breeze beginning to pick up. Before he could tuck himself any further in the cave, a thunderous wind hit the mountainside, shattering rocks in all its fierceness. But the Lord was not in the wind. A few moments later Elijah could feel the ground tremble; he began to lose his footing. A violent earthquake shook everything that seemed unshakable. But the Lord was not in the earthquake. Then a sudden blaze of heat, an actual fire, came down from heaven. But the Lord was not in the fire. Elijah's heart was filled with fear. What would be next? A lightning bolt? A flood? A volcanic outburst?
Elijah waited. In the still silence, Elijah could hear a gentle whisper. He knew it was the Lord. He got up and "pulled his cloak over his face and went out and stood at the mouth of the cave" (1 Kings 19:13).
The quiet voice asked Elijah the same question it had before: "What are you doing here?" To which Elijah gave the same reply. Then, the Lord answered Him with specific instructions and encouraged him that he was not the only one—there were 7,000 others who had not bowed their knee to Baal.
God pulled the unexpected on Elijah. Rather than give an answer, God gave Himself. Rather than manifest Himself in all His brilliant glory and splendid power, He chose to use a whisper.
God doesn't always whisper. Sometimes He shouts and creates quite a clamor. When God visited Moses and the multitudes at Mt. Sinai, he didn't use His "inside voice."
Exodus 19:16-20 describes: "On the morning of the third day there was thunder and lightning, with a thick cloud over the mountain, and a very loud trumpet blast. Everyone in the camp trembled. Then Moses led the people out of the camp to meet with God, and they stood at the foot of the mountain. Mount Sinai was covered with smoke, because the LORD descended on it in fire. The smoke billowed up from it like smoke from a furnace, the whole mountain trembled violently, and the sound of the trumpet grew louder and louder. Then Moses spoke and the voice of God answered him."
Both Moses and Elijah knew God well enough to recognize Him in the midst of a cacophony of action and noise. They knew God well enough to recognize Him, not just the signs of Him.
This book could have been titled God Thunders or God Quakes and still have been taken from the Scripture. It is titled God Whispers because the real focus isn't as much about how God speaks as it is about the posture of our relationship with Him.
To hear someone's whisper, you need to be near him or her. Whispering doesn't work very well if the person you are speaking to is on the other side of the room. God isn't content with a long-distance relationship; He wants an intimate one. The posture of this type of relationship is found in John 13:23: "There was reclining on Jesus' breast one of His disciples, whom Jesus loved" (NAS).
It's an intimate portrait. John, believed to be the one described in this verse, is nestled against the Messiah's chest—an expression of reliance and vulnerability. It feels warm and safe. As John turns his head, he can hear the steady heartbeat of his teacher, savior and friend. It probably wasn't the first time this disciple—who had built a special relationship with Jesus—felt the Master's warm embrace, but unlike previous times, this was a precarious moment in history: the evening of Jesus' betrayal.
Jesus announces that the betrayer is at the table. The disciples perform a quick audit of each other and their own hearts. Breaking the silence, the rock of the group, Simon Peter, looks around the table and gestures to John, "Tell us who it is of whom He is speaking" (v. 24, NAS). The request seems uncharacteristic for the outspoken disciple. Simon Peter is anything but a shy guy. He never had a problem speaking up before, but now his tongue is tied. It's a simple question, but Simon Peter defers it to the one closest to Christ.
"Lord, who is it?" the disciple asks. Jesus exposes Judas.
See Also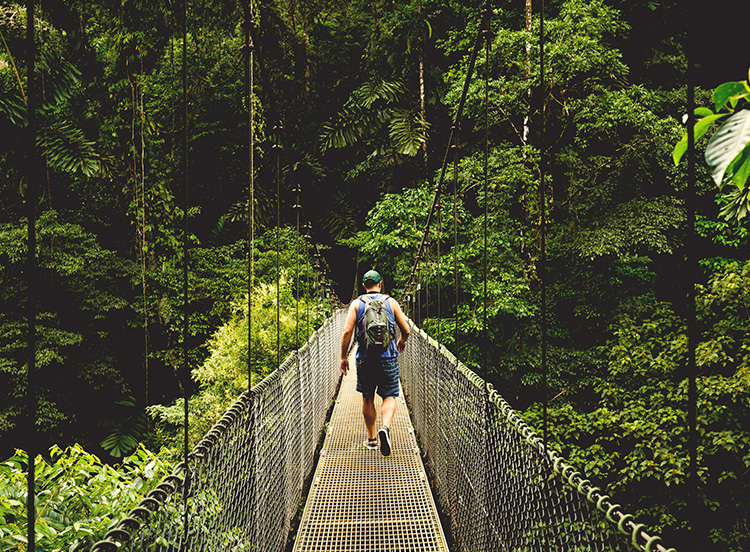 On the eve of the announcement of Jesus' betrayal, anyone could have been leaning against Jesus' breast. During the previous three years of ministry, multitudes followed Him. In a commissioning, He sent out 72 to do the work of the Father. He called 12 to be His disciples. Three were permitted to visit the Mount where Jesus was transfigured. But on that fateful night, only one was leaning against His breast.
What are you leaning against? I believe that the position of being poised against Jesus' breast is available to every believer.
British preacher Alexander Maclaren once observed, "We are able to have as much of God as we want. Christ puts the key to His treasure chest in our hands and invites us to take all we desire. If someone is allowed into a bank vault, told to help himself to the money, and leaves without one cent, whose fault is it if he remains poor? And whose fault is it that Christians usually have some meager portions of the free riches of God?"
How much of God do you really want?
[Excerpted from
GOD WHISPERS,
available now from Relevant Books.]
RELATED LINKS:
BUY IT: GOD WHISPERS
READ MORE GOD | POST COMMENTS BELOW