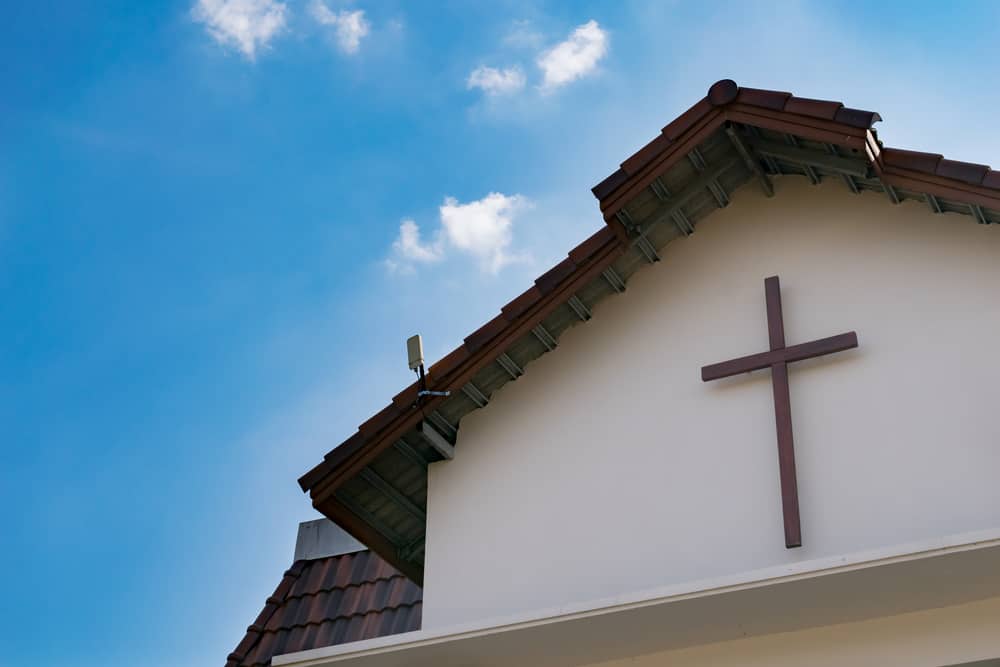 The gunman who sprayed bullets into the congregation of the Chabad synagogue in Poway, California did so with a heart full of hatred and a head full of traditional, unremarkable evangelical theology. His rampage left Lori Gilbert Kaye dead and three others injured.
The alleged gunman is not the first evangelical terrorist — far from it — but in the past, evangelical leaders were able to put some distance between themselves and their radicalized acolytes. But the lengthy manifesto posted by John Earnest, the alleged shooter, allowed for no such wiggle room. He is a violent antisemite, a devout evangelical, and those two identities were, for him, intertwined.
"I did not choose to be a Christian," Earnest wrote in the violent manifesto attributed to him. "The Father chose me. The Son saved me. And the Spirit keeps me." This is as tidy a summation of the doctrine of election as you could ask for — something any Calvinist in America would cheerfully endorse. And you needn't even be a Calvinist for this other quote from the manifesto to resonate: "Know that you are saved in Christ and nothing—not death, nor torture, nor sin—can steal your soul away from God."
Earnest is a member of the Orthodox Presbyterian Church, a slightly smaller offshoot of the Presbyterian Church USA, born out of a perceived creeping liberalism within the mainline tradition. His father is an elder within the church. In short, the alleged shooter was no "cultural Christian" who used a smattering of religious language as a fig leaf. His radicalization found a home within a studious, sturdily conservative evangelical framework.
Earnest's church and his parents were quick to condemn the attacks. "Anti-Semitism and racist hatred which apparently motivated the shooter …have no place within our system of doctrine," said the OPC in a statement. But a quote OPC Reverend Mika Edmondson gave to the Washington Post was even more revealing: "[Earnest] was radicalized into white nationalism in the very midst of our church," said Edmonson. "We can't pretend as though we didn't have some responsibility for him."
Theologically, Edmondson is correct. It would be unfair to hold a church accountable every time one of their members committed a crime, but when the crime is as steeped in theological understanding as Earnest's allegedly is, a reckoning is due.
"Overdue," many might say. At the Post, reporter Talia Lavin writes about the 1475 murder of 2-year-old Simon Unferdorben, which prompted the mass arrest of every living Jew in the Italian city of Trent. All told, eight Jews were executed by the government for their alleged role in the murder, while the legend of little Simon of Trent spread — an angelic martyr and young hero in the Christian war against an evil cabal of Jews.
The scourge of anti-semitism has never been distant from Christian theology. It pops up in the writings of no less a Protestant hero than Martin Luther, who called Jews "base, whoring people, that is, no people of God, and their boast of lineage, circumcision, and law must be accounted as filth." But antisemitism shows up in other, smaller ways as well. Note how often the word "Pharisee" is used as an invective in modern Christianity. History suggests the Pharisees were well-regarded by the Jewish people, and even the New Testament has several positive examples of Pharisees.
But we needn't look as far back as Ancient Rome and the Reformation Era for proof of Christianity's uncomfortable history of bigotry. Post contributor Eugene Scott points out white evangelicals would be far less surprised at white nationalism in their midst if they listened to their black members, many of whom have been leaving predominantly white churches, frustrated at the lingering strains of racism they experience there. "Something is profoundly wrong at the heart of the white church," Chanequa Walker-Barnes, a professor of practical theology at the McAfee School of Theology at Mercer University in Atlanta told the New York Times. "We were willing to give up our preferred worship style for the chance to really try to live this vision of beloved community with a diverse group of people. That didn't work."
White nationalism is neither new or novel within the church, and strong condemnations of racist and antisemitic violence are necessary but demonstrably insufficient at combating one of Christianity's oldest and wickedest plagues. Self-reflection is in order. When theologically informed people commit great evils in its name, difficult questions must be asked about that theology. What kind of gaps in church teaching must exist for such racism and hatred to continue unabated, even encouraged? Are evangelicals prepared for what sort of work must be done to fill in those gaps?
The obvious solution here is to seek forgiveness from those groups who have been targeted by strains of Christian bigotry and ask for practical input on rectification and reparation. "Obvious" is, of course, not the same thing as "easy" and there can be little doubt that what will be required here will not be easy. But it's a price evangelicals have to be willing to pay. We've seen the cost of ignoring it.