Pope Asks Atheists and Christians to Work Together for Peace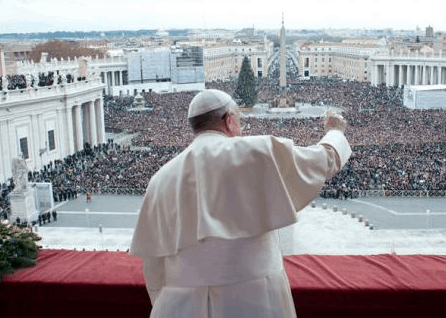 During his first Christmas Day "Urbi et Orbi" (message to the city and world), Pope Francis encouraged atheists to work together with Christians to encourage global peace. He told the crowd gathered at St. Peter's Basilica,
Peace is a daily commitment. It is a homemade peace … I invite even non-believers to desire peace. (Join us) with your desire, a desire that widens the heart. Let us all unite, either with prayer or with desire, but everyone, for peace.
His message centered around the theme of peace, as he spoke out against the fighting in South Sudan and asked for an increased dialogue in violence-plagued countries including Syria, Iraq and the Democratic Republic of Congo. He also prayed for peace between Israelis and Palestinians. "God is peace: let us ask him to help us to be peacemakers each day, in our life, in our families, in our cities and nations, in the whole world" …