Report: A Third of American Evangelicals Don't Believe Jesus Was God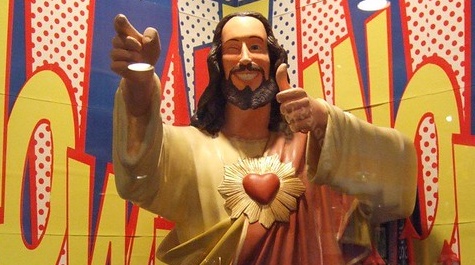 A new study from Ligonier Ministries conducted by LifeWay Research found that a little over half of all Americans say that Jesus was a good teacher but don't believe that he's God. That's not terribly surprising and more or less holds with the general downward trend of Christian belief in the U.S. over the last few decades. More surprising is that the same study found that about a third of self-identified evangelicals hold that belief as well. Only 66 percent of evangelicals disagree with the statement "Jesus was a 'good teacher, but he was not God.'"
"The confusion illustrated in these results suggests a dire need for Christians to be taught Christology, the doctrine of the person and work of Jesus Christ," Ligonier wrote in a press release.
65 percent of evangelicals say that Jesus "is the first and greatest being created by God," which is also a pretty sharp departure from evangelical teaching and most historic Christian doctrine.
"Statistics like these from the State of Theology survey can give us quite a shock, but they also shed light on the concerns that many American Christians and churches have expressed for decades," Stephen Nichols, chief academic officer of Ligonier Ministries and president of Reformation Bible College told ChristianHeadlines. "As the culture around us increasingly abandons its moral compass, professing evangelicals are sadly drifting away from God's absolute standard in Scripture. It's clear that the church does not have the luxury of idly standing by. This is a time for Christians to study Scripture diligently, engage confidently with people in our culture, and witness fearlessly to the identity and saving work of Jesus Christ in the gospel."
There are a few different definitions of evangelicals but David Bebbington's widely accepted "quadilateral" notes four distinctives: Biblicism (a high esteem for the Bible), Crucicentrism (a focus on the cross), Conversionism (prioritization of evangelism) and Activism (a belief in living the Gospel out in your life). Technically, Jesus' divinity isn't on that list but it's a historically accepted tenet of Christian teaching.
The full survey will be published on  TheStateofTheology.com later this month.