6 Lessons From the Life of Billy Graham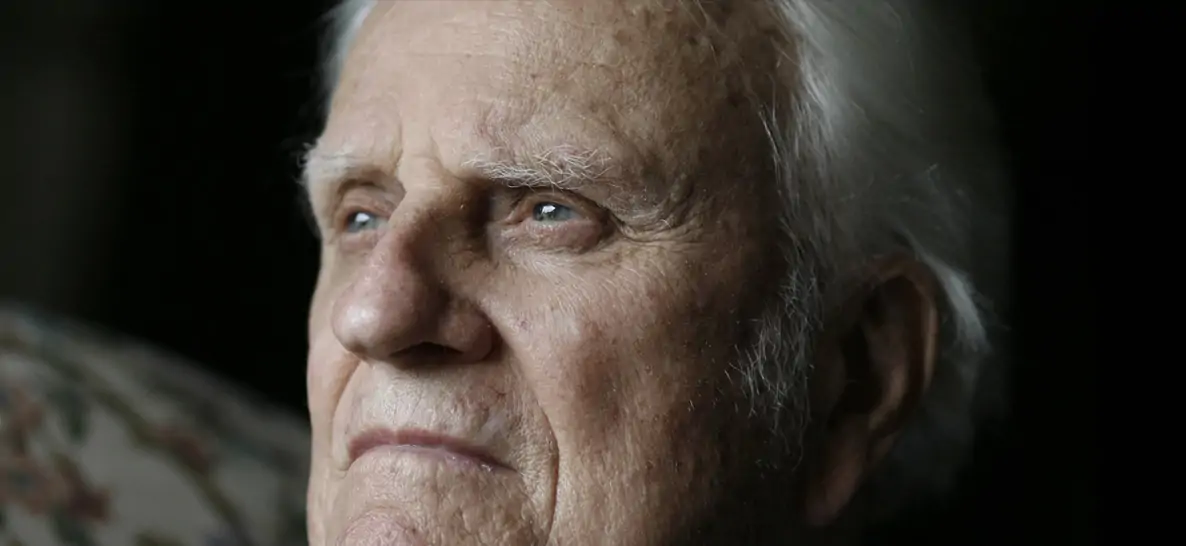 On Wednesday, the Reverend Billy Graham passed away and, along with him, the end of an era. Known as "America's Preacher," Graham was probably the world's most influential evangelist — a man who brought untold millions to Christianity in his famed Crusades. He was an advisor and confidante to numerous Presidents, and was largely responsible for reversing the mid-twentieth century retreat from public life that American Christianity was undergoing following the Scopes Trials. He was political, but not partisan. He told Parade Magazine in 1981 that "It would disturb me if there was a wedding between the religious fundamentalists and the political right. The hard right has no interest in religion except to manipulate it."
He preached to over 215 million people over the course of his 99 years, and was one of the first religious figures to utilize then-new technology like television and, especially, the radio to increase his reach.. He was voted one of the ten most admired men in the world 51 times in Gallup's poll.
Today, the preacher has passed away, and though today's generation of young people may not have had the chance to attend one of his conferences (he retired in 2005) his ongoing legacy still has a lot to teach us.
He Showed the Power of Organized Vision
Graham's first major evangelistic campaign launched in September of 1949 in Los Angeles. The Christ for Greater Los Angeles committee—who invited Graham to come preach—originally intended for the event to last three weeks, but it stretched out to eight weeks as people started showing up in droves. Overall, 350,000 people attended, with several thousand attendees and a handful of influential celebrities coming to Christ. The event is just one example of Graham's long career of organizing "crusades" all over the world, but it pushed Graham into the national spotlight and showed that modern evangelicalism was a force to be reckoned with.
He Has Engaged the Arts and Media World
Though Graham turned down a $5 million contract with NBC early in his career, he went on to create his own media outlets through the Billy Graham Evangelistic Association, which he founded in 1950. Along with his traveling crusades, Graham also reached audiences through his Hour of Decision radio program, syndicated newspaper column, television specials and Decision magazine. He also founded Christianity Today and World Wide Pictures, which produces evangelical films.
He Has Prayed With Presidents But Promoted Bipartisanship
Among Billy Graham's many claims to fame is the fact that he met with every U.S. president since Harry Truman. He formed close friendships with some, counseled others, and simply met to pray with a few. A registered Democrat, he supported candidates from both parties over the years, but refused to equate Christianity with a certain party, shying away from Jerry Falwell's Moral Majority in the late '70s, saying, "Evangelists cannot be closely identified with any particular party or person. We have to stand in the middle in order to preach to all people, right and left."
He Worked Toward Racial Reconciliation
In the 1950s, Graham spoke out for civil rights, insisting that the audiences at all his rallies be integrated. (He once personally removed the ropes dividing the sections at an event in Tennessee and told ushers he would leave if they put them back up). He told a white audience, "We have been proud and thought we were better than any other race, any other people. Ladies and gentlemen, we are going to stumble into hell because of our pride."
He also invited African-American ministers to serve and preach with him, including Martin Luther King Jr., whom he developed a close friendship with. He even posted bail for King when King was arrested during a 1963 protest in Birmingham.
"There is no scriptural basis for segregation," Graham told crowds. "The ground at the foot of the Cross is level."
He Spoke Out Against Injustice
Though Graham spoke throughout Africa in the 1960s, he refused to visit South Africa because the government enforced racially segregated seating. In 1973, he finally visited, and his rallies in Durban and Johannesburg became the country's first integrated public meetings.
See Also
"Christianity is not a white man's religion," he told audiences. "Christ belongs to all people."
Graham also spoke out against apartheid and corresponded with Nelson Mandela while Mandela was in prison.
He Provided Examples of How to Engage With People With Different Beliefs
In 1969, Graham appeared on a Woody Allen TV special to have a conversation with Allen about religion, rules and other matters of theology. It was a rare instance of a respectful, gracious conversation between two people with opposing views—a radically different example of how to engage in controversial conversations than the hate-filled yelling matches we often see today.
He Promoted Church Unity
In his sermons and speeches, Graham steered clear of theological particulars, choosing to focus instead on the bigger picture of the Gospel. This brought him criticism, but it also allowed him to work with churches of all different denominations. In 1974, he partnered with John Stott to gather evangelical leaders for the International Congress on World Evangelization, which birthed the Lausanne Movement, which encourages collaboration on evangelism worldwide.
Dargan Thompson
Dargan is a former RELEVANT editor turned freelancer. Find her online at darganthompson.com or follow her extremely random train of thought on Twitter @darganthompson.