The Green New Deal Is Landing Some Surprising New Supporters: Christians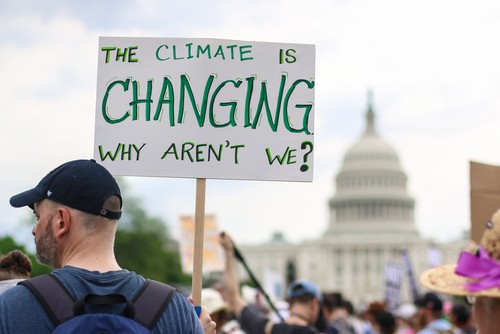 It's taken as an article of faith that Christians in the U.S. are more likely to be skeptical of climate change than the population at large, and several studies back that supposition up. But the growing sense that something needs to be done to confront our rapidly warming planet appears to be making some serious inroads, and now several Christian groups have come out in support of the radical climate change legislation known as the Green New Deal, introduced by Representative Alexandria Ocasio-Cortez and Senator Ed Markey earlier this year.
Most notable, perhaps, is a ringing endorsement from the Young Evangelicals for Social Action. In a post on the group's website, YESA wrote that "[a]s Christians, we recognize the biblical principles that are embedded in the Green New Deal's many aspirations, including justice (Micah 6:8, Amos 5:24, Isaiah 1:17), neighbor-love (Matthew 22:34-40), and meaningful protection of the earth (Genesis 2:15)," saying that the legislation had "values that Christians and all people of goodwill can and must affirm."
Just a few days later, the mainline Protestant denomination United Church of Christ voted to endorse the Green New Deal as well, saying it was "what is needed to preserve and restore God's great gift of creation."
As activists push for more aggressive action on climate change, winning religious support in conservative areas is seen as a key step moving forward. While a Pew Research study in 2015 found that white evangelicals were the least likely Christian group to consider climate change a real problem (only 28 percent say they believe the earth is warming due to human action, compared to 41 percent of white mainline Protestants, 56 percent of Black Protestants and 77 percent of Hispanic Catholics), recent inroads suggest that Christians may not be as stubborn on the issue as previously believed.
Research from the Center for Climate Change Communication found that Christians can be persuaded to support legislative action on cutting emissions via different kinds of messaging than the general public. While the apocalyptic suggestion that mitigating global warming could "prevent destruction of most life on the planet" isn't very impressive to most Christians, framing like "provide a better life for our children" and "protect God's creation" is persuasive.
See Also
None of this means that the New Green Deal has an easy road ahead Congress, and even its supporters readily admit that their go-for-broke legislation's odds are beyond slim. But the New Green Deal is still moving the conversation forward in surprising ways, and that may have been the goal all along.