Are you traveling for work or leisure? You get asked this when filling out customs forms, booking hotels and even when an acquaintance wants to know why you're here or there.
One answer is considered to be a luxury, something you do when you have money and time to spare. But for a balanced life, traveling is almost a necessity—as conducive to personal growth and maintenance as working out, eating well and seeking fellowship. And you don't have to do it often to reap the rewards—one good trip every couple of years should do the trick.
The difference between taking any old vacation and travel that positively impacts your life lies in setting out with purpose. Not just booking the most exotic destination and filling your itinerary with restaurants and shops—don't get us wrong, we're not saying to scrap that—but the most fulfilling trips happen when you challenge yourself, seek to learn and connect (or, in some cases, disconnect).
By seeing the world, we break down borders and barriers, come to understand and appreciate where people come from and find things that make us one. We get to marvel firsthand at the wonders God created outside of our limited context.
Yes, that sounds expensive—and some trips are—but when done right, even setting out in your own city can be an enriching adventure. Think about your passion—whether it's being in nature, diving headfirst into the unknown or working with kids. Now use this list to see how you can get the most out of your summer escape.
1. The Awe-Inspiring Nature Escape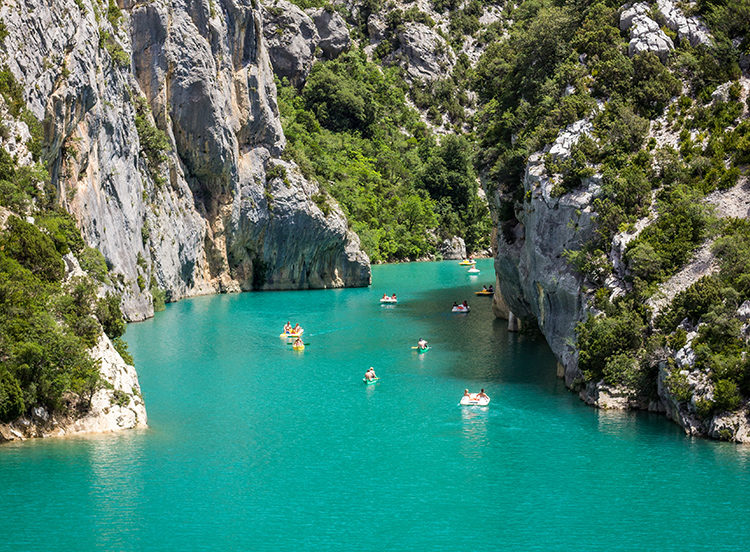 Enos A. Mills, known as the father of Rocky Mountain National Park, said: "Among the serene and steadfast scenes, you will find the paths of peace and a repose that is sweeter than sleep. If you are dulled and dazed with the fever and the fret, or weary and worn—tottering under burdens too heavy to bear—go back to the old outdoor home."
Mills recognized that nature is God's gift to us. The mountains have a unique way of reminding us that no matter how high-and-mighty we may feel one day, we are but a small piece of the puzzle. Fortunately, it's pretty easy and affordable to get to the Colorado peaks that inspired Mills' eloquent discourse. Fly into Denver—quick and relatively low-cost from most major airports—and drive toward Estes Park, which rests at the foothills of the National Park. Plan to go when the summer traffic starts to fizzle out and the weather is still amicable enough to climb and hike to your heart's delight.
visitestespark.com, nps.com/romo
2. 24-Hour Disconnect
Solitude and silence are necessary for reflection. Set on 2,000 acres of working farmland in the hills of Central Kentucky, the Abbey of Gethsemani hosts guests searching for mental clarity and seclusion in simply appointed rooms with private bathrooms. Space is limited, and reservations are needed four months ahead. But once you're in, you'll have unstructured days free to roam the grounds, meditate and pray.
Take note: The Trappists are a quiet tribe, and speaking is only allowed in designated areas. One of the abbey's most famous residents was monk Thomas Merton, who wrote The Seven Storey Mountain, an honest account of his search for salvation and purpose. The book is considered a benchmark in seminarian circles and one of the clearest accounts of contemplative living. Read it before heading to Kentucky.
3. The Spiritual Retreat
We're not talking about holy sites. This is about those places where everyone seems to live on a different, ethereal plane. It's where artists in search of solitude and inspiration escape to get away from the chaos to hear themselves think. These colonies are usually settled in off-the-grid, desert areas where respect for the land is valued above all else. These places reward respectful residents and visitors with an expansive setting and tranquil vibe.
One such place is Marfa (visitmarfa.com), located three hours from the nearest airport in Fort Worth, Texas. In the 1970s, artist Donald Judd settled in the West Texas border town and planted his minimalist doctrine through artworks and structures that blend into the landscape, rather than attempt to outshine it.
The Chinati Foundation (chinati.org), his contemporary art museum, housed in a former Army base, is still recognized as a leader in the field.
Five years ago, artist Robert Irwin unveiled his first freestanding, permanent piece at Chinati. The museum is a major draw, as are the independent galleries, artisan-run shops, indie music clubs and a fake Prada storefront made famous by Beyonce's Instagram.
Hotel Saint George (marfasaintgeorge.com), a sleek inn filled with locally made furnishings and priceless paintings, opened six years ago in spring 2016—Marfa's first new high-end lodging in almost 90 years.
Still, we prefer the rustic quality of staying in a glamped-up tent or camper at Austin hotelier Liz Lambert's, El Cosmico (elcosmico.com).
4. The Eye-Opening Day Trip
The more we know about a culture, the better we can understand it. The more we understand it, the easier it is to relate to its people. We can't deny the racial tensions flowing through our country and the world right now.
Rather than ignore the current state of things, we can seek ways to bridge the divide. Among the many virtues of living in an immigrant-built country is the possibility to experience a wide range of nationalities.
Every city has its Little India, Little China, Little Ireland—pockets where transplants hold onto traditions and perpetuate their heritage through food and art.
In Miami's Little Havana (miamiandthebeaches.com), you can stroll the Calle Ocho sampling legit cortaditos (Cuban coffee), investing in modestly priced paintings imported from the island and dancing the afternoon away to the sounds of the salseros playing on street corners or at Ball & Chain, the lounge where Billie Holiday and Louis Armstrong once played (ballandchainmiami.com).
5. The Moment of Remembrance
These days, our digitally connected generation shows support when terror strikes by posting #prayfor_____ on social media. We understand the need for solidarity, and this is our way to stand beside our grieving brothers and sisters. But it's important to reach beyond gadgets and physically show up, too.
The U.S. has federally protected national memorials for over 30 of the country's deadliest terrorist attacks. It's not so much about the place as it is the people. It's a way to say we remember what happened there, the lives lost and that we stand by survivors and affected families.
More than 350,000 people visit the Oklahoma City National Memorial every year. And it's not just morbid curiosity that lures them. Yes, it's a chilling experience to stand at the face of tragedy, but even more powerful is the opportunity to reflect on what we lose and gain when catastrophe hits, and how the power of hope strengthens us.
oklahomacitynational-memorial.org
6. The Great, Big, Beautiful, Introspective Drive
The Pacific Coast Highway, Route 66, Louisiana's Great River Road, Blue Ridge Parkway—any scenic road, really.
There's nothing like a long road trip to fuel internal dialogue about who you are, what you're doing and what you're doing it all for.
Great writers know this. That's why many novels have been written on or about a memorable time on the road. In 2015, self-described American road-trip freak Richard Kreitner plotted 1,500-plus coordinates mentioned in iconic books such as On The Road Again, Zen and the Art of Motorcycle Maintenance and Travels With Charley.
His goal was to inspire folks to hit the road and rediscover America. Not all pit stops on his list wind through major highways, but all can lead you to a story-worthy adventure.
Pick the right travel partner for such a journey (someone who you enjoy talking to, will help drive, goes with the flow, and when needed, appreciates the beauty of silence). There's also nothing wrong with going it alone. Kreitner's map can be found on the independent travel platform Atlas Obscura (atlasobscura.com).
7. The Alternative Urban Escape
The Big Apple may be the last place you think about visiting when considering a spiritually enriching trip. But the idea behind purposeful travel is that you break through stereotypes
and create the experience you want to have.
Don't see the city for what the media, movies or its consumeristic merchants tell you to see. Seek out the people and places that give the city soul. Instead of shopping in Soho or bar-hopping in Williamsburg, book a Context Travel trip—an architect-led tour of the city's storied and impressive buildings (contexttravel.com). Instead of  the pricey dinner downtown, attend a cooking class with an Uzbek woman at the League of Kitchens in Harlem. Companies such as Visit.org are wising up to millennials' itch for authentic, meaningful experiences and creating hyper-tailored services.

8. All-around Cultural Wonder
We can take a cue from the restrained Japanese and Zen practices balanced with the thoughtful mentality that elevates a simple task like drinking tea to near rituals. You see this in the centuries-old temples and samurai tales, the highly sought-after ski resorts and their post-workout natural hot spring soaking tubs.
It's also in the cooking traditions that involve such attention to detail that an American documentarian was inspired to create an entire film just on the art of one Japanese man's sushi process (Jiro Dreams of Sushi). We know going to Japan isn't a chump-change trip. The ticket itself costs more than a grand, and once you're there it isn't cheap either. But it is worth saving for. You won't leave Japan the same person—and that's a good thing.
9. The Real-Deal Local Experience
The Costa Rican motto is Pura Vida. Technically, it's "pure life," but it means more than that in the Central American country.
For Ticos, as Costa Ricans are known, the phrase symbolizes what they truly believe and live every day: Life is short, things could always be worse and we're all in this together.
That mentality translates to a genuine enthusiasm and level of hospitality that beats anything you may have experienced in the most congenial of Southern homes. From the moment you arrive, locals open their doors and share the lay of the land, inviting you to live like them—no tourist trappings or reservations. Plus, traveling to and around Costa Rica is so cheap, you can afford to stay for weeks and really live the Pura Vida way.
10. Give-Back Adventure
Voluntourism—the idea of doing meaningful work while on vacation—has gone from selfless mission trips to self-serving detours resort-goers take to see the "real" side of their tropical getaway. And really, who are we to judge what leads someone to do good?
But the rise of voluntourism has also led to some shady, counter-productive practices. In some cases, companies function more like opportunistic businesses than charities and use kids as bait. It's important to find the right operator. Me to We is an ethical resource focused on helping people think less about themselves and more about the collective good.
They create projects meant to empower communities, and they ensure the efforts can be sustained long after volunteers take off. Itineraries range from helping grow cacao while staying at an eco-friendly lodge in the Galapagos to building schools and collecting water in Kenya. The trips are pricey, but students can apply for scholarships.
Stephanie Granada
is a freelance writer based in Seattle, where she lives with her dog, Jack.