5 Reasons Why Contemporary Churches Aren't the Only Ones That Matter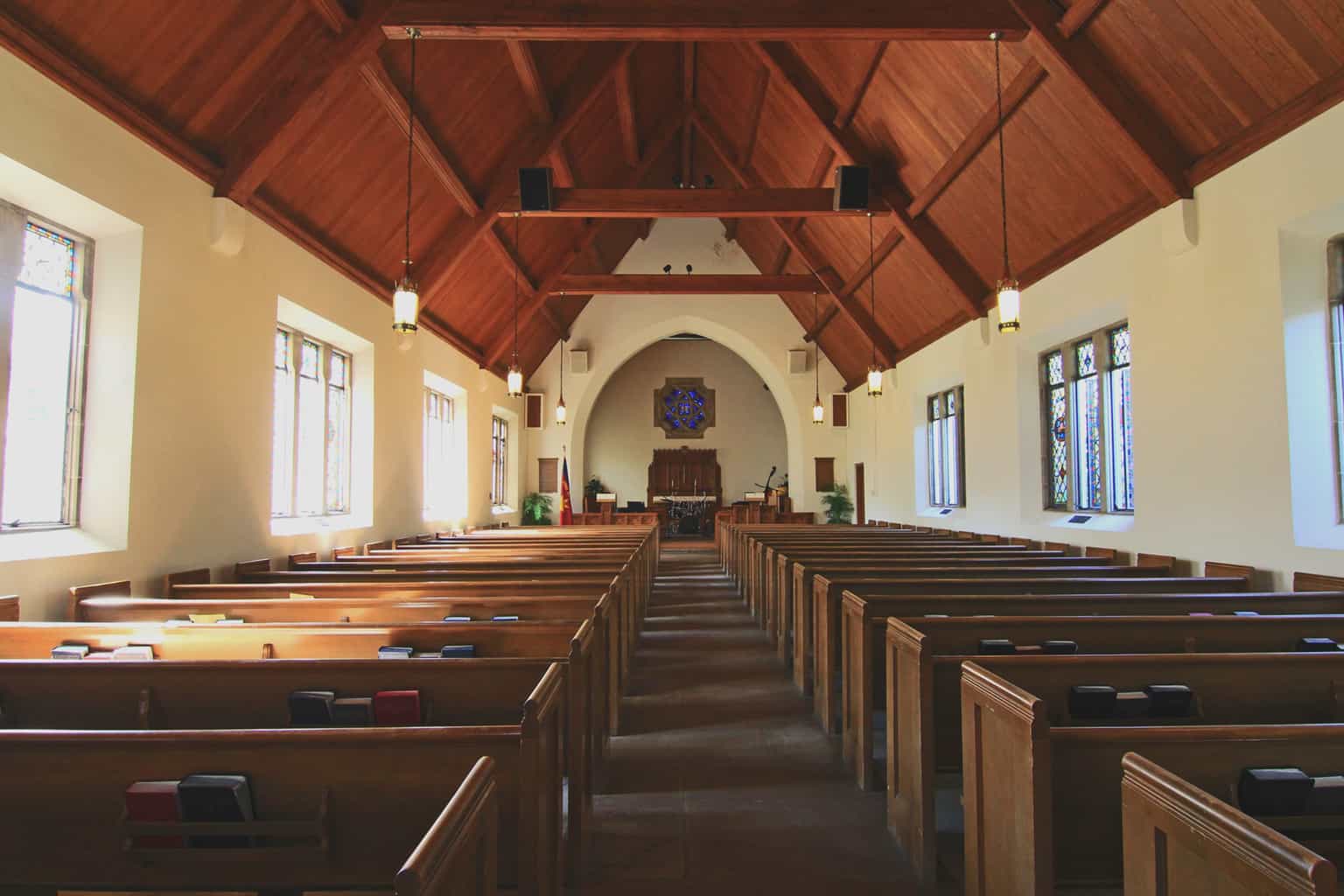 A few weeks ago I was a guest in a traditional Southern Baptist church. It was in a big, beautiful building and full of people who migrate no less than four rows during the "Shake someone's hand and say good morning!" part of the service.
The pastor was talking about Acts chapter 11 and the disciples who built the first church. He referenced research by the Barna group that said 30 years ago, only two in 10 people didn't regularly attend church. Now, five in 10 forgo attending for other activities. According to The Christian Century magazine, every year 3,500 churches close their doors. A thousand of those are Southern Baptist.
It begs the question: What if traditional churches became extinct? What would the world lose?
Everyone has a different church story, but mine is similar to many—I grew up in a traditional church but started attending a more modern, non-denominational one in college and now as an adult in New York. That Methodist church was my home. My parents were going there when they had me, and I spent 17 years in services, Sunday school and youth group. The ladies who changed my diapers when I stayed in the nursery are now my friends on Facebook.
My senior year of high school, I started wanting to trade the praise team for rock band worship music and people who didn't think of me as the child they watched grow up. I wanted a pastor who wore skinny jeans, not a suit or a robe. I thought my style was changing, but looking back, it was just me growing and wanting to be fed spiritually in a different way.
There's absolutely nothing wrong with preferring one church style over another, but when we tear down churches that are different from ours simply because they're no longer feeding us, we fall into a pride we shouldn't have. It's selfish to think that our church is the best simply because it serves our needs. What helps me grow spiritually may be different than what helps my parents, my grandparents or even other people my age.
I can't imagine growing up without my traditional church. It's been a while since I've sat in a pew, but hearing those statistics about churches closing doors reminded me what a huge part of my life it was. Traditional church may not be your cup of tea, but if these churches go extinct, I believe a whole generation would miss out on the following:
Different Kinds of Worship
Worship is as close as we get to being completely wrapped up in the presence of the Holy Spirit. I love where modern churches have taken worship, but if traditional churches were to disappear overnight, I think we'd be missing a huge element of that time with the Holy Spirit. It's the difference between singing words off a screen at the front of the room and holding a Hymnal in your hands. There's no wrong way, but the latter is a smaller, quieter way to connect with God. The words are powerful, especially when you remember that some of them were written decades ago.
Take "It Is Well" for example. That song was written in 1873 by a man who experienced the loss of his children in a shipwreck only a few years after losing his business. We sing the words he wrote "When sorrows like sea billows roll / Whatever my lot, Thou hast taught me to say / It is well, it is well with my soul" and forget that this man who lived ages ago experienced things we go through now. Contemporary bands are beginning to remix these songs, but hymns from the 1800s and all the verses and melodies in the hymnals remind us that our God is timeless and present. He has no beginning and no end.
When you find new meaning in the words written by someone from the 1800s exactly as they were, it's special. Whether your preference for worship is lights and booming bass or strings and a choir, the act of lifting up the name of the Lord is as diverse as the people who do it, and traditional churches offer us a glimpse of those hymns that's hard to find elsewhere.
Intergenerational Wisdom
I'm currently attending a church in New York City. They're awesome about intentionally emphasizing community and being a light in the city. Our chapter of the church is pretty large. I've been going for almost a year, and I could just about count on my fingers the number of members I've met over the age of 45. Meanwhile, the church I grew up in is full of the older generation at every service. It's the same way at my granny's baptist church in Tennessee.
Traditional churches are full of people who have been members since before most of us were alive. They're incredibly loyal to their church homes, and they are equally loyal and invested in the other members of the congregation. The ladies who live far away from their grandkids are always the ones volunteering in the nursery. The men who served in World Wars teach Sunday school and drive the van to take the youth group to church camp, even though their own kids are grown. The older generation has so much kindness and wisdom to offer. They can be an awesome source of discipleship, and they're often excited to do so.
A Space to Be the Church
There's nothing wrong with setting up and packing out a middle school cafeteria every week, but there's also nothing more beautiful than stained glass windows lighting up a whole sanctuary with color when the sun sets. Wherever two or more are gathered, the Bible says the Spirit will be also. Traditional churches more often offer a permanent, physical location for the church to exist on more than just Sundays.
Don't get me wrong, I've been to church in a bar and felt the spirit move in amazing ways. I've also been to contemporary churches with buildings, so this is not mutually exclusive. But brick-and-mortar traditional churches have a reverence about them in the pews, organ and polished wooden altars. They're places used by the people for community every single day of the week. Having a building to call a second home is one of the things I miss the most about my old church.
As a kid, I was literally roaming the halls at least three times a week, as familiar footed as I was in my own house. A physical church is a home for the congregation and a place the community can use. It's a place for weddings and funerals, for pageants and worships night, and most importantly a place where the spirit can be alive 24/7.
Time-Honored Biblical Teachings
The way churches teach the word has changed just like worship has, but the roots are still the same. We know that the Bible teaches us how we should live, and that there is freedom in His promises. The church in 2018 still does a great job of making that a point, but traditional churches tend to dive deep into the theology of the Word.
If we don't learn where we came from, we won't know where to go next. I've never understood the importance of the Apostle's Creed, but I can still repeat it verbatim. Saying the Lord's prayer every week and singing the doxology are not necessary for salvation, but they're holy words that the members of that first church used to communicate with God 2,000 years ago, and they're still around now thanks to the diligence of these churches. Many of the elders in traditional churches have spent years and years studying doctrines and the Bible in ways we will never have access to, and losing that element of the church would be like losing a piece of history.
Intimate Community
Traditional churches' take on community often means potlucks and Christmas Eve banquets. You find your people to do life with in Sunday school and then you're loved on by everyone else, too. Community is what you make of it no matter what kind of church you go to, but in a traditional church, there's a feeling of union I haven't experienced elsewhere.
My family went through a serious loss when I was 10, and it was the people from our church more than anyone else who sat at the hospital with my parents, babysat my sisters and me and cooked food for us for months. Investing in a traditional church, you get more than just the other members of your small group. You get the youth group, senior citizens and children's ministries all supporting each others events. You get house calls from the pastor and people to spend your Thanksgivings and Christmases with. You get a whole slew of people who will support you on mission trips. You get a family.
If any church has Jesus at the center and is spreading the good news, it's still worth believing in. What if one type of church were to just disappear? If you've never stepped foot in a traditional church, it might be worth a try, because there are things that it can offer that you'd never expect. The 17 years I spent in a traditional church set me up to be who I am today. And even though I've moved on to something different, I think the world would lose a really important piece if one day we looked around and no longer had these establishments.
Churches are more than things that go in and out of style. They're living, breathing representations of Jesus on Earth to every person who enters them.
Molly Donovan
Molly Donovan is a contributing writer to RELEVANT and a social media editor based in New York.