The One Word Healthy Couples Refuse to Say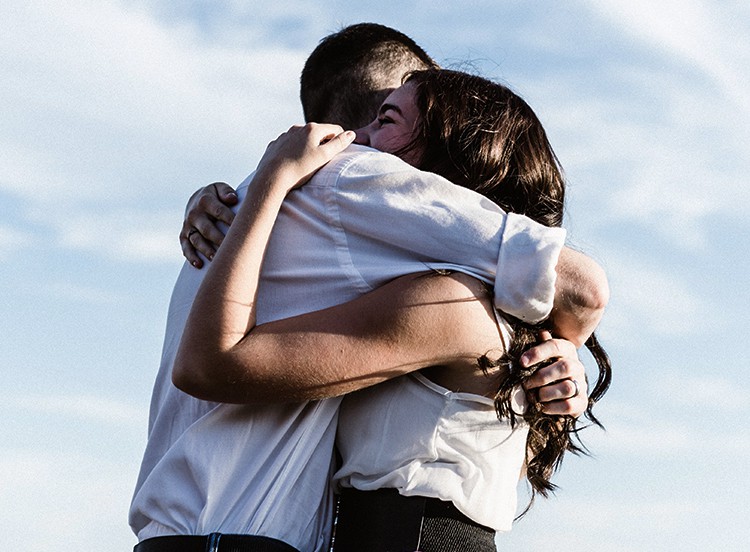 Americans love options. We love being able to choose between Voxer or FaceTime, Lyft or Uber, Bumble or Tinder. Having many options allows us to feel like we have some modicum of control in our lives. Apart from occasionally encouraging over-consumption (particularly at Trader Joes), there seems to be no disadvantage to living in a culture with plentiful options.
But what happens in those circumstances when our alliance to Christ limits our options?
Like when a relative asks to borrow money (Matthew 5:42), when we see our ideological enemy stuck on the side of the road with a flat tire (Luke 10:25-37) or when we feel chronically unhappy in our marriage but cannot blame that misery on any egregious behavior (i.e., addiction, abuse, or infidelity)? How do we respond when we have many choices—but only one real option?
I have a number of divorced friends whose marriages failed because their spouses resisted transformation and refused to engage. If that describes you or if you are married to an unfaithful or abusive spouse, I am not addressing your situation. I am speaking to married couples who are currently struggling with what they perceive to be generic incompatibility issues and who imagine divorce might solve their problems.
In the 1970s, divorce became a legal option for everyone after then-California Governor Ronald Reagan signed the nation's first no-fault divorce bill. Within the next 10 years, almost all other states followed suit resulting in a divorce revolution. According to researcher Bradley Wilcox, "From 1960 to 1980, the divorce rate more than doubled."
Between 2000 and 2014, more than 13 million couples dissolved their marriages compared to more than 30,800,000 who tied the knot (based on CDC statistics). Though couples could—and did—divorce prior to 1970, laws were designed to protect those in power (read wealthy, white men). As such, many women perceived the no-fault divorce laws as good news. However, nearly 50 years later, this social experiment birthed mixed results.
Many therapists, psychologists and sociologists agree that except in marriages where one partner is abusive, unfaithful or unwilling to do the work required in a partnership, the cost of divorce is incredibly steep.
Divorcees often experience a reduction of income, the stress of dividing households and a shattered personal and world view. As demonstrated by the research of Judith Wallerstein and others, children do not escape unscathed. (Duly noted: Children are also adversely affected when parents stay married but have a toxic relationship.)
Despite these sobering realities, if a marriage has been limping along for months or even years and there's little vision for how change might happen, divorce may seem like the best, or even the only option. (And in some cases, it might be the only solution.) But when we find ourselves in a hopeless space and there's no biblical grounds for leaving, it's prudent to remember that divorce is not the only option.
As I see it, our choices include:
A. Divorce, reboot and hopefully start again at some later point;
B. Muddle through in an unhappy and unfulfilling relationship (e.g., virtual divorce); and
C. Re-up your commitment and do whatever it takes to help your spouse and the marriage flourish.
When faced with these choices, it seems obvious to choose door C.
And yet, many of us hesitate before turning the knob. Perhaps that's because we have no idea what "whatever it takes" might entail. We may fear that every selfish bone in our body will need to be broken in order for the marriage to succeed. We may have a reservoir of bitterness and resentment that needs to be drained and we simply don't want to go there. Both legitimate concerns because no matter how spiritual we are, at core, we're all pain avoidant. Even famed theologian C. S. Lewis admitted, "If I knew of any way of escape [from pain and suffering], I would crawl through sewers to find it."
Though completely understandable, when we make choices to prioritize our happiness and to dodge pain and suffering, we are also choosing to avoid fellowship with Jesus and thwarting our own transformation. If my 26 years of marriage have taught me anything, the kind of relief we seek will not come by reneging on our vows, but rather by doubling down on our commitment to love.
As Mike Mason writes in The Mystery of Marriage,
[lborder] [M]arriage is a trap. It is a trap of pure love. The love is so pure, so intense, that it can be like a big iron gate that clangs shut behind us. And there we are. Imprisoned by our own free will, in the dungeon of marriage. And the one and only key has been handed over to our partner, a total stranger, to swallow. … When the prison door of love clangs shut, the only thing to do is to become more in love than ever. There is just no other way to get out of it. [/lborder]
Jesus is our only reference point for this kind of sacrificial love. He was—and continues to be—love incarnate. This love cost him his well-being, his comfort, and when He gave up his spirit, even his connection to the Father. On our own, this kind of love is impossible. But the more we become like Him and the closer our proximity to Him, the more we will be able to love like He loves.
The "whatever it takes" kind of love almost always carries an exorbitant price tag. However, choosing to stay and giving ourselves over to this goal often remains our best option.
Dorothy Greco
Dorothy Littell Greco is a writer, author, and photographer who lives and works outside Boston. You can find more of her work on Twitter (@DorothyGreco) or Facebook (Words&Images by Dorothy Greco).