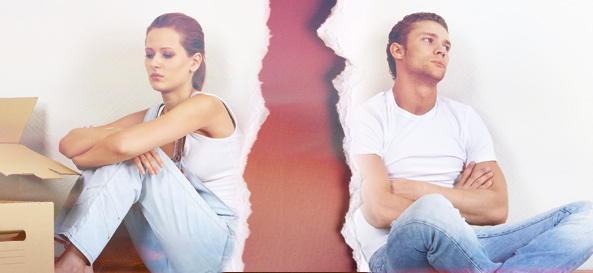 Divorce is like cancer. Not because you're sick, but because no one knows quite what to do with you when they see you.
Are you supposed to act like nothing's happened when you see a friend who recently got a divorce? Do you throw your arms around them in the grocery store and tell them how sorry you are? Do you leave self-help books on their doorstep? Offer to counsel them through a Facebook message?
I remember when a close friend's brother had cancer. Their father was trying to make small talk in a difficult time, and he mentioned that he liked to eat my pimiento cheese. I was so desperate to help, I showed up at their door in two hours with two gallons. Gallons.

Most of us say and do what we can in these situations because we feel the pain of those we love and want to ease it. And truth be told, we feel our own worlds rocked violently when we hear the bad news of others and inevitably transfer it to ourselves. Could this happen to me?
And you know what? That's ok. The thing is, the person with cancer—or going through the divorce—doesn't have a clue what to say to you either. That's part of the humor of our shared, messy humanity.
I haven't had cancer, but I do know what living the "D" word feels like. I thought I might write down a few things I wish people had not said to me—and even better, a few things I am so thankful you did.
Do not say:
"What happened?"
If you have to ask, then you probably don't need to know. That being said, I told a good friend about this list, and she said it's unreasonable for me to think no one should ask that question. So, after much thought, I finally decided that if you've seen me naked, then you're close enough to ask me what happened. This is hopefully a fairly short list for most of us, or otherwise people probably already know what happened.
"Who filed?"
I know this is one of the first questions that pops into your head, as if the answer somehow gives a clue to whose fault it was, and really, isn't that what you're trying to find out? It doesn't matter. Well, I guess if you want to choose sides or like one person more than the other based on whose fault it is, then ok, it does matter.
"Do you want to go out with my cousin, brother, uncle, neighbor, son, grandfather, grandson, me?"
No, and you don't want me near your cousin, brother, uncle, neighbor, son, grandfather, grandson or you for a long time. Trust me.
There are many demons to face during the fall-out of a divorce. And you have to face them alone. By alone, I mean you, God and time. My first realization of this came just a week or two after I filed for divorce.
I had to go out of town for work, and long story short, I ended up being stuck in an airport parking garage in a rental car all night. It was hot outside, horns were honking, planes were taking off and landing, and I was alone—and an emotional wreck. Those hours were some of my darkest and some of my most enlightening.
Dawn came, as it always does. But that time alone showed me it was going to take a lot of work to understand myself in the way I need to finally believe, "Yes, I am enough. Yes, I am loved. Yes, I am beautiful."
To be your true, fearless self: This is a place best discovered without depending on someone else to tell you.

Anything with the phrase "beauty from ashes"
Please retire Isaiah 61:3 from your list of things to say to hurting loved ones. But if you really like saying it, then I ask that you remember the phrase is "beauty instead of ashes" not "beauty from ashes." This means two very different things if you stop to think about it.
The label "single mom"
You may find this amusing, but I didn't know I was a "single mom" until someone referenced me in that way. I was bewildered.
What I mean is this. In that moment, I realized you see me differently now. You have labeled me.
Labels are rarely useful, unless they are in your refrigerator. We like to use them because it helps organize our lives and put people in places we can understand. But I'd like it if you could try and just see me. The same me you've known—not someone who now checks a different box on all her forms.
Do say:
"I know you. I don't need to know anything else."
If it's your friend going through the divorce, isn't that enough until they are ready to talk?
"Give me your house key."
There are no words to describe how I feel about my friends who helped me move, unpack my new house, organize my kitchen (and closet albeit temporarily) and then have continued to help me make a new home, clean it up, and survive this past year. I have come home from work many times to find beautiful flowers on my balcony, candles burning in the kitchen and ironing all done.
If you want to show Christ to someone, this works a lot better than the beauty from ashes thing.
"Come rock on my porch with me."
This place has been my sanctuary for a long, long time. Offer a safe place like this to someone you deeply love if you can.
Now, it will mean listening to your friend ramble, cry, contradict, panic, shout, chant the "f" word, laugh, threaten, give up, get back up, run out in the middle of a dinner party, ask to spend the night, ask to run away … so this one is only for the friendship that can stand up to—and work through—anything.
These friends and I have given birth together, buried loved ones together, argued, loved, cried, disagreed, laughed and finally settled in to whatever life brings.
And thankfully, it means sometimes we just get to sit and rock and look at a magazine.
"Wine is at 6. Dinner at 7."
I'm still me, if you can let me be. I like eating steak and French fries with you. I like trying the new wine you found. I like listening to your music, and I hope we will laugh.
Thank you for remembering there is more to me than my current circumstances.
"I understand."
Even if you don't.