Why Instagram Can Make You Feel So Empty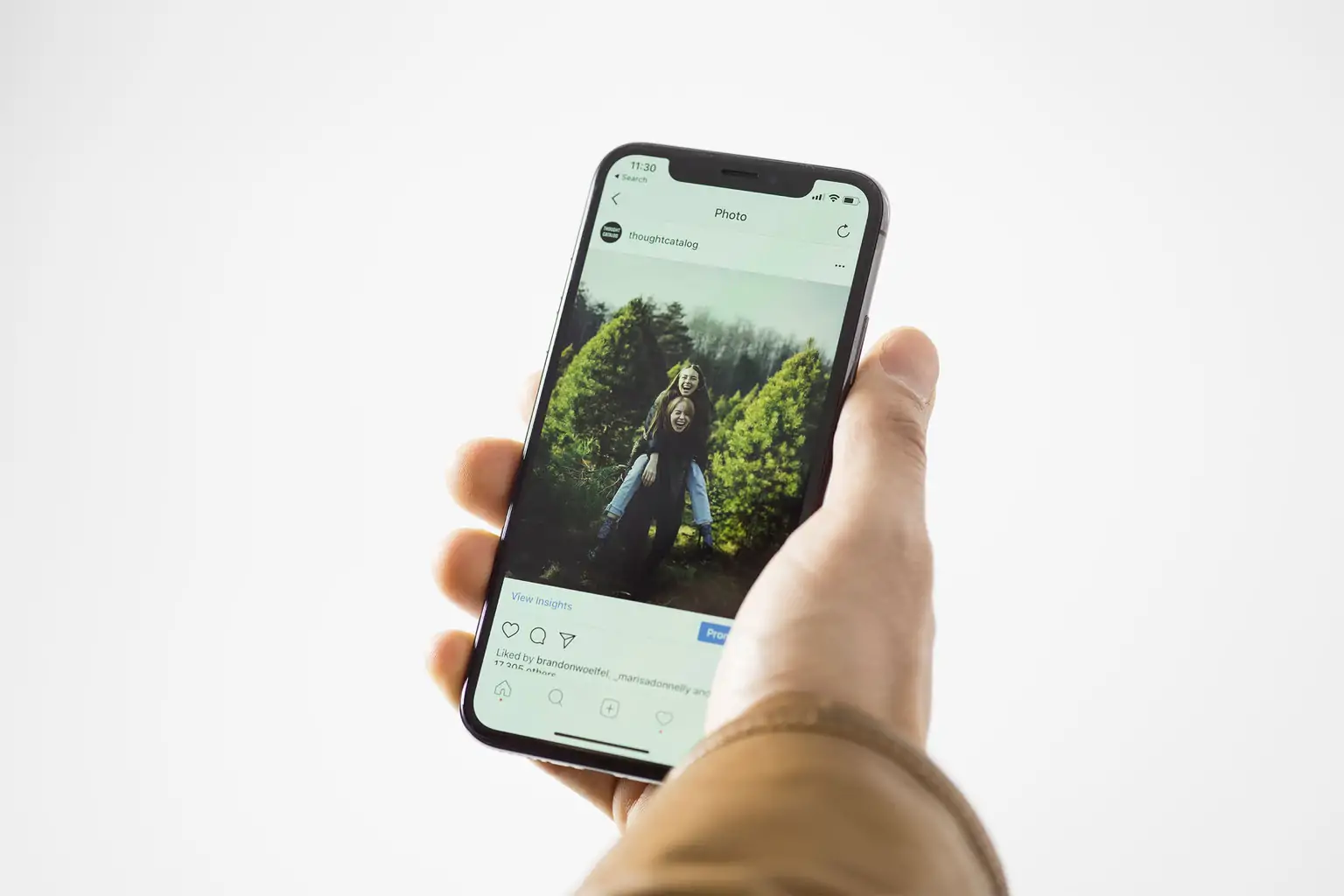 "You live the life, you do!" my mother laughed over the digital ether. I had just told her about my recent trip: a hike through equatorial mountain rainforest on a chain of volcanoes in the northern part of Rwanda. The weekend before, I'd been camping on hills overlooking the East African savanna.
Of course, I had posted the obligatory photos of my travels on social media: sweeping panoramas of rippling hills, surging and swelling with Acacias; expansive plains playing host to magisterial giraffes and skittish herds of Impala, shimmering lakes tucked away down in the valley that sutures the border with Tanzania, and sheer hills flanking our campsite. What I did not include in my hashtags, as a sufferer of depression and anxiety, was: "worryingaboutourcarbreakingdown" or "worryingaboutmyparentsdying." It was easier to post a photo of a hippo and leave it at that with the hashtag "safariforthewin," or "puttingthehipinpottamus."
I had posted photos of my friends and I scrambling through sprawling, lush vegetation in the mountain rainforest; endless tangle of bamboo, giant Lobelia, ancient-looking Hagenia and the ultimate shot of a cloud-reflecting lake in a crater more than 10,000 feet above the ground. What I failed to hashtag was "Ineverfeelenough," "lonelinessismybiggestfear," and "willIeverstopfeelingthispain," because even though I had made my way to the clear panorama from the peak, I still felt stuck in the dim light of the valley below.
Millennials travel and Instagram our travels like a drug, hoping that another notch on our cultured bedposts will make us new as we craft an image of ourselves that we hope to become. We might forget our fears and insecurities in far-flung temples or bury them in shifting sand dunes. We may hope that they sink beneath foaming waves by white-sand beaches. We hope that when we post photos of our latest stunning surroundings, that family and friends, and perhaps exes will see what an amazing time we are having and how happy we are in a relationship or being single.
The lexicon of travel is loaded with promises of paradise, escape to another world, and finding yourself, but it can be like imbibing a sweet cocktail with a bitter aftertaste when we're back on home soil and the mundane entrapments of normal life coil their tendrils around us once again. Bush camping, scrambling through equatorial mountain rainforest, and searching the horizon on top of a volcano were glorious experiences, but they could never be the miracle of fulfilment that I wanted them to be; they could never turn the water of transient, temporal happiness, into a wine of rich, deep contentment that doesn't depend on the view on the outside.
While travel affords us the immeasurable opportunity to learn about ourselves and other cultures, it's unlikely that we'll be born again in Bali or refined by the rainforests of South America. One more Instagram post of slanting coconut trees and ivory hammocks will only scratch the itch for inner peace and satiate our desire for satisfaction for so long before the tug of the next trip calls. Only the filtered photos of social media seem to give short-term succour to those dull aches for reassurance that we are doing alright in life, whatever that means.
The rhetoric of travel is replete with clichés: "saying yes," "living your best life," and "living free from regret." Like Jack Kerouac, we may live life "on the road," constantly moving because to slow down and settle is to accept the inevitability of death. Travel is the ultimate form of distraction, and its lingua franca is laced with promises of potential and possibility.
Yet, there is a life that is offered to us as water is offered to parched mouths, except that this is living water that quenches all thirst forever (John 4:14). It's a life that offers more than the vista from a volcano or being surrounded by herds of zebra and towering giraffes on East African plains could ever offer. It's a life that doesn't have an expiration date, can't be reduced to a hashtag and won't fit into a neat Instagram story. Jesus came to offer us life in all its fullness:
"The thief comes only to steal and kill and destroy; I have come that they may have life, and have it to the full." – John 10:10
The life that Jesus offers reconciles us to the Father, gives us life through the Spirit of God and offers freedom from guilt and slavery to self. It's a life that can't be bought with a trip to Tunisia or the markets of Marrakech but has been bought with the blood of a crucified God. We can let go of that Sisyphean boulder that we're pushing up the mountain of self-fulfillment, meaning and purpose, and give it to Jesus, for He says: "Come to me all you who are weary and burdened, and I will give you rest … for my yoke is easy and my burden is light."- Matthew 11:28-30
Jesus carried more than we ever could and traveled Heaven and Earth to meet us in the pit of our broken human condition, and unlike the illusory promise of the next big trip in our travel itinerary, He doesn't, in this life at least, offer us a ticket to a place free from loneliness and pain, be that the pain of depression and anxiety or a hurting family. Whether on the beaches of Barbados or the Fjords of Norway, we will be the same person, just in a different place. Only God can make us a new creation and give us a new heart (2 Corinthians 5:17). He promises to be with us wherever we are (Matthew 28:30), whether that's in the darkness of the valley or the clear light of the peak, and only then can we find rest for our souls.
Emma Lawson
Emma lives in Rwanda with her husband and two children, and works as a content writer for a social enterprise called Azizi Life, which is focused on maximizing economic opportunity for rural artisans through the development and promotion of their crafts, as well as sustainable community tourism. She loves Rwandan coffee, telling stories that connect people across continents and cultures, and Netflix!