Why Newest, Latest, Brightest Isn't Always Best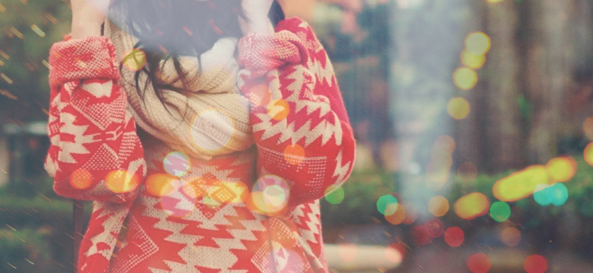 What happens in a person's brain that makes us listen to a song 20 times in a row—and love it every time? Why is it that a song we haven't heard in years can immediately pull us back into long-forgotten memories, triggering emotions of times past?
As I played Mumford and Sons' "Sigh No More" on repeat recently in my car, I realized that there was something deeper than the tune drawing me in.
It was a feeling of comfort, like something you know so well that it never fails to wrap its arms around you, hold you tight and soothe you. Folds of melodies and harmonies slowly pulled me in, wove their way around me and settled me down in their familiar fabric.
Sometimes a song, memory or photo is a favorite T-shirt from years ago that you can't stop wearing, no matter how faded the dyes on the T-shirt become and how thin the fabric wears between your fingers. You rub the corner of it, and it's so comfortable and familiar that it makes you smile. You've worn it so long that it has become more than your shirt. Friends know it well, and it reminds them of you easily. It becomes a small part of your identity, something to come home to.
Or, most accurately, it's your favorite book that you've read so many times the binding is starting to break, the pages are turning yellow, the ribbon bookmark has frayed at its edges, and the corners of the cover have bent and rounded. You know every word, and find the places where you've underlined or scribbled with pencil.

I remember the joy of first hearing the "Sigh No More" album, and the countless loops I subjected my family to. I remember reveling in the voice and the passion behind it, listening to the CD again and again until I learned to anticipate each line and strum. Catching the references to literature and history, grinning at the lines from Shakespeare, trying to unravel Mumford's spiritual state and battles through the lyrics, frowning at times and being moved by his own struggle. Thinking it over and turning it around in my mind, deciding what I agreed with and what I definitely didn't. Learning to love certain songs, like "Dust Bowl Dance," that I'd hated upon first hearing them.
Your shirt will fade and thin, your favorite book will wear over time, yet our favorite songs do not physically change. They're recorded forever in the same state, the same notes, the same lyrics, the same breaths. So, why do we treasure some songs as if they'll never grow old? What makes us never tire of hearing them?
The song may stay the same, but it is our perceptions that change. As we grow, songs change and touch our hearts in different ways.
Just today, I finally recognized the few words that had been previously ambiguous in one of Mumford and Sons' songs—"brass wires." I didn't know that I hadn't known them. I found something new in the middle of something I knew so well. And that's the fun of getting to know something complex. It will always surprise you.
Your best friend of fifteen years pulls out a talent you never knew they had. A single Bible verse shows you something different when you need it the most. Even though you know every single line of your favorite movie, you finally see something in the background that foreshadows the end from the very beginning. Every time you read that novel, something new jumps out at you, arrests you and draws your attention. A harmony finally clicks for you, you hear an instrument that had hidden from you in the depths of the song, and you find a reference that you didn't understand before.

Our familiar favorites change as we do, making it worthwhile to do things again, to re-read, re-view, re-listen, re-touch. That's why the most beautiful and complex things can never be fully understood or known. That's why it pays to pay attention, and that's what's so lovely about loving something known and understood.
That's what's so lovely about loving someone, too—someone we might think we know backward and forward. And who is more complex than our Creator? In a relationship with Him, He will always surprise you. Every time you think you have God figured out, you discover in the next step that you weren't as close as you once thought. It's like believing you've finally gotten to the bottom of something when the last pebble reveals an entire universe. We can never get to the bottom of God—which is both a relief and a challenge. We will never fully understand Him, but does that mean we shouldn't try? Does that mean we should stop at the first surface level, hiding in the false comfort of our own counterfeit understanding?
Sometimes we're tempted to abandon something that will take effort to get at. It's why so many people avoid Shakespeare, or skydiving or advanced math. But most of the time, the difficult things are also the most worthwhile. Each time we get deeper into a work of art, an idea or a relationship, we discover something new. It might confuse us, upset us, or force us to rethink everything. But in rethinking, we are able to reach new depths. In fact, this process of rethinking and growing is the dynamic of a healthy relationship with God. It might be uncomfortable to dig deeper and get to know Him better, but is it worth it? Absolutely.
So, pull out that old favorite album, turn up the volume—and sink into the beauty of something both comfortingly familiar, and astoundingly new.